Army moves Apache helicopters to Hawaii for new initiative
---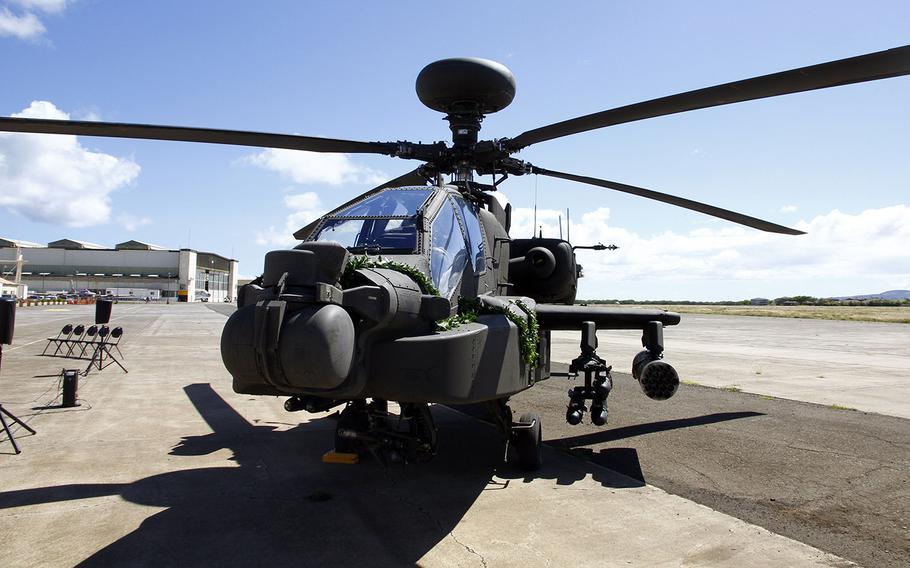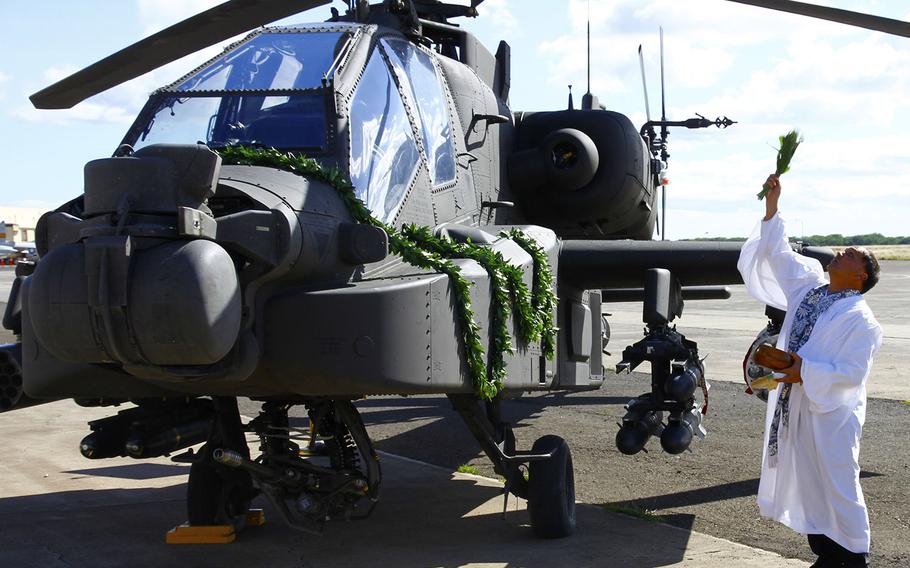 FORD ISLAND, Hawaii – Eight of the U.S. Army's most advanced attack helicopters arrived in Hawaii on Friday for this summer's Rim of the Pacific joint exercises, after which half of those Apache Guardians will be sent deeper into Asia as part of the Army's Pacific Pathways initiative.
"They'll be part of the inaugural Pacific Pathways operation that we'll do this year," said Gen. Vincent Brooks, commander of U.S. Army Pacific, at a ceremony on Ford Island, during which one of the eight aircraft received a Hawaiian-style blessing.
"We'll send a unit further into the Pacific in conjunction with the exercises that we already do," Brooks said, adding that the arrival of the Apaches in Hawaii "speaks to the reality of Pacific rebalance" and "speaks to the commitments the United States Army has to the joint teams and to our international partners."
Under Pacific Pathways, the Army is developing small units that will be forward-deployed for quick response to humanitarian emergencies or regional threats. Between actual crises, the units will train with various partner countries.
This is the first time the new Echo version of the Apache helicopter has been brought to Hawaii. Two dozen of them were deployed to Afghanistan this spring for the first time.
The eight Apaches, along with about 40 soldiers from 1st Battalion, 25th Aviation Regiment, out of Fort Carson, Colo., will be in Hawaii for about two months. The aircraft will be stationed at Wheeler Army Airfield, about 15 miles north of Honolulu.
Following the two-month RIMPAC exercise, two of the Apaches will join the Tiger Balm exercise held in Hawaii with Singapore.
Capt. Nathan Peper, one of the Apache pilots who attended the ceremony, said that he was anxious to begin training in Hawaii to test out the craft's handling in the humid Pacific climate. Most of the pilot's flight time with the Echo has been in the high, relatively arid elevations of Colorado.
Peper said the Echo's twin engines are far more powerful than those in the previous iteration of the Apache, which improves maneuverability. The heavier air at sea level should also make flying easier, he said.
"This is kind of a new environment," he said. "It will be a good opportunity for some new kinds of training." The Army will also find out how well the Apaches handle the rigors of salt air, he said.
Bringing the Apache Echos to Hawaii – and then deeper into the Asia region – sends a message to America's partner nations that it's serious about delivering the best equipment to the Pacific theater, said Col. Kenneth Hawley, commander of the 25th Combat Aviation Brigade in Hawaii.
For the Army, delivering its helicopters to the airfield on Ford Island was like returning to a long-lost home. The airstrip was originally developed by the Army during World War I and was named Luke Field. It eventually became the Navy's.
"This is a place where the United States Army's aviation tradition in the Pacific, and certainly in Hawaii, has its foundation," Brooks said. "And for us to now have the most advanced Army attack helicopter brought here, and to be honored here, brings us to full circle."
---
---
---
---