Army delays cuts to Alaska airborne unit, citing Russian, Korean threats
---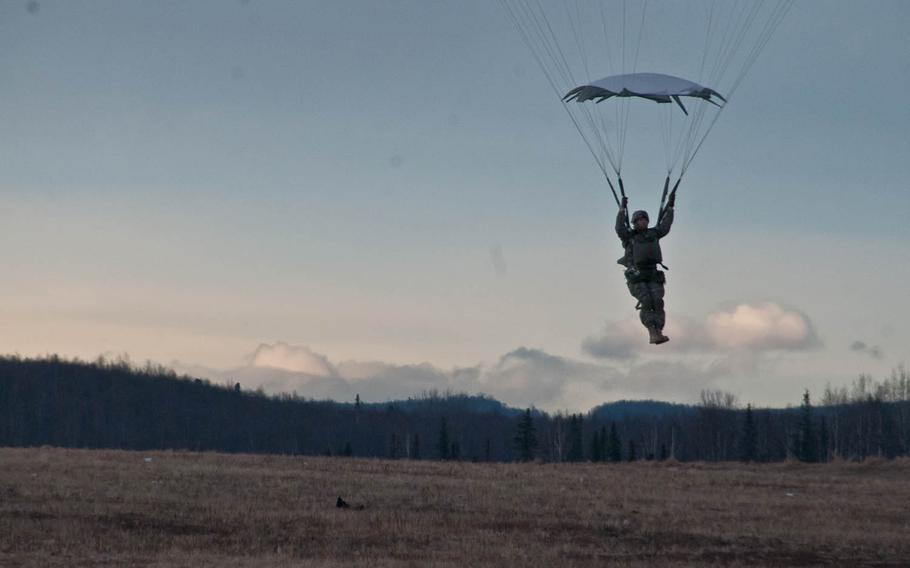 The Army will delay downsizing an Alaska-based airborne combat unit in light of continuing threats posed by Russia, North Korea and the jihadist group Islamic State, officials announced Monday.
In July, the Army disclosed plans to cut 2,600 soldiers from the 4th Airborne Brigade Combat Team, 25th Infantry Division, stationed at Joint Base Elmendorf–Richardson in Anchorage.
The cuts were part of a downsizing of roughly 40,000 troops across the service.
In February, Army Chief of Staff Gen. Mark Milley told the Senate Appropriations Defense Subcommittee he wanted to delay the reductions at Elmendorf-Richardson by at least a year.
Milley, who had visited the base earlier that month, told the committee members that "it would be contrary to U.S. national security interests to go ahead and pull out the 4-25 at this time."
He suggested waiting a year "to see how the strategic situation develops and then move from there."
In a statement issued soon after that hearing, committee member Sen. Dan Sullivan said, "The 4-25 is the only extreme cold weather and mountain-trained airborne brigade combat team in the entire U.S. Army, and the only one strategically located to respond to threats in the Asia-Pacific and the arctic. This kick-in-the-door capability is vital to our national security and provides deterrence against increasingly aggressive actions from Russia, China and North Korea."
Acting Secretary of the Army Patrick J. Murphy agreed, saying in Monday's announcement the 4-25 was essential because it could "rapidly deploy and conduct decisive operations in urban and mountainous environments." The 4-25 is "one of the most trained and ready units in the United States Army," Milley said in the statement.
The Army did not specify a length for the delay.
olson.wyatt@stripes.com Twitter: @WyattWOlson
---
---
---
---