Anger over treatment of fellow North Korean defectors spurred ex-official to run for office in South
by
Kim Gamel
February 19, 2020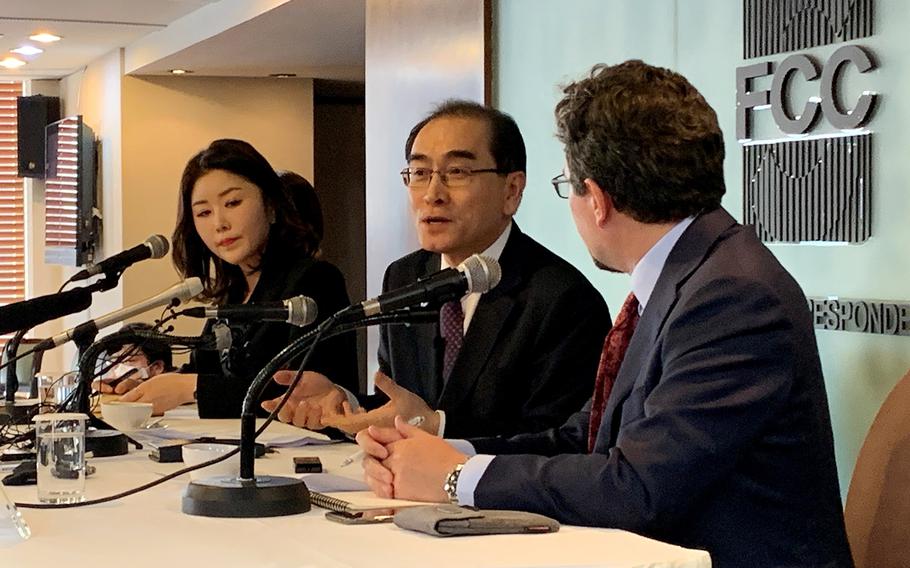 SEOUL, South Korea — Frustration over South Korea's treatment of fellow defectors and other policies toward North Korea prompted one of the most senior officials to flee the communist state to run for parliament in his new homeland.
Thae Yong Ho, a former minister at North Korea's embassy in London who escaped to Seoul in 2016, said Wednesday that his "triggering point" was the South's decision to repatriate two North Korean fishermen accused of killing 16 shipmates in November.
The case prompted criticism by international human rights groups and defectors' advocates who said the men shouldn't have been sent back to a country where they stood no chance of a fair trial.
"I was very much shocked by the news that two young North Koreans were returned," Thae said at a press conference in Seoul. "I couldn't sleep that night."
The South Korean government defended the action by alleging the men posed a danger to national security as suspected killers.
Thae said he decided to run in the April parliamentary elections to try to change the law to permanently bar such repatriations and to influence overall South Korean policy toward the North.
"I want to make a very detailed law that … whatever happens in the future in inter-Korean relations, there should be no more repatriation of North Koreans back to North Korea if they wish to stay here, he said.
Thae, who is on the ticket of the main opposition Liberty Party, is at the vanguard of an effort by North Korean defectors to gain political influence. He also supported dozens of other defectors who announced Tuesday that they plan to launch a new political party.
"I want to show to the North Korean people how freedom and democracy works in this country," Thae said Wednesday at the Seoul Foreign Correspondents' Club.
More than 32,000 North Koreans have fled to the South, where they are entitled to citizenship and benefits but often face discrimination and hardships as they struggle to adjust to their new life.
One North Korean woman and her young son who had fled their homeland were found in their apartment last July, two months after they had died. Several South Korean news outlets reported that they starved to death.
Thae said he wants to provide more opportunities to North Korean escapees, whom he said will be critical to the country's future if reunification ever happens.
But the former diplomat also has been critical of U.S. and South Korean policies toward the North, reiterating his "very strong belief" that "Kim Jong Un's regime will not denuclearize at all."
Thae also said he hopes an election to parliament would give him more sway with U.S. congressmen.
"As far as U.S.-South Korean alliance is concerned I want to tell the American lawmakers that it's not an alliance for commercial purposes" but "for the sake of freedom and democracy," he added, apparently referring to contentious defense cost-sharing talks underway between the two allies.
gamel.kim@stripes.com Twitter: @kimgamel