Analysts: N. Korea meeting can't be viewed as China caving to U.S.
by
Ashley Rowland
December 9, 2010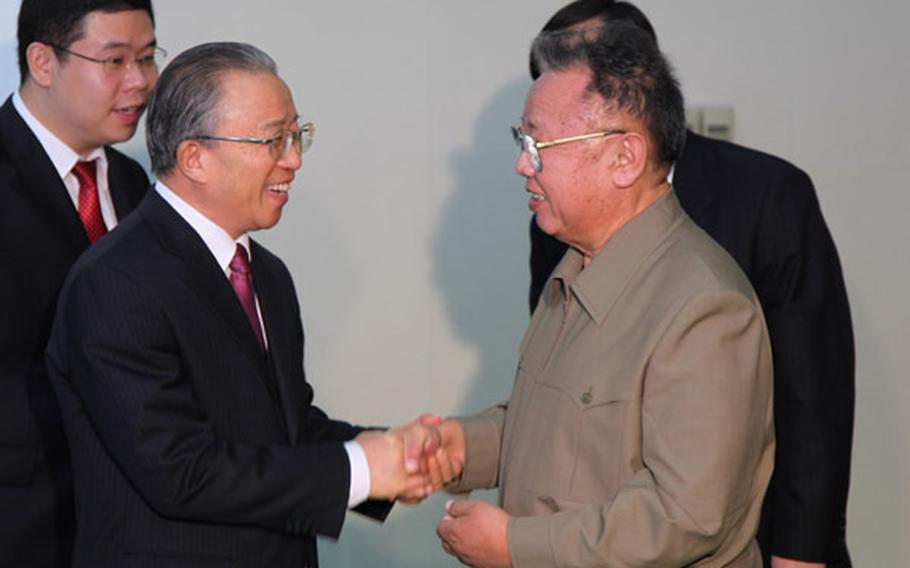 SEOUL — A senior Chinese official met with North Korean leader Kim Jong Il in Pyongyang on Thursday, following days of increasingly sharp criticism from the U.S. over China's perceived unwillingness to curb provocations from the North.
But analysts are reluctant to view the meeting as China bowing to U.S. pressure.
Xinhua News Agency reported that Chinese State Councilor Dai Bingguo and Kim had "candid and in-depth talks" on relations between the two countries and the situation on the Korean peninsula. North Korea's Korean Central News Agency described the meeting as warm and friendly, according to The Associated Press.
It's unclear if the two sides discussed the North's attack on South Korea's Yeonpyeong island on Nov. 23. The attack killed four people, and led to U.S. calls for China to get involved.
"China has unique influence. Therefore, they bear unique responsibility," Adm. Mike Mullen, chairman of the U.S. Joint Chiefs of Staff, said Wednesday in Seoul following a meeting with his South Korean counterpart. "Now is the time for Beijing to step up to that responsibility and help guide the North, and indeed, the entire region, towards a better future."
Scott Snyder, director of the Center for U.S.-Korea Policy at the Asia Foundation in Washington, said the meeting was likely planned before the recent criticisms from the U.S., and that it shouldn't be viewed as China caving to U.S. demands.
"It's convenient that this trip is occurring, because it's an opportunity for the Chinese to constructively take some responsibility in terms of hopefully moving the ball forward," Snyder said. "But if Dai comes back with the same message from Kim Jong Il that we've heard before, I'm sure the American assessment will be very critical."
He said the U.S. wants Dai to return with more than North Korea's usual message that it will return to six-party talks with no tangible guarantees that it will end its nuclear program.
Others said China is still deciding how to handle North Korea.
Kazuya Sakamoto, a professor of international politics at Osaka University in Japan, said China doesn't want to do anything that would threaten the stability of the Kim regime, and of North Korea's role as a buffer zone between China and South Korea.
"Because of this, what China can do to North Korea is limited," he said. "It does not want to apply too much pressure so that the North might collapse. And the North is well aware of this."
China wants avoid being seen as yielding to U.S. pressure during its visit to Pyongyang, said Kenji Someno, a China expert and research fellow at the Tokyo Foundation think tank. But it also wants to keep North Korea from collapsing, which could bring a flood of refugees into the country and U.S. troops now stationed in South Korea closer to its borders, he said.
"China would not actively support the North, but it will seek a way to not let the North further escalate [the tensions]," he said.
Snyder said China has been portraying itself as a level-headed player that is trying to keep the peace, while the U.S. has exacerbated tensions by holding military exercises last week in the West Sea with South Korea.
The Chinese have been caught by surprise by the U.S. criticism, he said.
"Their message has essentially been that everybody should take a deep breath and calm down and come back to dialogue," he said. "There was a little bit of a perplexed expression about how China could be criticized for stepping up and trying to advocate dialogue.
"The problem is that unless there's also an acknowledgement of where the fault lies, it's hard to jump back into any kind of negotiations."
Daniel Pinkston, a Seoul-based analyst for the International Crisis Group, said China has been testing the U.S. because it believes the nation and U.S. President Barack Obama are weak.
"I think they're underestimating Obama," he said, adding that the U.S. has been reasserting its influence through measures like Mullen's visit to Asia this week.
Mullen, speaking after a meeting with Japanese defense officials in Tokyo on Thursday, said he didn't know why China has done little to contain North Korea.
"You really need to ask the Chinese that," he said. "Because it's really for them to try to explain."
Charlie Reed contributed to this story. rowlanda@pstripes.osd.mil sumidac@pstripes.osd.mil