American saved after floating 16 hours at sea
by
Chiyomi Sumida David Allen
July 22, 2010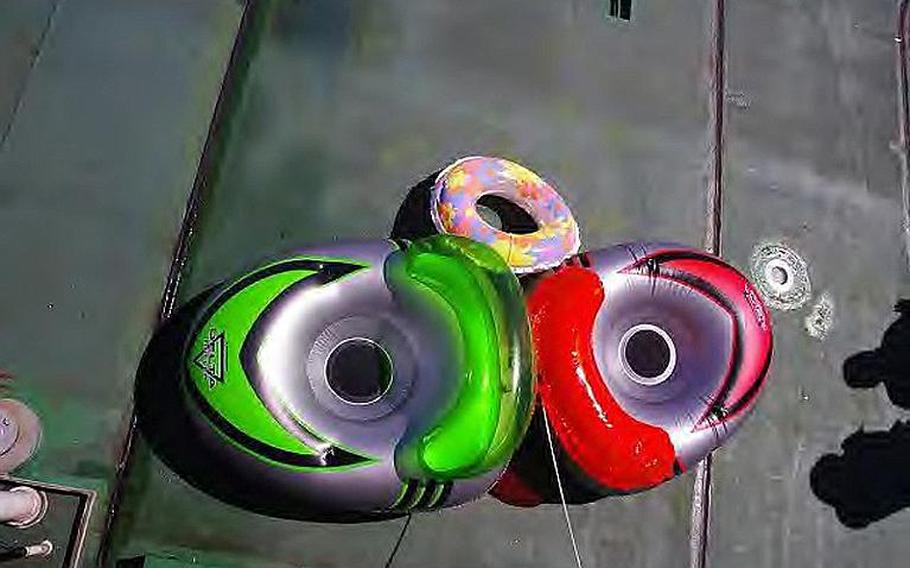 GINOWAN, Okinawa — A 30-year-old American was rescued from choppy waters off Okinawa on Wednesday after drifting out to sea for more than 16 hours.
A Japan Coast Guard spokesman said the former servicemember, whom he would not name, was pulled out to sea by heavy winds about 5 p.m. Tuesday while floating in two rubber floats tied together at Tropical Beach in Ginowan, near Camp Foster.
He was rescued at about 9:08 a.m. Wednesday when a patrol boat spotted him waving his hands for help, said Daisuke Hirasawa, a spokesman for the Japan Coast Guard in Naha.
The man was about six miles offshore.
"He had minor cuts on his hands, elbows and wrists, but no life-threatening injuries," Hirasawa said.
"The American said five boats passed him, but each time he waved his efforts went unnoticed," he said. "Later at night all the lights of the Ferris wheel in Chatan went off, which made him start feeling nervous, realizing how long he had been out there."
The Okinawa Marine Safety Bureau in Naha reported 35 people have been involved in water-related incidents this year. Twenty-three have died, including an airman who drowned while snorkeling off Maeda Point in April.
Fifteen people died in the water off Okinawa in 2009, according to the bureau.