American rescue teams arrive at Misawa
by
T.D. Flack
March 13, 2011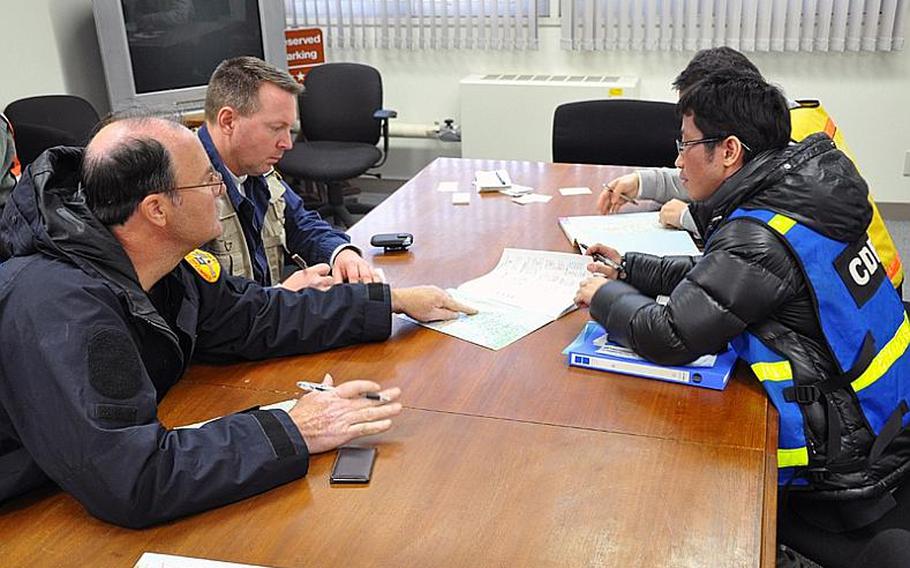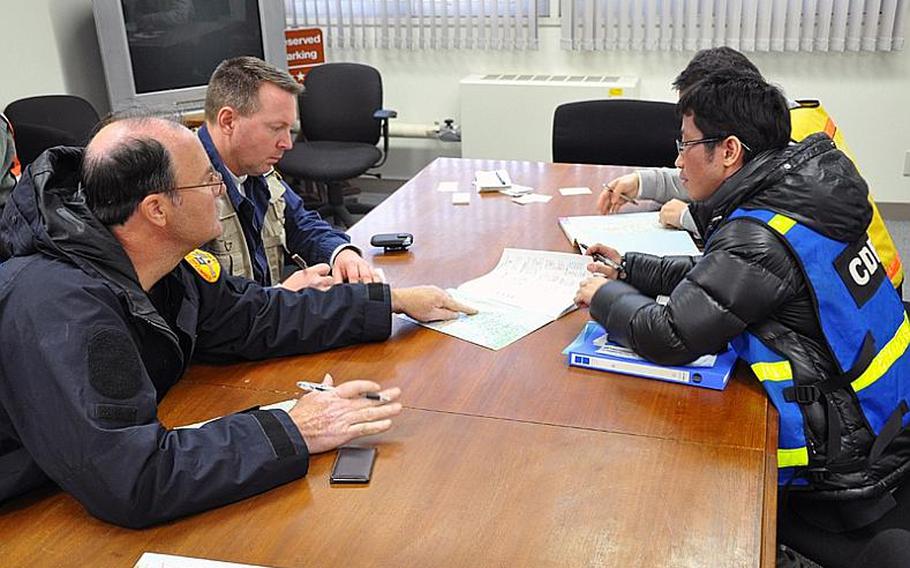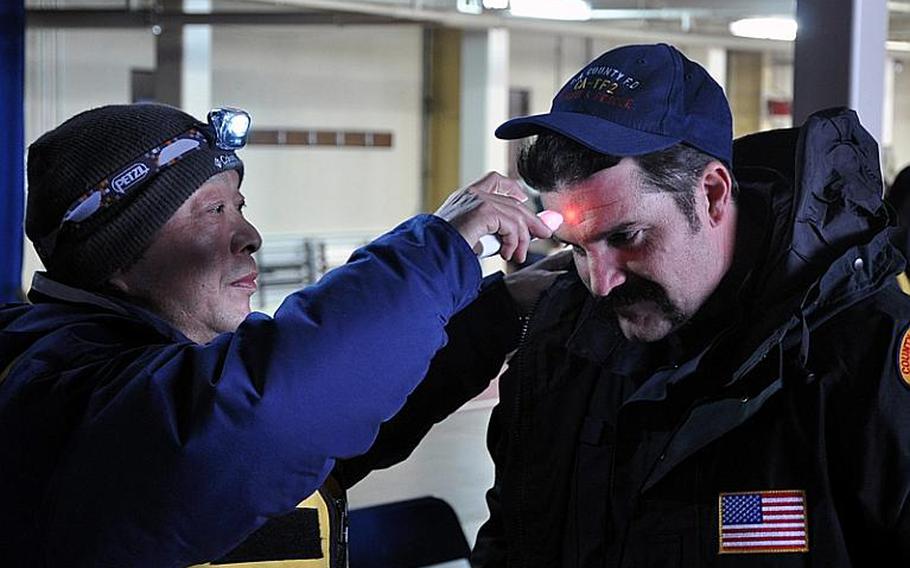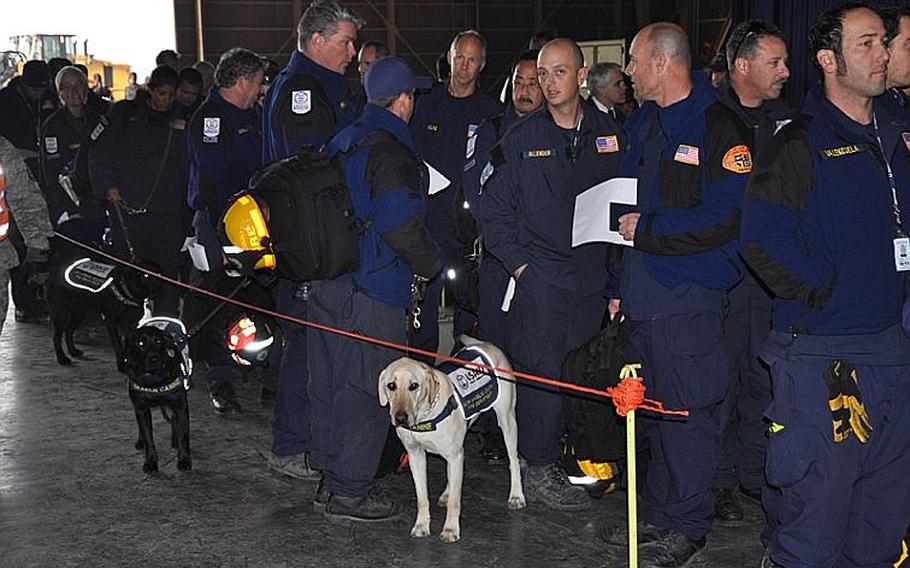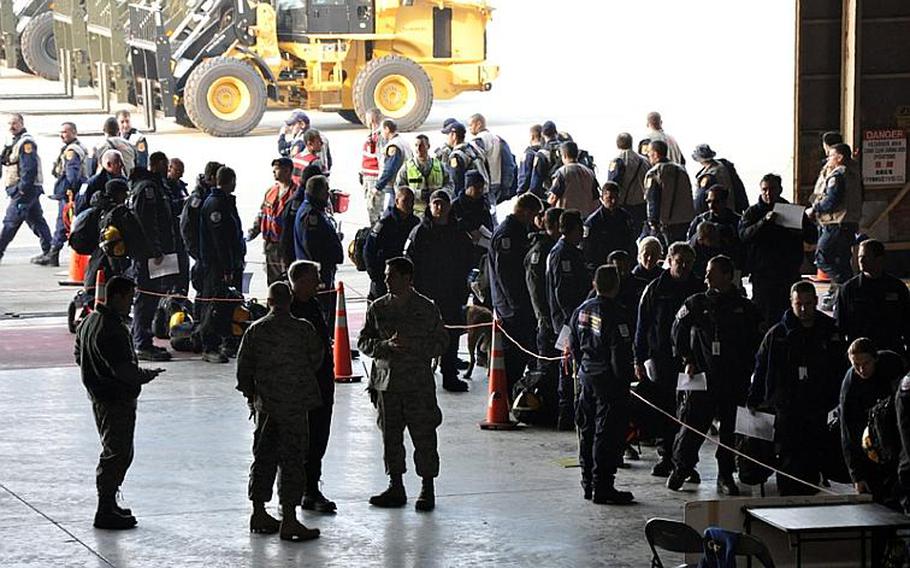 MISAWA AIR BASE, Japan — Nearly 150 of America's premier search-and-rescue specialists arrived here today en route to a coastal fishing village devastated by Friday's earthquake.
The personnel are from two teams, one from California and the other from Virginia. Many took part in Haiti earthquake relief efforts, and a handful just returned a few days ago from recent quake relief efforts in New Zealand.
They are the only American teams authorized to work through the Office of Foreign Disaster Assistance and USAID.
Upon arrival at Misawa, they were routed through a reception area in a large hangar, cleared customs and immigration, and bedded down for the night in the Potter Fitness Center.
Team leaders on Sunday met with Japanese government officials who briefed them on the situation in the village of Ofunato in Iwate prefecture. The plan is to bus the rescue personnel to the village early Monday morning. The trip is expected to take about six hours.
The Japanese government asked that the teams travel to the village, with government representative Issei Kubota explaining that the village had suffered both earthquake and tsunami damage. There has been little communication with people on the ground, and there is a possibility of aftershocks, he said.
According to Japanese television reports, hundreds were reported dead in the village.
Pat Rohaley, from California, and Bob Zoldos, from Virginia, asked detailed questions about medical facilities, the size of the buildings in the village, the nearest big city and what rescue efforts are under way. Many questions remained unanswered because of the lack of communication with those on the ground. Kubota explained that they would have to rely on satellite communications.
Dave Stone, battalion chief for the Los Angeles Fire Department's California Task Force 2, said the tsunamis are a major factor in the pending rescue efforts. Along with the normal gear, both teams brought boats, expecting to have to navigate flooded areas.
The complexity, Stone said, would be dealing with collapsed buildings in flooded areas.
"On our way down, we've been discussing that, how we want to handle that," he said. "Obviously you can't plan too much until you see what you're dealing with."
Stone explained that his team has a search component to locate trapped victims, and specialists who are able to methodically "de-layer" a collapsed structure, taking it apart section by section, shoring it up against future aftershocks while trying to extract anyone inside.
"Once we are able to get the person out, we have ... medical doctors and paramedics with us to treat the injuries and then get the person to the proper medical authorities whether it's a local hospital or maybe a field hospital set up."
Stone said his team is self-sustaining for 10 days, and by that time additional re-supplies should be following from the States. The goal, he said, is not to be an additional burden on Japan.
Joseph Knerr, with Task Force Fairfax County's Urban Search and Rescue, said his team was also focusing on the tsunami damage.
"A tsunami wipes everything clean," he said. "It takes a lot of stuff with it," as it moves back out. He said his folks are expecting the "large areas of devastation."
The danger of aftershocks, and additional tsunamis, are a reality, he said.
"We're just like everyone else," he said. "We could be victims, too."
if(typeof(dstb)!= "undefined"){ dstb();}
---
---
---
---