American Legion post awarded for community service at Okinawa cemetery
---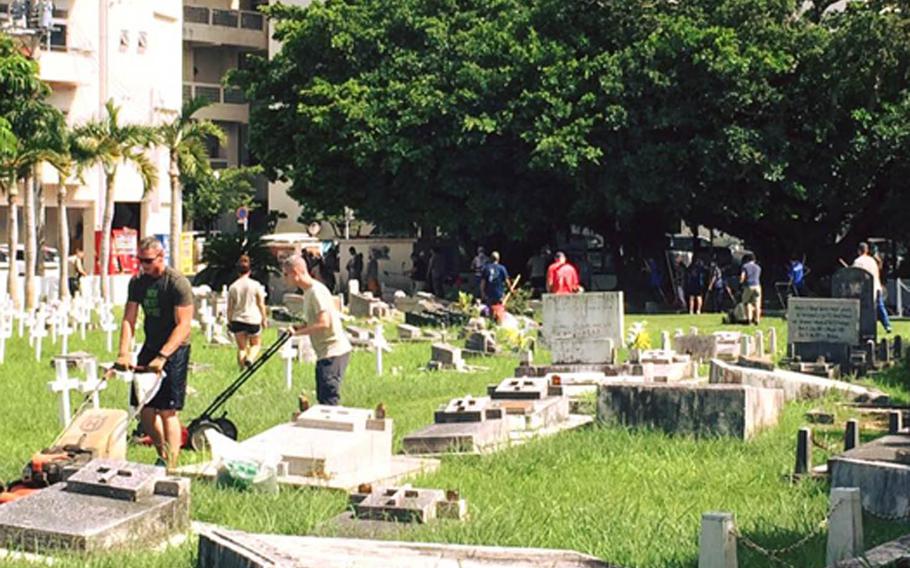 CAMP FOSTER, Okinawa — Okinawa's American Legion Wayne E. Marchand Post 28 was one of three civic organizations recognized for community service last week by the Japanese city of Naha.
The community service award was bestowed upon the post for its contributions in beautifying the city over the past year, said Keiko Taira, deputy chief of the Citizen's Affairs Department of Naha City Office. Post 28 cleans Tomari International Cemetery, which is a registered cultural asset, every month.
The award is rarely bestowed upon American organizations, Taira said. Most of the awardees are from schools or neighborhood associations.
"With true volunteer spirit, they have contributed to the beautification of the cemetery," Taira said. "Their enthusiasm to make the cemetery a better place is very much appreciated."
The cemetery holds the remains of foreigners who died on or around Okinawa, from Chinese mariners who perished at sea in the 1700s to Americans who died attending Commodore Matthew Perry's visits to the island in the 1850s.
The post took charge of the cleanup in 2008, said post commander Bennie Helton. Members provide both lawn and enclosure wall maintenance.
"The American Legion is dedicated to serve the community and we are deeply honored to have our efforts recognized," Helton said at the June 26 ceremony.
"We hope to continue to contribute to the beautification of the cemetery and Naha City."
More than 1,000 hours of work is performed annually by Legion members, Boy Scout Troop 123 and volunteers from all four U.S. military service branches on the island, said post vice commander Brad Reeves.
---
---
---
---