Alaska base to receive first three F-35A stealth fighters in coming months
by
Wyatt Olson
January 6, 2020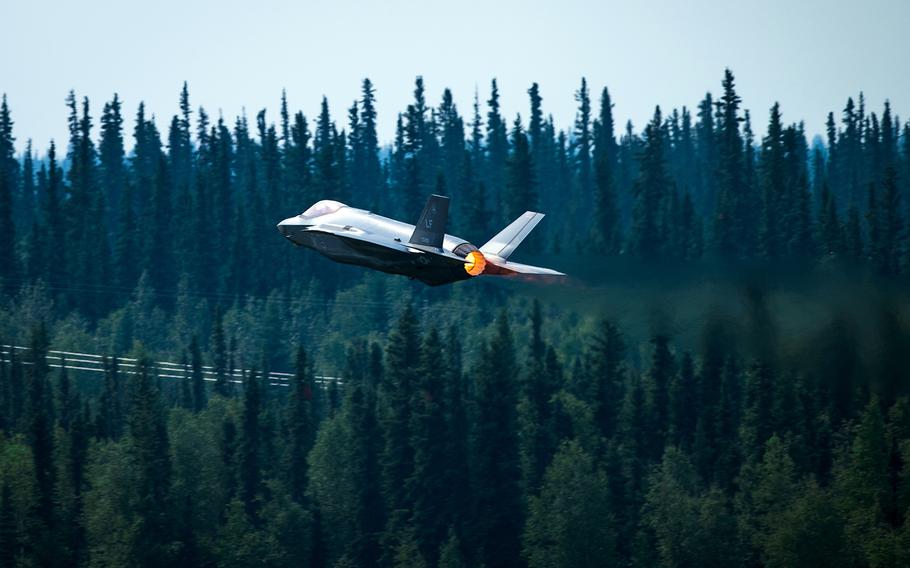 The 354th Fighter Wing in Alaska will receive its first three F-35A Lightning II stealth fighters early this year, a number expected to grow to 54 within two years, the wing's commander said.
"Our plate is getting bigger in 2020," wing commander Col. Benjamin Bishop said during an all-call at Eielson Air Force Base, Alaska, on Jan. 2, according to an Air Force news release.
With the dramatic increase in size, the wing's strategic significance will grow as well, he said.
"In 2020, Eielson is going to change the world," he said. "We are going to change the calculus of the United States, but more importantly of our potential adversaries."
Stationing a fleet of F-35As in Alaska reflects the growing strategic importance of the Artic, former Air Force Secretary Heather Wilson and Gen. David Goldfein, the service's chief of staff, said in a commentary co-written for Defense News in January 2019.
"Both a northern approach to the United States, as well as a critical location for projecting American power, its geo-strategic significance is difficult to overstate," they said of the Arctic.
Alaska will be home to more advanced fighter jets by 2022 than any other place on the planet, they said.
Eielson's overall fleet is expected to grow from 30 aircraft to 84, a number that also includes nine KC-135 Stratotankers from the Alaska Air National Guard and 21 F-16 Fighting Falcons.
The wing will host four iterations of the Red Flag-Alaska exercise this year, the same number as in 2019, Bishop said.
The base is spending $500 million to expand and upgrade infrastructure to host the new F-35As and added personnel. Construction includes an F-35A flight simulator, munitions storage facility, maintenance hangar and dozens of other buildings.
Hundreds of additional military personnel will be stationed at Eielson once the full F-35A fleet is in place.
In 2017, the Air Force brought F-35As to Alaska for a series of cold-weather tests over the next two years.
The 356th Fighter Squadron was reactivated Oct. 10 in anticipation of the arrival of first permanent F-35As, the Air Force said in a statement in the fall.
olson.wyatt@stripes.com Twitter: @WyattWOlson
---
---
---
---