Airman, sailor who died in motorcycle crash on Okinawa identified
by
Lauren King
May 20, 2017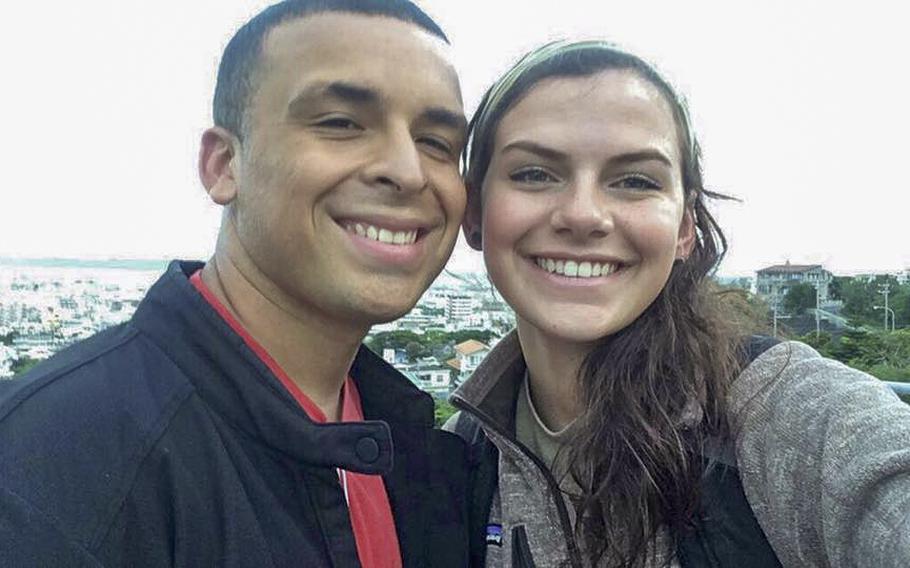 The two U.S. servicemembers who were killed in a motorcycle crash Thursday night on Okinawa have been identified.
Seaman Apprentice Savannah Cagle and Airman 1st Class Gabriel Antonio Fuentes-Lebron died while riding on a motorcycle that collided with a car in Chatan town, Okinawa, according to U.S. military officials.
"It is with a heavy heart that I extend my sympathies to the parents of both Savannah and Gabriel," Navy Capt. Robert Mathewson said in a statement. "The contributions these two have made their service to their country will not be forgotten."
The pair were traveling north on the motorcycle about 8:40 p.m. Thursday when it collided with a southbound car that was making a right-hand turn, a spokesman for the Okinawa prefectural police in Okinawa City said, citing witnesses. The motorcycle was thrown to the ground and smashed.
Cagle was taken to a hospital where she was pronounced dead at 11:23 p.m. Fuentes-Lebron died at a different hospital at 12:15 a.m. Friday.
The driver of the car was a 19-year-old female airman assigned to Kadena Air Base, the police spokesman said. She was not hurt.
In the joint statement from 18th Wing Public Affairs and the commander of Fleet Activities Okinawa, military members affected by the deaths of Cagle and Fuentes-Lebron were encouraged to seek support.
"This is a trying time for our joint community, and it is important that we lean on each other and look after one another," Brig. Gen. Barry Cornish, 18th Wing commander, said in the news release.
Cagle, 20, who served as a master at arms with the Commander Fleet Activities Security department, is survived by her parents Alan and Felicia Cagle.
Fuentes-Lebron, 21, served as a security force response leader with the 18th Security Forces Squadron. According to the 18th Wing Public Affairs office, Fuentes-Lebron enlisted in June 2015 and was assigned to Kadena in December 2015. He is survived by his parents Miguel Fuentes and Maribel Lebron.
No other details about the crash have been released.
king.lauren@stripes.comMatthew M. Burke and Chiyomi Sumida contributed to this story.