Air Force grounds F-15s on Okinawa for inspections
---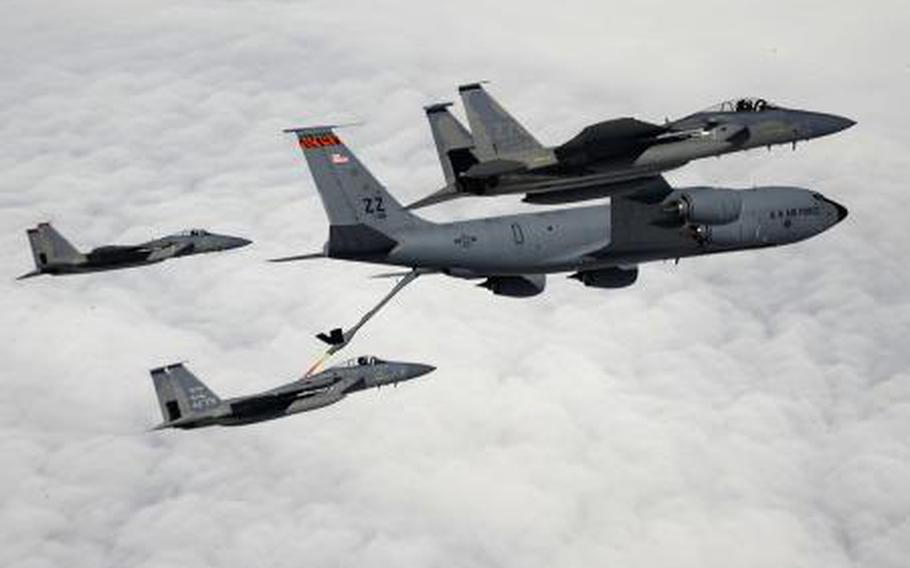 CAMP FOSTER, Okinawa – The Air Force suspended all F-15 flight training at Kadena Air Base on Wednesday, a day after one of the jets crashed in the Pacific Ocean, triggering calls from the Okinawan government for stepped-up safety.
An Air Force pilot was rescued at sea Tuesday after ejecting from a Kadena-based F-15C that experienced an unspecified problem and went down about 70 miles east of the island.
Okinawa Gov. Hirokazu Nakaima issued a statement Wednesday saying the incident caused "grave anxiety" over the safety of the aircraft among residents who are "forced to live with military bases." The governor called for the suspension of flights until an investigation is concluded.
The Air Force said the one-day flight suspension would include an inspection of all F-15s based at Kadena to ensure they are safe to fly. Such stand-downs are common practice after a major mishap and allow air crews to reflect and refocus on training requirements, according to the service.
The Air Force said an interim safety investigation board will begin gathering facts to determine what caused the crash this week.
It was the fifth reported incident involving U.S. F-15s on Okinawa since one of the jets crashed into the ocean in 2002. Two F-15s collided in flight in 2004 and an airman pilot was also rescued at sea in 2006 after his Kadena-based jet went down in the Pacific northeast of the island.
A Japanese military pilot with the Air Self-Defense Force went missing after his F-15 crashed in the ocean off Okinawa in 2011.
---
---
---
---