Air Force finds remains at helicopter crash site on Okinawa
By
Chiyomi Sumida Travis J. Tritten sumida.chiyomi@stripes.com tritten.travis@stripes.com
August 5, 2013
---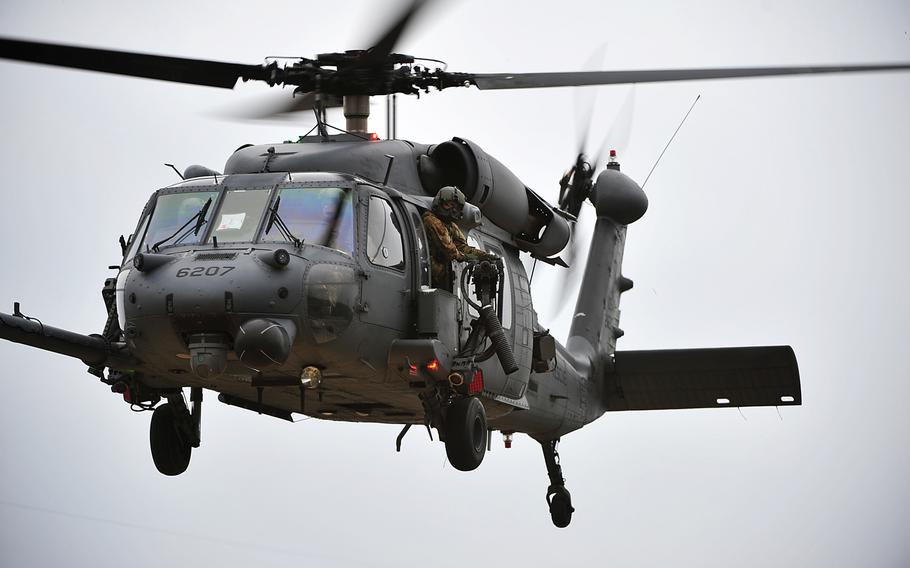 CAMP FOSTER, Okinawa — Human remains were recovered around noon Tuesday from a helicopter crash site on Camp Hansen, according to an Air Force release.
The remains had not yet been identified, but U.S. search-and-rescue crews had been looking for a missing airman after an HH-60 Pave Hawk crashed and burned in a forest on the base, creating a smoke cloud that could be seen for miles.
The helicopter's other three crew members were found Monday and are in stable condition at U.S. Naval Hospital Okinawa, according to the 18th Wing at Kadena Air Base, where the chopper was stationed.
Following the crash, the Japan Ministry of Defense asked U.S. Forces Japan to ground all HH-60s, the Air Force variant of the Black Hawk that is used by the 33rd Rescue Squadron during rescue missions in the region.
Defense Minister Itsunori Onodera made the request until an investigation determines the cause of the crash, a ministry spokesman said Tuesday.
About two miles from the training area, in the city of Ginoza, residents said they could see smoke rising for hours after the late-afternoon incident. Japanese media posted images and video shot from the air that show a burning, blackened crash site amid heavy vegetation.
Ginoza resident Ryoko Akamine said no one there saw the crash. There were no reports of injuries to Japanese residents.
The crash came just two days after a second squadron of Marine Corps MV-22 Osprey began arriving on Okinawa amid public concerns over safety. The Marine Corps issued a statement saying it will delay the controversial deployment "out of respect for the desires of our Japanese partners and hosts."
---
---
---
---