Air Force creates 'one-stop shop' at Yokota to speed up PCS process during pandemic
by
Seth Robson
June 5, 2020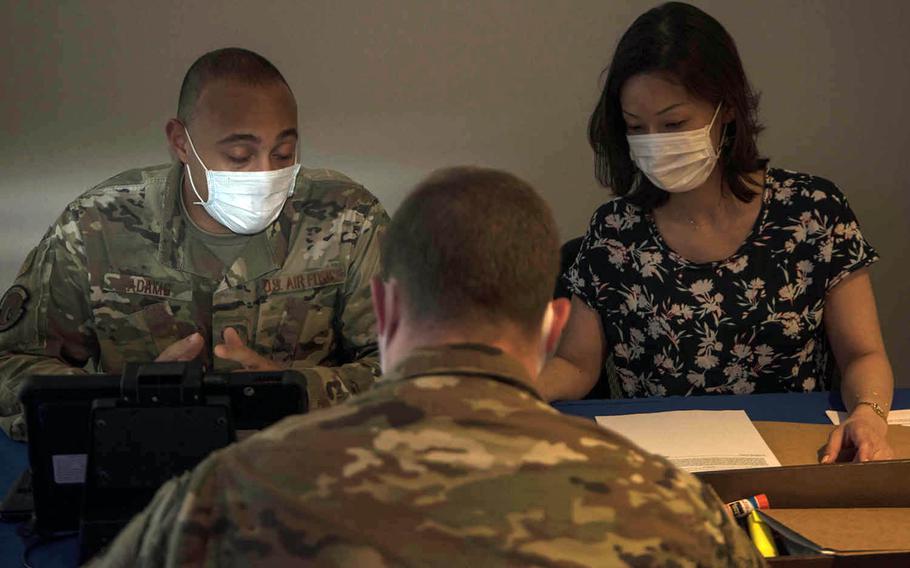 Stars and Stripes is making stories on the coronavirus pandemic available free of charge. See other free reports here. Sign up for our daily coronavirus newsletter here. Please support our journalism with a subscription.
YOKOTA AIR BASE, Japan — The coronavirus is changing the way the Air Force handles service members' moves to new duty stations, according to airmen at the home of U.S. Forces Japan in western Tokyo.
Yokota is dealing with a backlog of permanent change of station, or PCS, moves that built up following a stop movement order announced by Secretary of Defense Mark Esper in April and extended indefinitely.
The order includes waivers for such things as mission-essential operations, so some service members are already on the move and officials are gearing up for more travel when it expires.
Yokota, which expects to transfer 600 service members and their families to other duty stations from now until December, has changed its process to streamline moves and maintain social distancing.
Airmen from agencies dealing with issues such as housing, flights, household goods shipment and finance gather in Yokota's Airmen and Family Readiness Center three days a week.
Personnel with PCS orders pass through the center every 15 minutes, said Senior Airman Jacqueline Caraway, of San Antonio, Texas, a member of Yokota's force support squadron, which is helping run the process.
"We created a one-stop shop for members to process more efficiently and limit the contact they have with others," she said.
In a normal PCS season, airmen would visit offices all over the base to out-process, she said.
The support squadron's personnel flight superintendent, Senior Master Sgt. Ines Watkins, 40, of Panama, said a separate task force is helping inbound personnel, who need to quarantine for 14 days on arrival.
"We have mitigated all the stress they have with PCSing in these unprecedented times," she said.
The coronavirus has taught the Air Force to improve the way it handles PCS moves, Watkins added.
"This is something we could do in the future," she said. "It's saving a lot of time that people can spend with their families."
Yokota has been dealing with a surge in moves in recent weeks to catch up with people held up during March and April, according to the installation's transport officer, Scott Cole, 50, of Osceola, Neb.
A decision to schedule moves two months later than normal means airmen and their families will still be changing duty stations in September and October, months that are normally quiet, he said.
The support squadron superintendent, Chief Master Sgt. Jason Caros, 42, of Franklinville, N.Y., said the process is complicated by summer typhoon season in Japan, during which many transient airmen arrive at Yokota.
Staff Sgt. Marko Zarraras, 28, of Fort Worth, Texas, who was out-processing at the center on Friday, said things are running more smoothly than his last move.
Zarraras, a member of the Defense Courier Service, is heading to Ramstein Air Base, Germany.
"You don't have multiple appointments," he said. "They should keep doing it this way."
robson.seth@stripes.com Twitter: @SethRobson1