Air Force community on Okinawa grieves for George Floyd, calls for end to racial injustice
by
Matthew M. Burke
June 15, 2020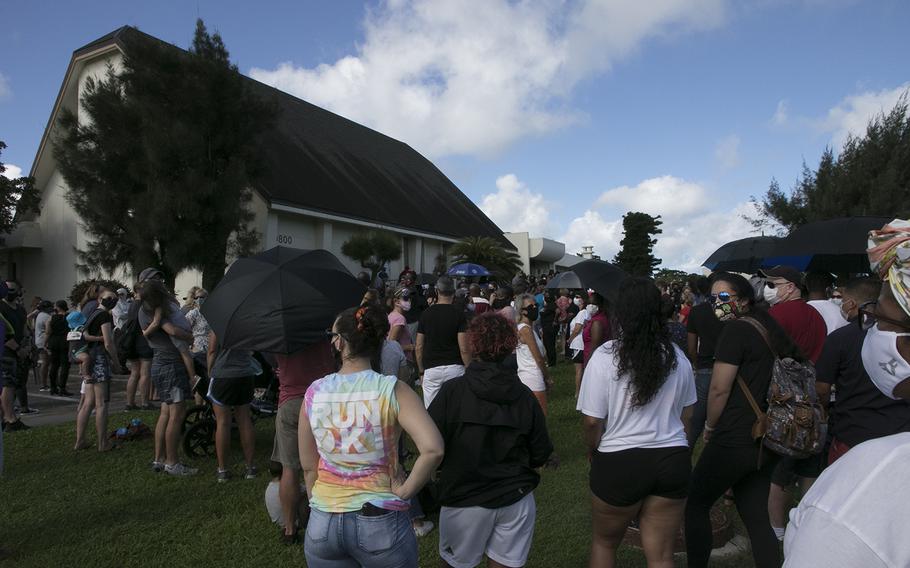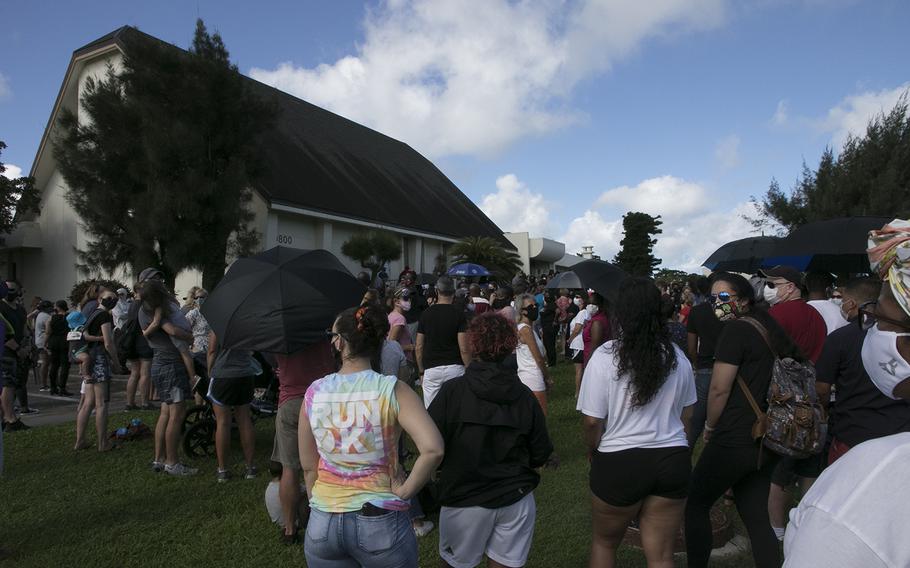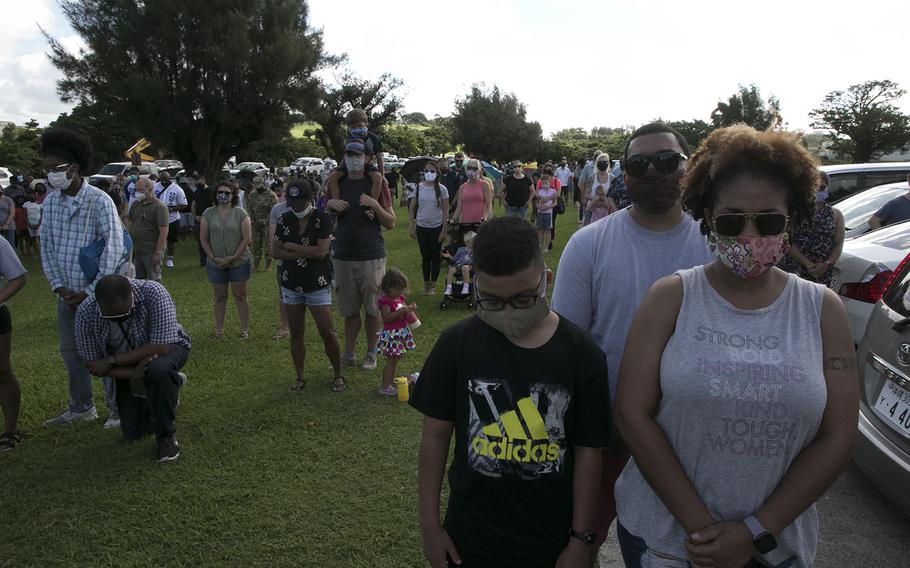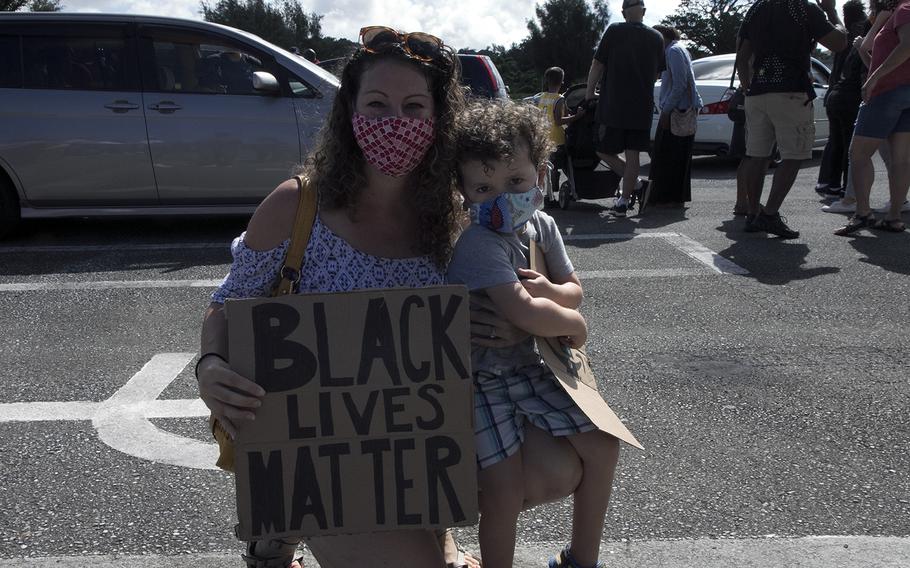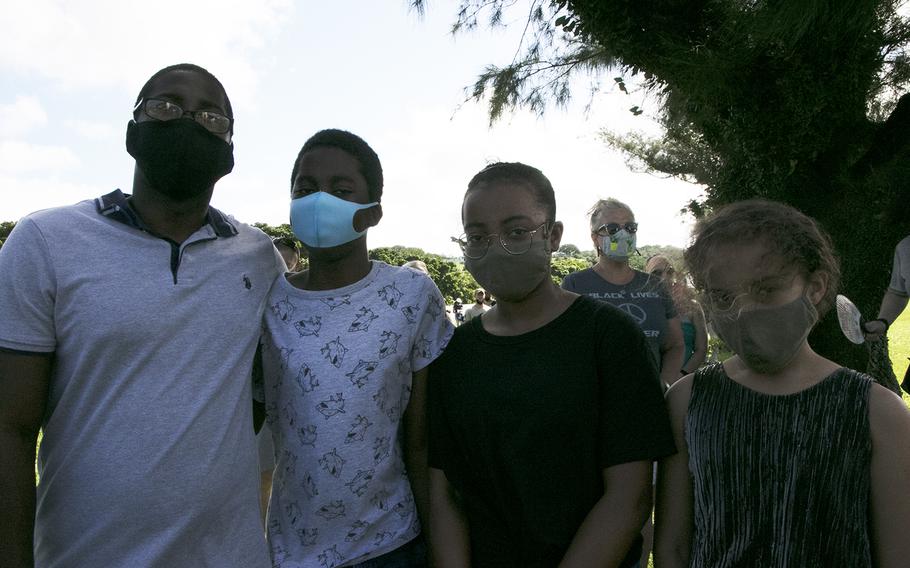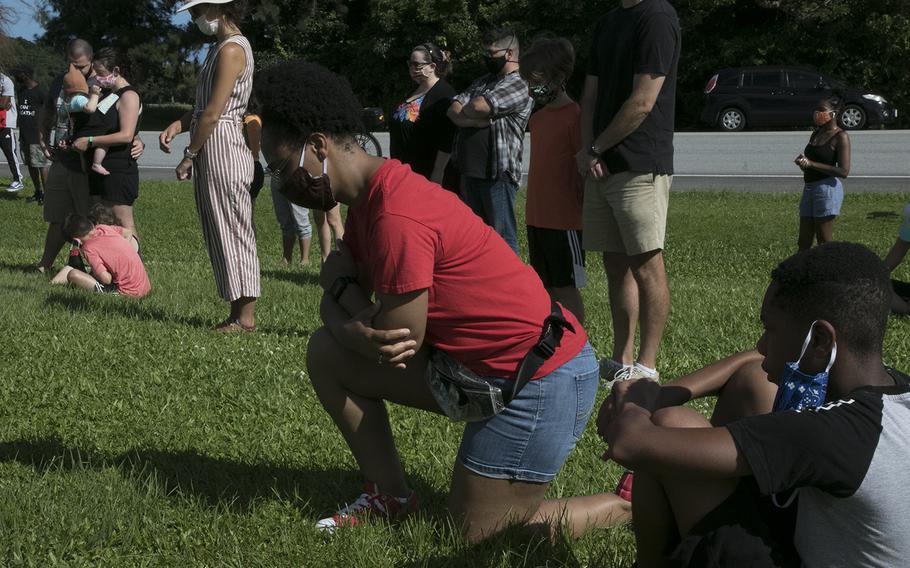 CAMP FOSTER, Okinawa — Air Force Tech Sgt. Louis Evan Knox stood stoically underneath a coniferous tree in the early morning heat Saturday outside Chapel 1 at Kadena Air Base, his three children at his side, in a multicolored sea of faces.
Knox , 36, of the 18th Medical Group, was among more than 400 supporters who attended a vigil hosted by the 18th Wing Chaplain Corps to grieve the death of George Floyd. They also stood in solidarity against racial injustice and inequality, in the United States and also in the Air Force.
"It was important for my kids to see this," said Knox, a Philadelphia native. "I lived through a lot of these challenges that they're protesting [in the United States] today. So, I wanted to show my kids that even though we're in the military, we can still go out and support the cause."
The vigil featured speeches, prayer and 8 minutes and 46 seconds of silence — the length of time a white police officer in Minneapolis knelt on Floyd's neck, despite his cries for help, on May 25. The 46-year-old black man died.
The killing, which was caught on cellphone video and replayed over and over on internet and nightly news broadcasts, led to protests in cities all around the world.
Knox said the protests have resulted in a more open dialogue about racism and police brutality, giving hope that perhaps steps will be taken to change the system. The importance Saturday's vigil wasn't lost on his children.
"It's open and it's good that people are talking now because I think [the violence against black people] should stop," said Katalina Petitguillen Knox, 12.
The event came about after a member of the base mental health team emailed the chapel on June 8 and asked if it had anything planned, said Air Force Chaplain (Capt.) Adam Rhoads.
Rhoads routed the request up to 18th Wing commander Air Force Brig. Gen. Joel Carey, who signed off.
Organizers on Friday moved the event to a larger venue after social media generated greater interest in it.
"It means a lot to the community to be able to see such unity," Rhoads said Saturday. "When we look at the news and the media back home, we just see so much division there, and so to have something like this, you just see a united people. It's powerful and it speaks volumes to the community here and even just people being able to drive by and see it."
Cars began to trickle into the chapel parking lot at about 8:15 a.m. Saturday. By 8:30 a.m., the large lot was mostly full. The diverse crowd gathered around a small public address system near the chapel's front door.
"As we recognize change is needed, we grieve, because it was the death of George Floyd that tipped the scale for America to realize there is still a long way to go to get to where we want to be," Rhoads told those in attendance.
He asked everyone to dream of a place where everyone is treated equally and to imagine the steps individuals can take to get there. He then led a prayer.
Some supporters took a knee during the extended silence, others shed tears.
"I think it was a long time coming," said Marine spouse Chimere China, of Fairfax, Va. "It's not just George Floyd, it's everyone we have lost. I'm grateful that they put something together like this because there was a huge community feeling left out and helpless on how we could get involved."
Marine civilian employee Jason Bivins summarized his feelings about the day's events.
"How good and how pleasant it is for brethren to dwell together in unity," he said, before smiling and walking away.
burke.matt@stripes.com Twitter: @MatthewMBurke1