Air Force base on Guam in midst of $260 million upgrades to sustain 'critical missions'
---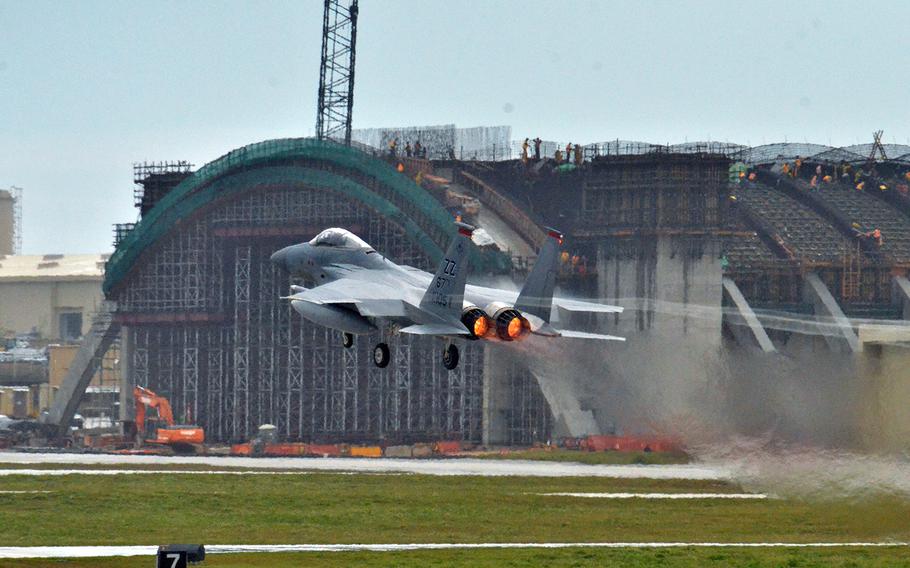 ANDERSEN AIR FORCE BASE, Guam — The Air Force is building more than $260 million worth of new facilities on Guam to support its largest aircraft, including transports, tankers and B-52 bombers, according to military officials.
Work is already underway at construction sites next to Andersen's runway, where the hulking steel frames of several massive half-built hangars, whose contracts were awarded between December 2014 and February 2015, rise above the base.
One of the new facilities is a $132.6 million "Tanker General Purpose Maintenance Hangar," 36th Wing spokesman Master Sgt. Richard Ebensberger said in an email Friday.
"This is a hardened facility, sized and configured to sustain critical missions," he said.
The hangar, due for completion by July 2021, is designed to accommodate large planes such as the C-17 Globemaster III transport, the KC-46A Pegasus tanker and the B-52 Stratofortress bomber as well as various types of jet fighters, he said.
"The hangar bay will support aircraft maintenance, repair, and regularly scheduled inspections that require complete protection from the elements, to include routine maintenance and airframe repairs," he said.
It will include space for command and administration, flight planning, aircrew briefing and debriefing, training and other activities necessary to keep a squadron mission capable during a contingency, Ebensberger said.
Nearby, workers are building a $128 million cast-in-place reinforced concrete fuel systems maintenance hangar with support space.
"The support space will provide heating, plumbing, ventilation, compressed air and fire detection and suppression," Ebensberger said.
The facility, due for completion in June 2021, includes space to store spare parts, tools and hazardous materials as well as administration areas.
"This hangar will provide a single aircraft parking bay and support personnel space," he said.
It will support missions such as rotational bombers, fighters, tankers and RQ-4 Global Hawk drones, he said.
The work is in addition to $8.7 billion worth of Navy construction on Guam to support the relocation of 5,000 Marines from the Japanese island of Okinawa.
The Guam construction is likely in response to increased vulnerability of more forward locations, according to Jan van Tol, a senior fellow at the Center for Strategic and Budgetary Assessments in Washington, D.C.
"The erratic behavior of the [Rodrigo] Duterte government in the Philippines concerning U.S. access to Philippine locations is also a likely contributing factor," van Tol said in an email Tuesday.
Experts have noted the rapid build-up of Chinese missile forces and their ability to strike U.S. bases in Japan, for example.
"The [Chinese military] also has capabilities to strike Guam at distance, particularly with ballistic missiles, but of course the longer the range, the costlier the strike weapon and the fewer of those they have, thus the greater the potential for active as well as passive defensive systems to be able to adequately protect Guam," he said.
The prospect of a Chinese attack on Guam means planners should develop additional dispersed and perhaps rudimentary bases on nearby islands such as Saipan, Tinian and Palau, he said.
"Bottom line: U.S. build-up in Guam signals U.S. commitment to remain an active player in the [western Pacific]," he said.
robson.seth@stripes.com Twitter: @SethRobson1
---
---
---
---