ANALYSIS
After North Korea nuke test, missile test could follow
---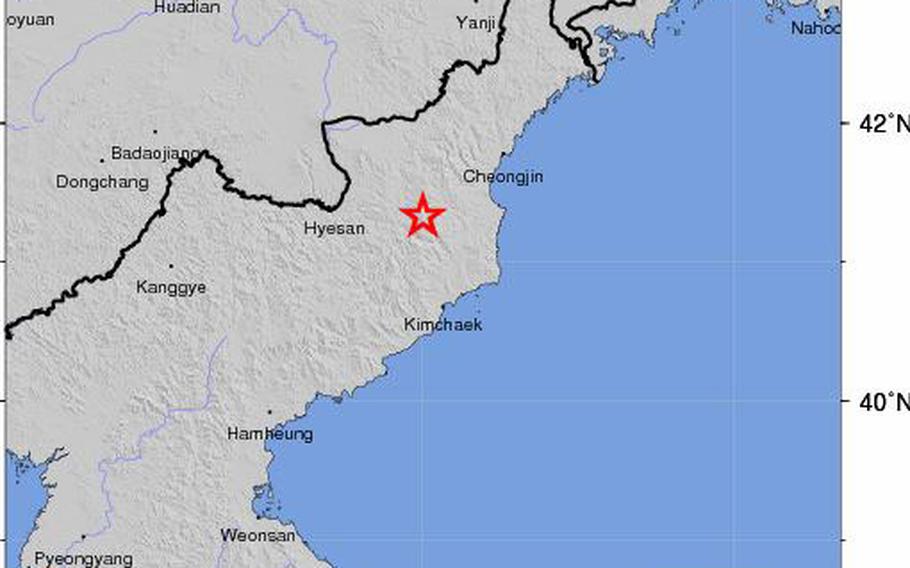 North Korea's latest nuclear test left world leaders wondering yet again how to rein in the rogue regime and sent experts scurrying to verify a boastful claim that seems beyond its reach while still in the realm of possibility.
It was classic Pyongyang: creating a crisis with what could be a grim new reality or just a grain of truth enhanced by smoke and mirrors while seemingly not caring what the rest of the world — even longtime ally China — thinks or does.
There has been speculation for months that North Korea was preparing to conduct its fourth nuclear test, so it wasn't a surprise when the U.S. Geological Survey detected a magnitude 5.1 earthquake at the reclusive country's Punggye-ri underground test site Wednesday morning, two days before leader Kim Jong Un's birthday.
Then came the shock: North Korea claimed it had detonated a hydrogen bomb for the first time — a fusion weapon that carries the potential for significantly more destruction than the plutonium or enriched uranium fission bombs that it previously tested.
"We've now become a nuclear state, which also holds a hydrogen bomb," the North announced on state television, calling it a "perfect success." It added a thinly veiled warning for the world to butt out: It won't use nuclear weapons unless there's a threat to undermine its autonomy.
While the U.S., Japan and South Korea searched for clues, including atmospheric sampling for radioactive debris, on the device's makeup and output, analysts speculated that Pyongyang might have added a small amount of tritium, a radioactive form of hydrogen, to a fission bomb to increase its output.
Or it may have actually produced a hydrogen bomb that either did not completely explode or was intentionally small in line with North Korea's efforts to miniaturize a nuclear weapon enough to fit in a missile warhead.
"We are monitoring and continuing to assess the situation in close coordination with our regional partners," U.S. State Department spokesman John Kirby said. "While we cannot confirm these claims at this time, we condemn any violation of U.N. Security Council Resolutions and again call on North Korea to abide by its international obligations and commitments. We have consistently made clear that we will not accept it as a nuclear state."
The North has a reputation for exaggerating its abilities. When Pyongyang released photos of what it called missiles being launched from a submarine, U.S. officials said they appeared to have been faked, as was a mock missile shown during a parade of military hardware a few years ago.
Analysts and military officials disagreed on the merits of the North's claim last spring that it had developed nuclear bombs small enough to fit on a missile warhead. U.S. Forces Korea commander Gen. Curtis Scaparrotti has said he has to prepare as though it does.
South Korean leaders held crisis meetings during the day. President Park Geun-hye called for a swift, accurate analysis on the North's claim and vowed a tough response.
"It's not only grave provocation of our national security, but also an act that threatens our lives and future," The Associated Press quoted Park as saying. "It's also a direct challenge to world peace and stability."
The U.N. Security Council prepared to hold an emergency session, but with North Korea thumbing its nose at past international sanctions, it was unclear how much more it could do.
Key to any success would be support from China, which recently committed to getting North Korea back to the bargaining table on its nuclear program.
"The question is how China will react," said Ralph Cossa of the Pacific Forum think tank in Hawaii.
Beijing said Wednesday it "firmly opposes" Pyongyang's action, with Foreign Ministry spokeswoman Hua Chunying urging North Korea to refrain from acts that might worsen tensions on the Korean Peninsula.
China recently sent a high-ranking official to North Korea, and there has been speculation that Kim's first overseas trip could be to China. A nuclear test could put that at risk, Cossa said.
The test also is certain to be an issue in the U.S. presidential campaign, where foreign policy already has become a major issue.
Whatever the details about the blast, the bottom line is that the North is relentlessly pursuing both nuclear weapons and the capability to deliver them as far away as the U.S. mainland with its missile program.
Bruce Bechtol, a North Korea expert at Angelo State University in Texas, said it "would be a very good guess" that another missile test — the last was in December 2012 — could come soon.
"Every time they have had a nuclear test, they have had a missile test right before or right after," Bechtol said.
The North's KN-08 intercontinental ballistic missile, displayed during an October military parade, has been shortened and simplified, according to 38 North, a website run by Johns Hopkins University's School of Advanced International Studies that monitors North Korean activities. A blunt warhead that is more likely to survive re-entry replaces a narrow, pointed design, and the missile's three stages have been reduced to two.
David Garretson, a professor of international relations with University of Maryland University College, agreed that a missile launch is likely looming, and that a sub launch could happen, too.
North Korea "is working on all fronts," he said.
There also has been widespread speculation that North Korea has been working with Iran on nuclear weapons and missile technology. Bechtol said Iranian scientists were believed to have been present for the 2013 nuclear test, and Garretson speculated that Iran's recent diplomatic blowup with Saudi Arabia could be linked to the North's latest test.
"It certainly speeded it up," he said.
A RAND Corp. report released in September said North Korea, whose artillery forces have long posed a threat to neighboring South Korea, may be a more dangerous threat today, in part because its pursuit of nuclear weapons and delivery systems has emboldened it.
"The continued North Korean development of nuclear weapons and long-range missiles raises North Korea's ability to escalate and may encourage a more provocative North Korean diplomatic and military posture," it said.
North Korea's army has an estimated 1.2 million active soldiers and 7.7 million reservists.
Stars and Stripes staffers Yoo-kyong Chang and Seth Robson contributed to this report.
---
---
---
---