African rats help turn Cambodian minefields into rice fields, for peanuts
by
Joseph Ditzler
December 20, 2019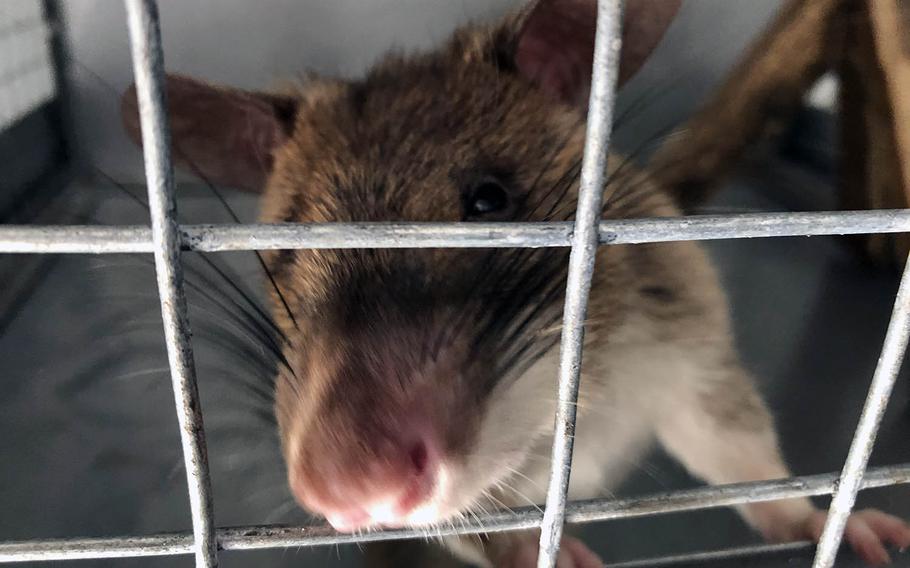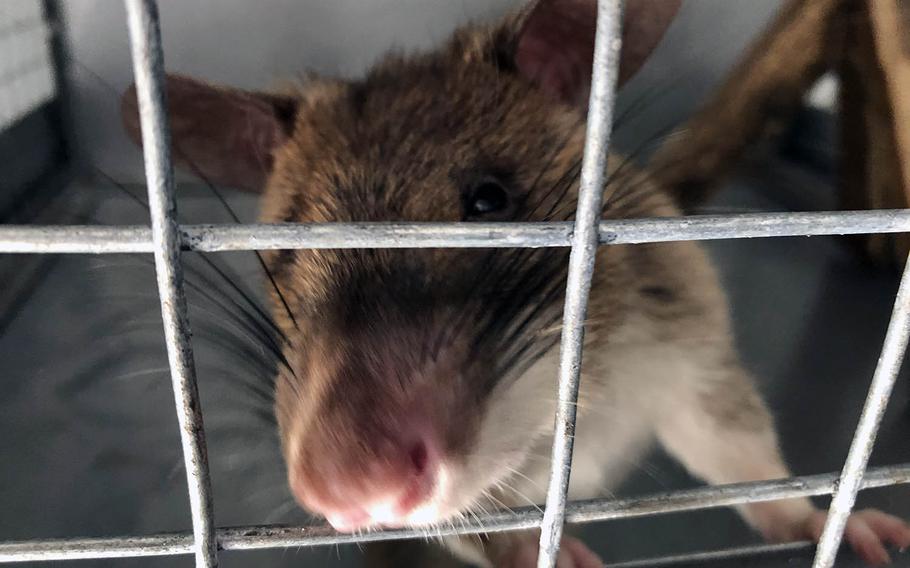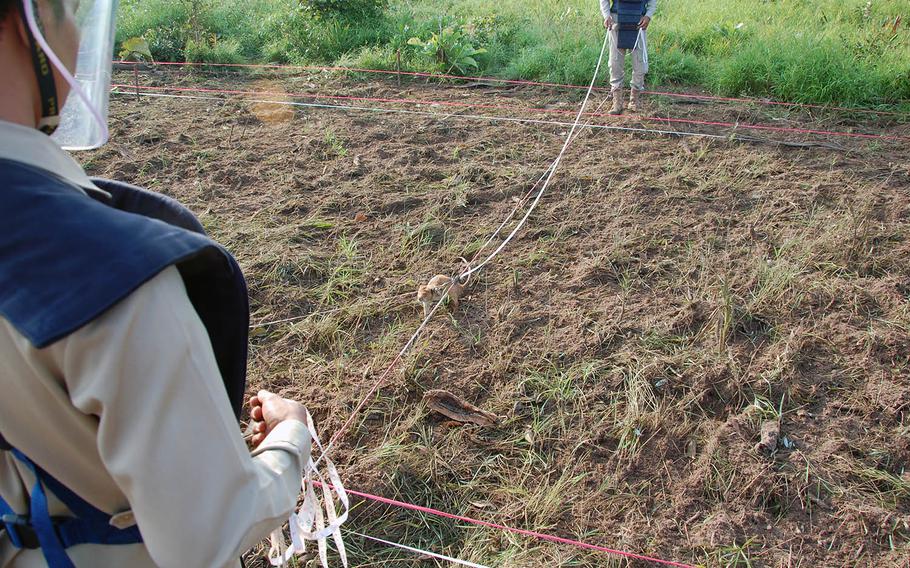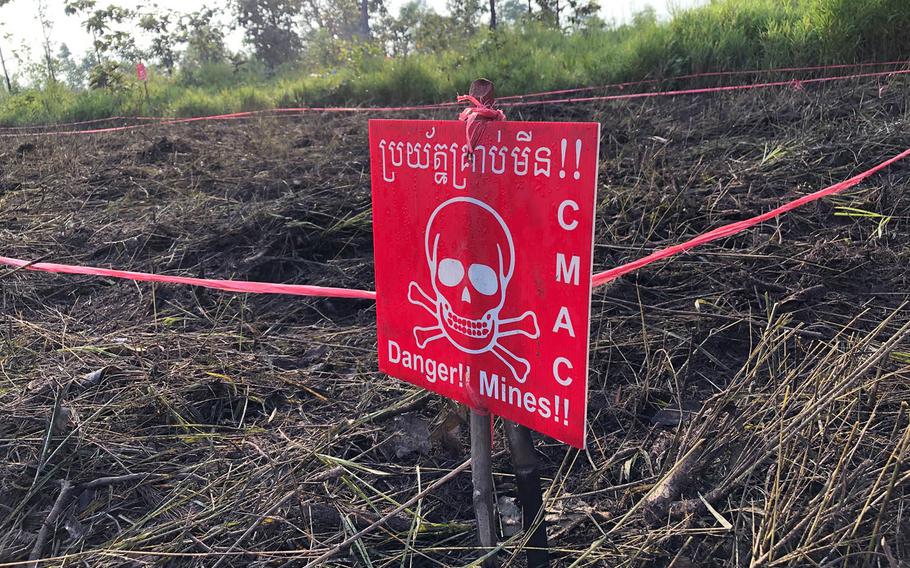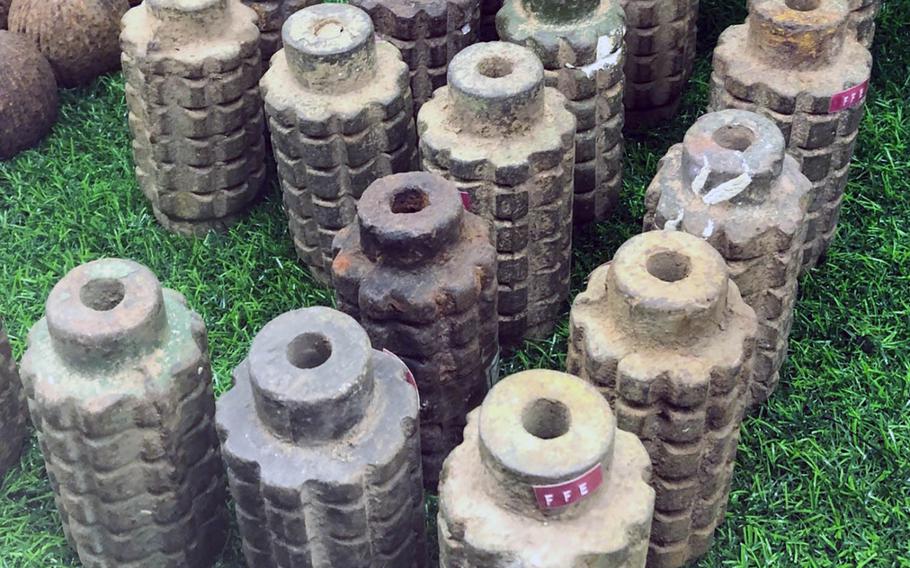 SIEM REAP, Cambodia — An hour's drive north on Route 66, beyond the tourist gaggle at the temple complex around Angkor Wat, work goes on to clear away the vestiges of three decades of war.
The key workers — African giant pouch rats — keep their noses on the job. This year in Cambodia, the rats and their human handlers have cleared hundreds of acres of landmines and unexploded munitions, making way for local farmers.
In early November, the teams were finishing up 70 acres just off the highway and past a two-room, wooden Cambodian farmhouse on stilts, over a muddy pasture and through a grove of cashew trees.
"From the time we started working, we've already cleared 13.25 hectares," or 33 acres, said Mark Shukuru, senior technical adviser for APOPO, a nongovernmental agency that trains rats to sniff out mines. "Up till now we've pulled 14 mines" and have found nine unexploded ordnances.
APOPO — one of several organizations clearing mines under the auspices of the Cambodian Mine Action Center — expected to finish that site by Nov. 29 and move on to another. The cleared acreage will be handed off in a ceremony Dec. 29 to local Cambodians, said Michael Heiman, APOPO program manager in Cambodia, in an email Nov. 27.
APOPO is a Dutch acronym for Anti-Personnel Landmines Detection Product Development.
"They are planning to grow mangoes, cashew nuts and rice on the land cleared," he wrote.
Minefields and other leftover munitions are a diminishing threat in Cambodia, thanks to the Cambodians themselves, nongovernmental agencies and foreign governments — Japan and the United States included. Today, far more Cambodians die in traffic accidents than are killed by landmines.
But they're still a threat.
From 1979 to 2017, leftover munitions in Cambodia killed nearly 20,000 people and injured an additional 45,000, about half of them children. A 2013 survey found more than 700 square miles of Cambodia was still contaminated by landmines, according to Landmine and Cluster Munition Monitor.
In the late 1960s and early 1970s, the U.S. — one of several combatants at the time — dropped about 2.7 million tons of ordnance there. Some of it still litters the countryside. Since then the U.S. has given more than $114 million to clear mines in Cambodia, according to the State Department.
For example, the Marine Corps this summer sent emergency ordnance disposal technicians to train their Cambodian counterparts as part of an ongoing Defense Department program, said 2nd Lt. Danny Little, spokesman for Marine Corps Forces Pacific, in an email Nov. 28.
'A survival thing' Founded in Belgium in 1997, APOPO is unique in developing rats as minesweepers, Heiman said.
The rats are very efficient, he said. They alert handlers to the chemical explosives, not the metallic parts that trigger electromagnetic mine detectors. The rats over three years increased APOPO mine-clearing efficiency by about 25%, according to the organization's 2018 annual report.
Overall, APOPO this year cleared 509 acres in Cambodia, finding and destroying over 600 mines and other unexploded leftovers of war, Heiman wrote.
Although the Cambodian economy grew by an average 8% from 1998 to 2018, its rural population is still mostly poor or just out of poverty, according to the World Bank.
Shukuru, a Tanzanian, has cleared minefields in Angola and Mozambique. He said he sees in Cambodia something he's not seen elsewhere: Locals deliberately working in minefields.
That's not uncommon in some mine-riddled, developing countries, Heiman said.
"Sometimes it's a survival thing so they take the risk," he wrote. "We provide Mine Risk Education in the mine-affected villages, but we cannot put guards around the mine-affected areas."
Cambodia was a battleground from the mid-1960s to the early 1990s.
The U.S. and South Vietnam battled North Vietnam there during the Vietnam War. The reunited Vietnamese fought the U.S.-backed Cambodians. The insurgent, communist Khmer Rouge fought the government under Lon Nol. The Vietnamese fought the Khmer Rouge. The United Nations brokered a sketchy peace in 1991.
Antipersonnel and antitank mines, unexploded cluster munitions, artillery rounds, grenades, mortars and aerial bombs still litter the countryside.
The site being cleared by APOPO in November had been a fortified camp. The minefield showed no pattern. Water sources and obvious cover, such as large trees, were ringed by mines. A site map indicated a lane cleared by the Khmer Rouge to move armored vehicles, where powerful antitank mines might lie.
The rat advantage Rats make good mine detectors for several reasons, said Thoeun Theap, the APOPO operations manager in Siem Reap.
They're too small to set off the mines. Their food — apples, bananas, tomatoes, peanuts — is available in local markets. APOPO also uses canines to hunt mines but dog food can be expensive and harder to procure.
An APOPO vehicle can carry only one or two dogs but several rats, plus training the rats takes eight months to a year versus a full year for a dog. And any trained handler can work with any rat; the dogs are paired with specific handlers.
"Normally, in captivity their life span is eight years and it takes us one year to train a rat, so that means we have at least five to six years to use them in operations," Shukuru said. "When they reach the age of six years, from there most of them are retired."
The nonprofit relies on international public support; U.S. donors gave $1.9 million from 2015-17, according to tax filings. To raise money, APOPO advertises an "adopt-a-rat" program on social media.
The animals are captured wild in Tanzania and bred. The next generation is trained to detect mines. The training success rate is about 93%, Shukuru said.
In the field, the rats work from 6-9:30 a.m., when they're most alert and before the Cambodian day becomes too hot.
On a typical day, teams of rats and handlers must clear about 3,300 square feet, working pre-marked rectangles of about 1,100 square feet. Each rat works with two handlers per section. Once a rat becomes fatigued, another waiting nearby takes its place.
"They have to work, all of them," Shukuru said. "Every rat that comes in the day has to work."
The basic procedure is simple. The handlers stand on either side of the rectangle and the rat moves on a cord back and forth between them, sniffing as it goes. When the rat reaches one side, the handlers take a step sideways and the rat returns to the other side.
If the rat alerts, the handlers mark the spot and move on. A demining team comes by later to remove the landmine if they find one. Random plots are rechecked to guarantee they're mine-free.
The hardworking rats earn a regular bonus.
"At the end of the week, we give them a big bunch of food," Shukuru said. "The seventh day is a holiday. We're giving them watermelons, sweet potatoes, corn, carrots to enjoy their weekend."
ditzler.joseph@stripes.com Twitter: @JosephDitzler