Adult flu shots arrive at Yokota to replace doses damaged by broken fridge
by
Seth Robson
November 8, 2019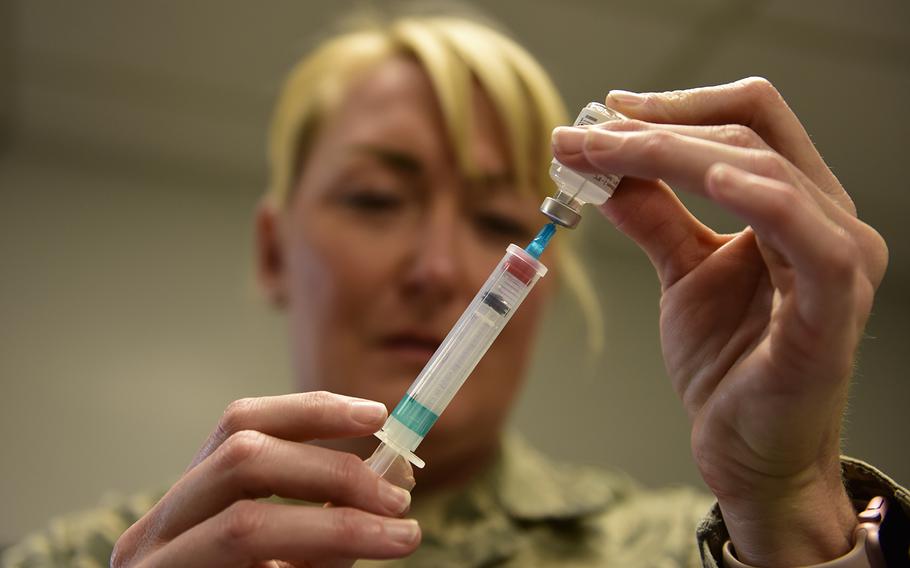 YOKOTA AIR BASE, Japan — The Air Force has received a fresh batch of influenza vaccine to replace doses damaged when a medical refrigerator malfunctioned at the home of U.S. Forces Japan in western Tokyo.
The mechanical failure delayed access to adult influenza vaccinations at the base earlier this month; however, they are now available for active-duty troops, 374th Airlift Wing spokeswoman Kaori Matsukasa said in an email Thursday.
Service members can get vaccinated during walk-in hours at Yokota's allergy and immunizations clinic, she said, which is open from 7.30 a.m. to 3.30 p.m. Mondays, Wednesdays and Fridays.
Dependents and civilians will be able to get the shots starting Nov. 21, Matsukasa said.
Pediatric flu shots for kids ages 6 to 36 months weren't impacted by the refrigerator malfunction and have been available since last month, officials said.
Flu season began Sept. 26 in metropolitan Tokyo, 11 weeks earlier than last year, according to a recent report by the Mainichi Shimbun. Japanese citizens were advised to take precautions since the number of flu cases usually peaks five to 10 weeks after flu season sets in, the newspaper said.
The Centers for Disease Control and Prevention states on its website that everyone 6 months or older should get a flu vaccine every season, with rare exception.
"Flu vaccination has important benefits. It can reduce flu illnesses, doctors' visits, and missed work and school due to flu, as well as prevent flu-related hospitalizations," the website says. "Flu vaccine also has been shown to be life-saving in children."
robson.seth@stripes.com Twitter: @SethRobson1