GALLERY
Abrams takes command of USFK amid nuclear talks with North Korea
by
Kim Gamel
November 8, 2018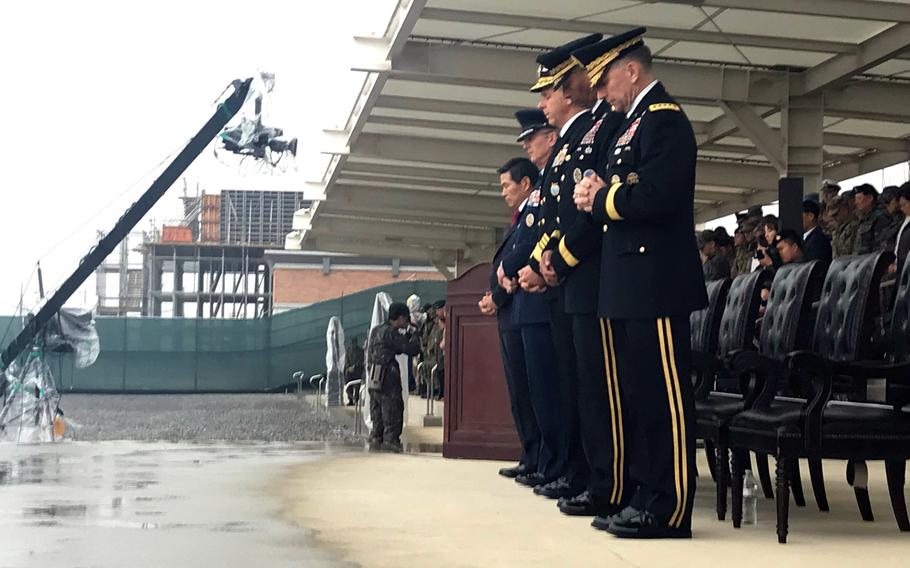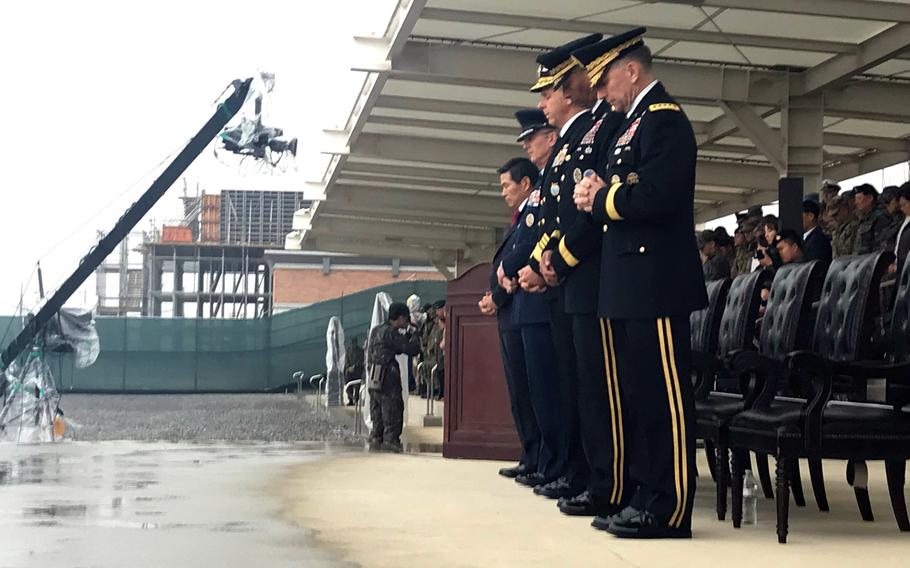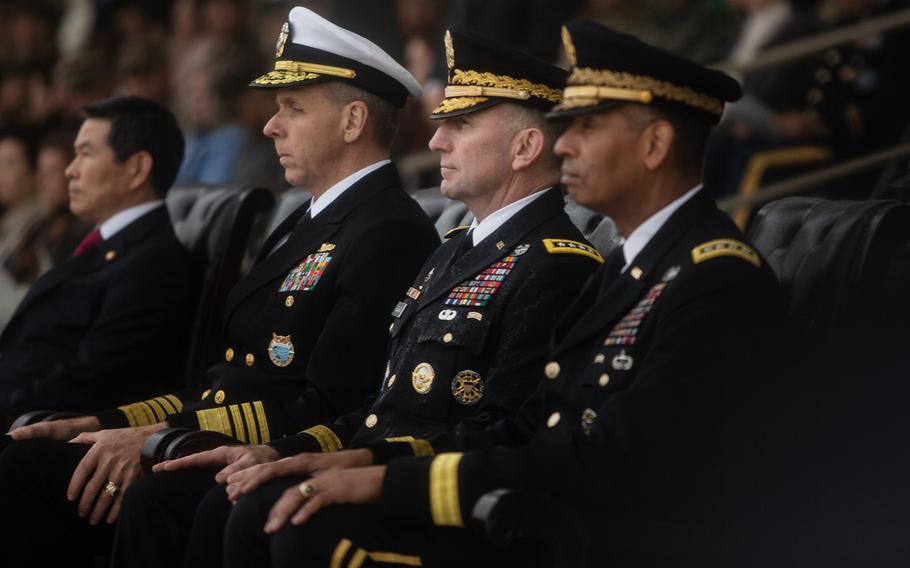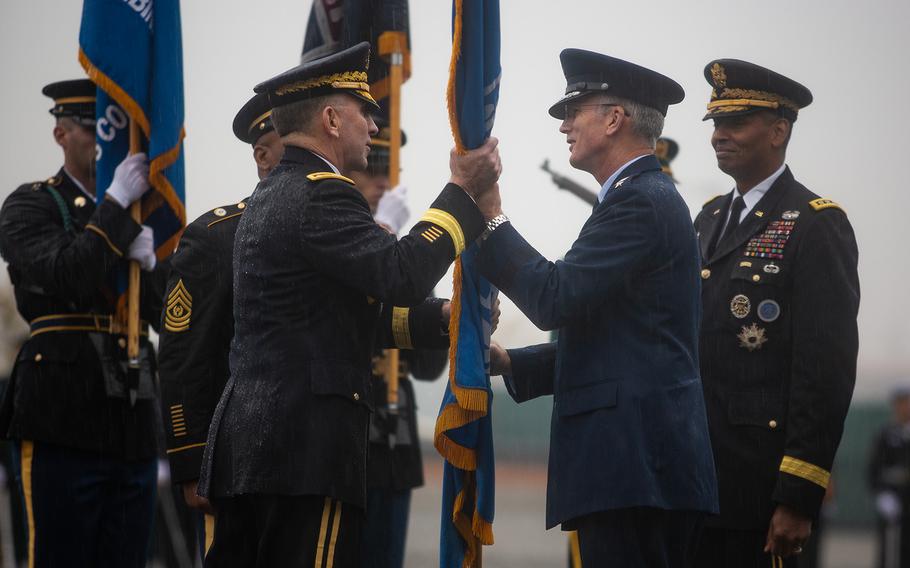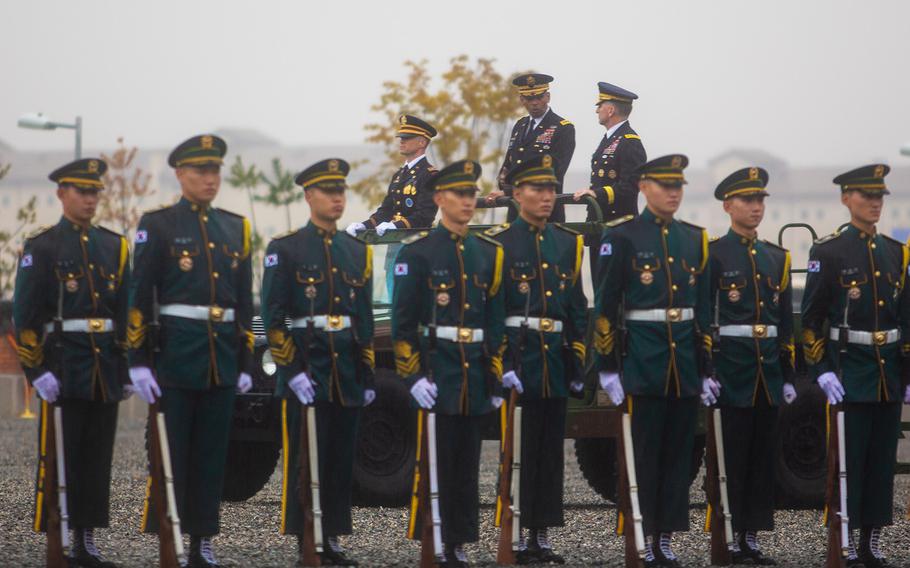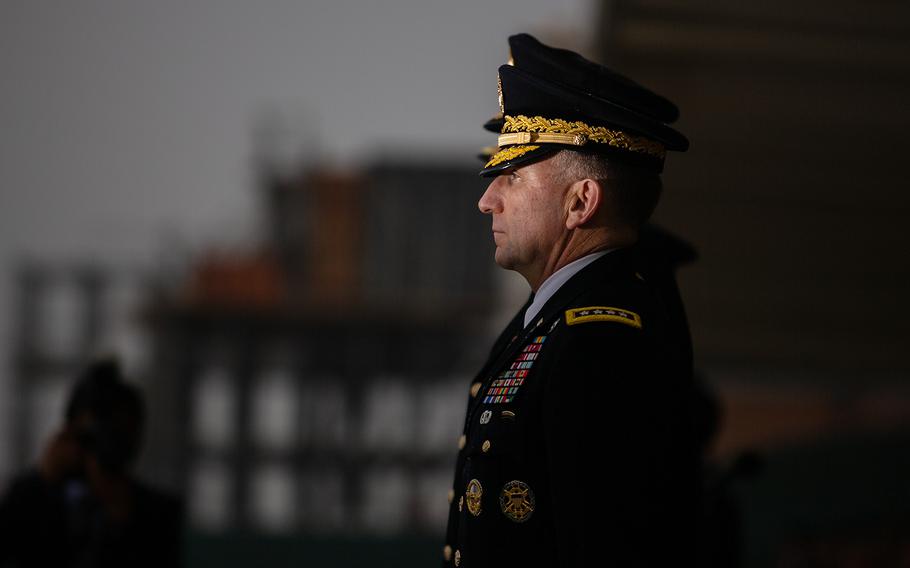 CAMP HUMPHREYS, South Korea — Gen. Robert Abrams stressed the need to maintain "fight tonight capability" as he assumed command of U.S. Forces Korea on Thursday amid diplomatic efforts aimed at eliminating the nuclear threat from the North and restoring peace on the divided peninsula.
Abrams, 57, took the colors for USFK, United Nations Command and Combined Forces Command during a rain-soaked ceremony at Barker Field that included an honor guard and a 17-gun salute.
The parade ground is in front of the new headquarters building at Camp Humphreys, about 40 miles south of Seoul.
He replaces Gen. Vincent Brooks, who has presided over military efforts on the peninsula since April 2016. That period has seen tensions with North Korea raise fears of a nuclear war before ebbing after the communist state agreed to engage in diplomacy earlier this year.
Brooks has not publicly announced what his next step will be, according to the USFK public affairs office.
Abrams emphasized his commitment to the longstanding alliance that was forged during the 1950-53 Korean War, which ended in an armistice instead of a peace treaty.
"I am deeply honored to have this opportunity to lead this one-of-a-kind, triple-headed command, a unique joint combined force that draws its strength from the ironclad relationship with the Republic of Korea and the commitment of the United Nations," he said.
Challenges aheadHe faces several challenges, from the need to keep his troops poised for battle amid the push for peace, to preparing for a possible change to the military's posture, as senior officials have hinted may be required.
The prospect of peace with the North is still in early stages, but it has raised questions about the future of some 28,500 U.S. servicemembers stationed in the South. In addition to a longstanding North Korean desire to evict the Americans, President Donald Trump has suggested he would like to reduce troop numbers to save money.
The United States also has suspended large-scale joint war games with South Korea to avoid provoking the North during the nuclear negotiations, although officials insist joint training continues at lower levels.
The four-star general said during his Senate confirmation hearing in September that the pause had harmed readiness and that assessing the situation would be a top priority.
"The current conditions on the peninsula … are as dynamic as they have ever been," he said Thursday. "As we pursue opportunities it is our military responsibility to maintain a high level of readiness and fight-tonight capability so that we cannot only deter but defeat external threats if we are called to do so."
The next test will be whether annual spring exercises known as Foal Eagle and Key Resolve take place.
"I think right now a big challenge Abrams will face is … how to make changes to the military posture in support of Pompeo's diplomatic efforts, without raising alarms that North Korea is weakening the U.S.-(South Korean) alliance," said Catherine Killough of the Ploughshares Fund, a global security foundation based in Washington.
She also noted Abrams is taking over as South Korea is moving to assume wartime operational control, which currently would fall to the United States.
"I see that as a positive move, and a strong, necessary signal that South Korea is an equal partner in the alliance," she said in an email. "But I imagine that it will also stoke fears among hard-line factions that the U.S. is ceding control in the region."
Trump met with North Korean leader Kim Jong Un in an unprecedented summit between the two countries on June 12 in Singapore, but efforts to persuade Pyongyang to abandon its nuclear efforts have stalled over disagreements over the details of what that means.
Military familyThe change-of-command ceremony happened on the same day Secretary of State Mike Pompeo had been due to meet a senior North Korean envoy in New York, but the State Department announced the high-level talks had been indefinitely delayed, without giving a reason.
Gen. Joseph Dunford, chairman of the Joint Chiefs of Staff, said Monday that the U.S. will have to change its military posture on the Korean Peninsula if talks with the North advance. He didn't elaborate.
"The military, in particular, has an obligation to hope for the best but prepare for the worst," Daniel Davis, a senior fellow with the Washington, D.C.-based think tank Defense Priorities, said in a telephone interview.
Davis, a retired Army officer who served in South Korea, suggested changes could include reducing the number of Americans stationed on the peninsula in exchange for concrete measures from the North or an agreement on both sides to move combat forces farther from the heavily fortified border.
Abrams, a 1982 West Point Graduate who was commissioned as an armor officer and has led troops in Iraq and Afghanistan, came to South Korea from Fort Bragg, N.C., where he served as the head of Army Forces Command since August 2015.
He previously served as senior military assistant to the defense secretary. Abrams also played a key role in the court-martial of Pvt. Bowe Bergdahl, the former Taliban captive who pleaded guilty to desertion and misbehavior charges.
Born in Germany, Abrams was the third member of his immediate family to earn four stars.
His father was Gen. Creighton Abrams Jr., the namesake of the M1 Abrams tank. His brother, retired Gen. John Abrams, former commander of Army Training and Doctrine Command, died last month. His other brother is retired Brig. Gen. Creighton Abrams Jr.
Command Sgt. Maj. Walter Tagalicud also assumed responsibility from Command Sgt. Maj. Steven Payton at Thursday's ceremony, which was attended by South Korea's defense minister and Adm. Phil Davidson, the U.S. Indo-Pacific commander.gamel.kim@stripes.com Twitter: @kimgamel