Abrams defends coronavirus measures as more troops test positive after arriving in South Korea from US
by
Kim Gamel
July 20, 2020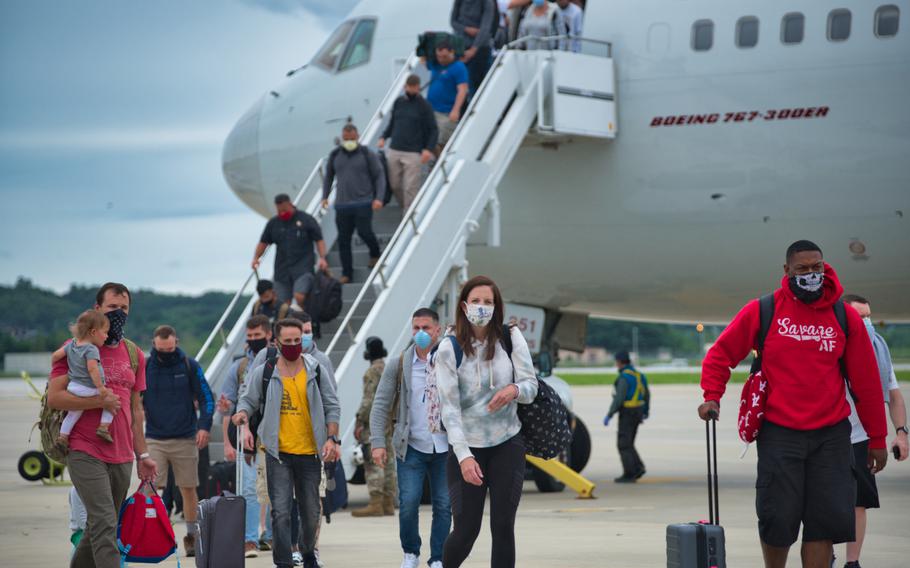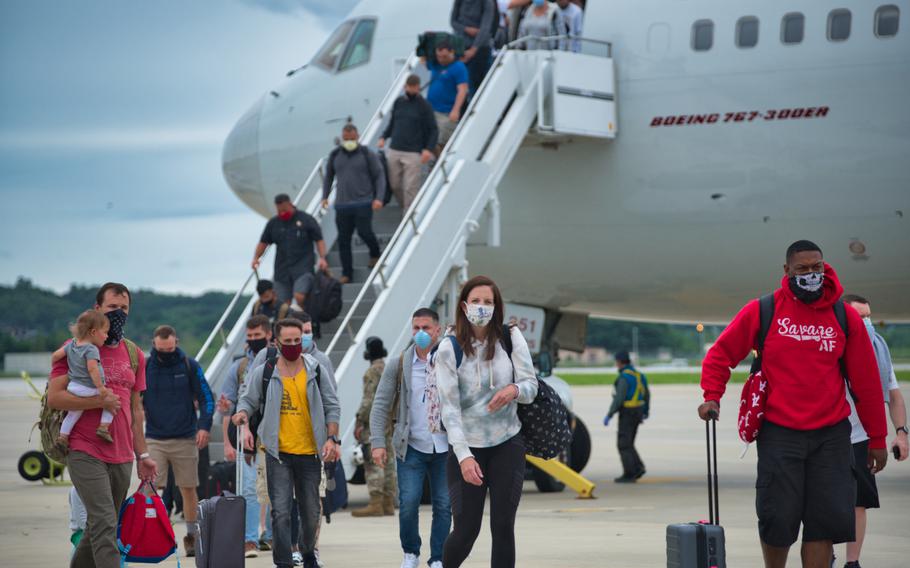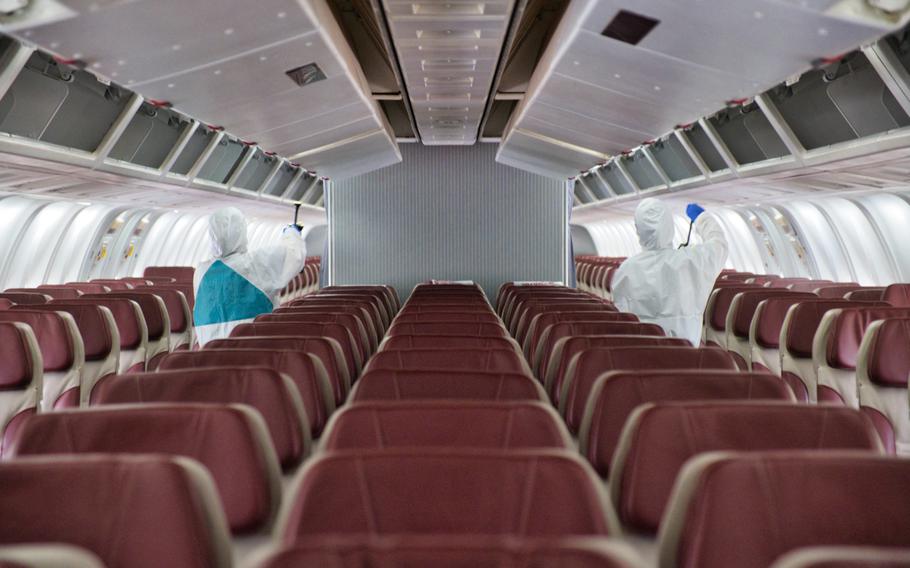 Stars and Stripes is making stories on the coronavirus pandemic available free of charge. See other free reports here. Sign up for our daily coronavirus newsletter here. Please support our journalism with a subscription.
SEOUL, South Korea — Gen. Robert Abrams defended his command's anti-coronavirus measures on Monday, calling them "more stringent than just about any other country in the world," as 10 more people affiliated with the military tested positive after traveling to South Korea from the United States.
The latest confirmed cases, which included six service members and four dependents who arrived in South Korea last week, raised to 98 the total number of infections linked to U.S. Forces Korea since its first case in late February.
The sharp increase, which is largely due to troops and family members coming from the United States for new assignments, has prompted growing concern in local communities, especially since South Korea has seen its coronavirus crisis largely stabilize.
The province of Gyeonggi-do, which includes cities near Camp Humphreys and Osan Air Base, on Friday asked the military to test troops in the United States before they get on the plane.
Abrams said procedures within the United States vary but stressed that USFK has a strict testing and quarantine program that begins as soon as troops and other personnel arrive on the divided peninsula.
Local concerns Everybody is tested twice for the virus — once before entering a mandatory two-week quarantine, then again before being allowed to leave. Those who receive positive results are kept in isolation and released only after they are asymptomatic for seven days and test negative twice.
"We have a tried and proven process to ensure that those traveling in from the United States — that there is no unnecessary exposure to Korea citizens or to our own population here on our bases. They're strictly controlled," Abrams said Monday on American Forces Network radio. "That's actually more stringent than just about any other country in the world."
While local officials expressed concern, South Korea's Centers for Disease Control and Prevention said it enjoys close cooperation with USFK and expressed strong confidence in the military's procedures.
South Korea was once an epicenter of the pandemic but has managed to flatten the daily number of infections. It requires all incoming travelers to be tested and quarantined but does not mandate an exit test.
"The USFK procedures, therefore, are even stronger than what we are practicing," KCDC director-general Kwon Jun-wook said Friday during a press briefing.
Kwon also said he knew of no recent transmissions happening on a commercial airline, citing health measures by the flight crew and passengers and the air flow system on the plane.
"The air flows from top to bottom, and then from front to back," he said. "Because of the way the air flow is designed, we test the front three rows and the back three rows when a confirmed case happens."
Abrams noted that only 24 of the 98 USFK cases were contracted locally, with the most recent one recorded on April 13. The rest traveled to South Korea from abroad.
Safety net Five service members and four dependents tested positive after arriving at Osan Air Base on U.S. government-chartered flights on July 12, 14 and Wednesday, USFK said Monday in a press release. Another service member arrived on a commercial flight at Incheon International Airport on July 13, it said.
Six of the affected individuals tested positive on their first test, with only two of them showing minor symptoms. The other four initially tested negative but later developed symptoms and were retested with positive results, USFK said.
"All individuals have since been transferred to an isolation facility designated for confirmed COVID-19 cases on either Camp Humphreys or Osan Air Base," it added, referring to the disease that is caused by the virus.
The command said health authorities determined limited contact tracing was needed since everybody arriving in the country is tested and quarantined but all means of transportation and quarantine rooms occupied by the individuals had been disinfected.
"None of the new arrivals have interacted with anyone residing within the local community," it said.
The new cases come as the United States struggles with another surge in infections and more than 3.7 million total confirmed cases.
South Korea, meanwhile, reported only four local transmissions but 22 imported cases on Monday, raising its total to 13,771 with 296 deaths since Jan. 20.
Many asymptomatic Abrams also provided more details about the troops and others who tested positive upon arrival, saying 46 had displayed no symptoms, while 10 initially tested negative but received positive results on their second test, suggesting they had contracted the virus during their travels.
"We've only had a couple out of our 98 cases that have required any sort of in-hospital medical care, and it's been really minor so, thankfully, we have not had any serious cases," he said.
The military also increased the number of Patriot Express flights from two to five per week in anticipation of a backlog in travel after the Defense Department lifted a ban on moves that had been imposed to stem the spread of the virus.
"As long as they're not symptomatic, displaying symptoms of COVID, they'll be allowed to get on the aircraft," Abrams said. He said the flights were only being filled at 60% capacity to enable social distancing and all passengers were required to wear face masks.
"We're putting as many as we can on Patriot Express, but we're still going to have the occasional service member or family member that's going to have to travel here through the commercial airport," he said.
USFK also had conducted 1,000 random coronavirus tests on-base and all were negative, he said, crediting continued vigilance against the disease despite a relaxation in restrictions.
"When you can't maintain social distancing, you need to put your mask on because the mask is not about protecting you, the mask is about protecting everybody on your team in the event that you're an asymptomatic, positive case, that you just don't know about yourself," he said. "COVID'S going to be with us for a while. This is the new normal and we just need to embrace it."
Stars and Stripes reporter Yoo Kyong Chang contributed to this report.
gamel.kim@stripes.com Twitter: @kimgamel