About 50,000 service members in Japan ordered to maintain logs of personal interactions amid pandemic
by
Matthew M. Burke
April 28, 2020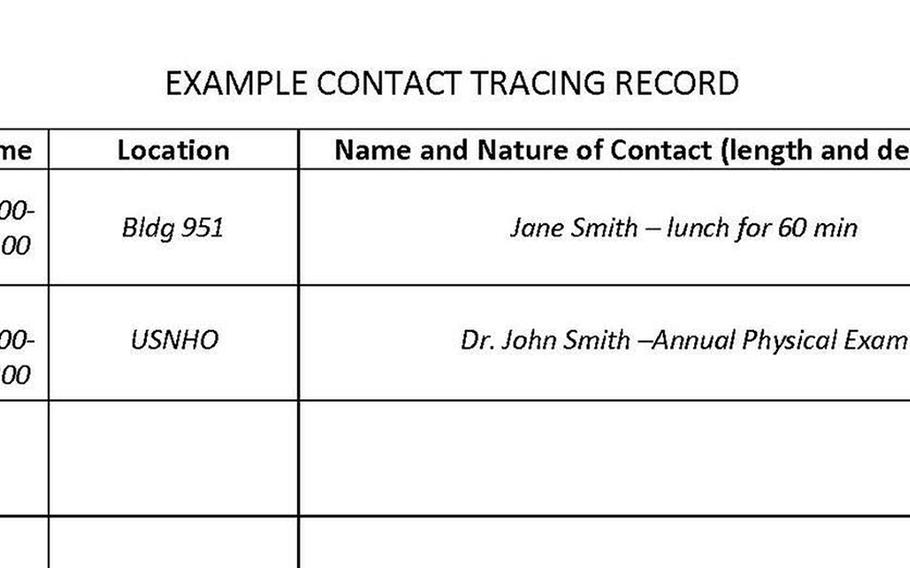 Stars and Stripes is making stories on the coronavirus pandemic available free of charge. See other free reports here. Sign up for our daily coronavirus newsletter here. Please support our journalism with a subscription.
CAMP FOSTER, Okinawa — U.S. Forces Japan has ordered the approximately 50,000 active-duty service members under its umbrella to maintain a log of daily personal contacts and interactions to track the potential spread of the coronavirus.
The order was issued Friday by USFJ commander Lt. Gen. Kevin Schneider and requires service members to record the following information:
— Date, time and duration of contact
— Location and names of individuals who come within 6 feet of the service member for longer than 10 minutes
— Those with whom the service member shares physical contact while caring for, living with or visiting
— Individuals who expose the service member to secretions, like coughing or sneezing
— Date, arrival and departure times and locations for all visits to health care facilities, as well as the details of health care waiting rooms
Failure to comply may result in charges under Article 92 of the Uniform Code of Military Justice, failure to obey an order or regulation, according to the order.
"All active duty military personnel within Japan shall maintain a daily 'contact tracing' record in the event they should become a COVID-19 case," it states.
Defense Department civilians, military dependents, contractors and Japanese base workers are "highly encouraged" to also maintain a log, the order states. Those who choose not to could be denied access to USFJ military installations.
The records would be viewed only by medical personnel during a coronavirus contact tracing investigation, the order said.
The order also directed III Marine Expeditionary Force commander Lt. Gen. H. Stacy Clardy III, in his role as the Okinawa Area Coordinator, to "establish, operate and manage" an Okinawa-based Joint COVID-19 Response Center. The center's job will be to coordinate across the services on the island and serve as the hub for notification and response to persons-under-investigation cases.
The joint response center "will ensure the joint force is adequately equipped and trained" to respond to a person under investigation for possible infection, including tracing that person's contacts and fielding "clean teams to minimize exposure of USFJ-affiliated personnel present on Okinawa," the order states.
As of Tuesday, Okinawa had reported 145 confirmed virus cases, the Okinawa Times newspaper reported. These include a girl who tested positive at the airport but was counted in another prefecture's tally and two U.S. airmen and a family member from Kadena Air Base.
Two of the three Kadena patients have recovered, while the third is "doing well," an 18th Wing spokeswoman told Stars and Stripes on Tuesday.
Stars and Stripes reporter Aya Ichihashi contributed to this report.
burke.matt@stripes.com Twitter: @MatthewMBurke1