A-10s leave South Korea for training in Alaska despite tensions with North
---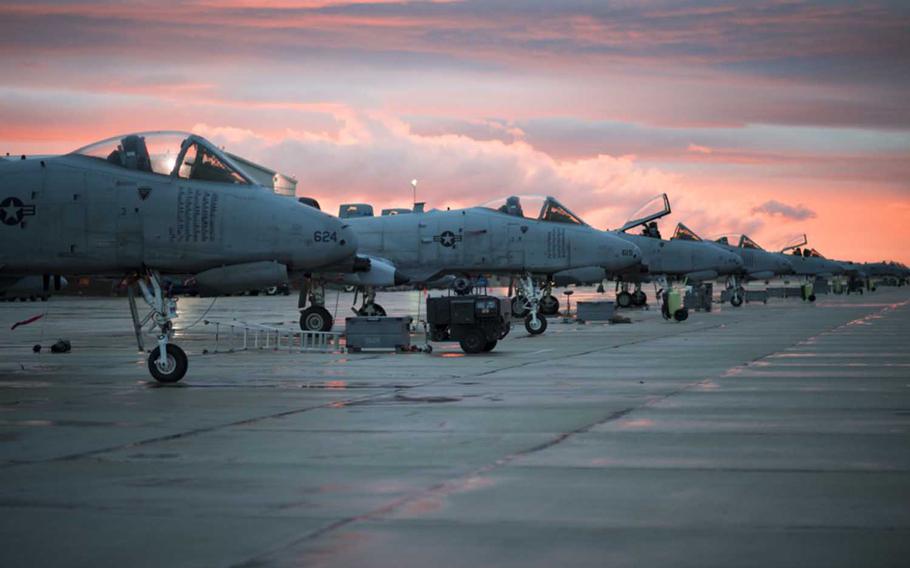 YOKOTA AIR BASE, Japan – A dozen South Korea-based A-10 Thunderbolt II aircraft took off for an exercise in Alaska, an indication that the U.S. military is carrying on with business as usual despite rising tensions over North Korea's nuclear weapons program.
The divided peninsula has been on edge for months as the United States and North Korea rattle sabers with missile tests and bomber and aircraft carrier deployments.
The 25th Fighter Squadron A-10s are stationed at Osan Air Base in South Korea but were at Yokota Air Base, Japan, over Memorial Day weekend.
They began departing Yokota for Eielson Air Force Base, Alaska, on Wednesday, according to Tech. Sgt. Ashley Tyler, a 51st Fighter Wing spokeswoman.
The planes will be met in Alaska by more air crew and support personnel and will join the Red Flag Alaska 17-2 drills out of Eielson and Joint Base Elmendorf-Richardson through early July, she said.
The exercise will simulate the first 10 days of combat with a near-peer adversary, Tyler said in a follow-up email.
"They will be conducting combat air strikes in conjunction with combined and joint force partners, an integration that maintains readiness and proficiency and utilizes unique training opportunities," she said.
Other A-10s assigned to the 25th will remain at Osan Air Base to execute mission requirements there, she said.
Carl Baker, director of programs at the Pacific Forum think tank in Hawaii, said the fact that the aircraft are joining the regularly scheduled exercise suggests that commanders don't think war is imminent.
The A-10s are designed to provide close support to infantry and destroy enemy tanks.
"If you are going to try to kill tanks in Korea you are not going to send them to Alaska to shoot holes in snow," Baker said.
Tyler said deployments such as the A-10's trip to Alaska are frequent and the exercise had been scheduled since 2016.
"It is another opportunity for Pacific Air Forces' units to help maintain security and stability throughout the Indo-Asia-Pacific region," she said.
The training that pilots and maintainers receive operating in less familiar locations and alongside other units is invaluable, Tyler added.
"By relocating to other bases, our maintenance teams and pilots are able to continue to train with our allies and partners and conduct day-to-day operations," she said.robson.seth@stripes.com Twitter: @SethRobson1
---
---
---
---