GALLERY
2nd ID uses updated Army Combat Fitness Test in Best Warrior Competition
by
Matt Keeler
April 19, 2019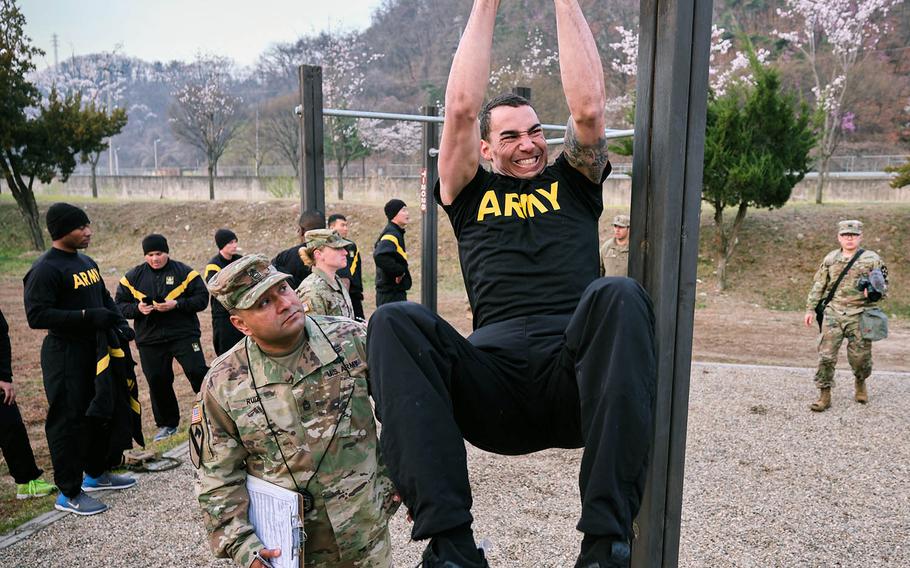 CAMP CASEY, South Korea — The 2nd Infantry Division applied the new Army Combat Fitness Test to its Best Warrior Competition for the first time Thursday, and soldiers competing were impressed.
"This was a good move," said Warrant Officer James Benecke of the 2nd Sustainment Brigade.
The new test, which includes six new fitness events, is intended to "better connect fitness with combat readiness," according to the Army's official website. The plan is to adopt the new test for on-the-record fitness evaluations servicewide no later than October 2020, according to the Army website.
"It more accurately reflects the kind of fitness we are going to need in a combat situation," Benecke said. "I don't see when I am ever going to have to do two minutes' worth of push-ups and sit-ups when I am getting shot at."
Most of the Best Warrior competitors were taking the entire standard test for the first time.
"This is the future of the Army," said Sgt. Maj. Anthony Gregerson, the division fire-support element operations sergeant major. "It is the focal point of the Army and where we are moving; if we don't train on it, we are setting our soldiers up for failure at the next level."
The 2nd Division incorporated the new standards into the competition this year to better prepare the contestants for higher-echelon competitions, Gregerson said.
A variant of the push-up event still exists in the new program, but the sit-up event has been substituted with multiple events that will engage the core muscles to test strength and endurance, such as the standing power throw and the leg tuck.
In addition, the test also includes a three repetition maximum deadlift, hand-release push-ups, a sprint-drag-carry shuttle circuit, and concludes with a two-mile run.
One representative from different ranks — officer, warrant officer, noncommissioned officer and junior enlisted — along with a soldier from the Korean Augmentation to the United States Army, or KATUSA, will be selected to represent the division at the Eighth Army level in May.
The same five soldiers will compete against other units across the Korean peninsula for the chance to compete in Hawaii at the United States Army Pacific level, and later at Fort A.P. Hill, Va. for the Army title.
A KATUSA contestant cannot advance beyond the Eighth Army event, but that did not deter Cpl. Jaewoo Chang, the senior KATUSA for 2nd Sustainment Brigade, from entering the competition.
"The best warrior competition is the best Army experience for a KATUSA," Chang told Stars and Stripes.
Chang joined the competition not expecting to win, he just wants to do his best, develop as a leader and set a positive example for future KATUSAs, he said.
"It was not easy, but fun," Chang said after finishing the combat fitness test. "It is better than the personal fitness test, each event is like a sport, so we encourage each other to do better."