2nd ID's tae kwon do team gets a kick out of performing
by
Jon Rabiroff
August 6, 2011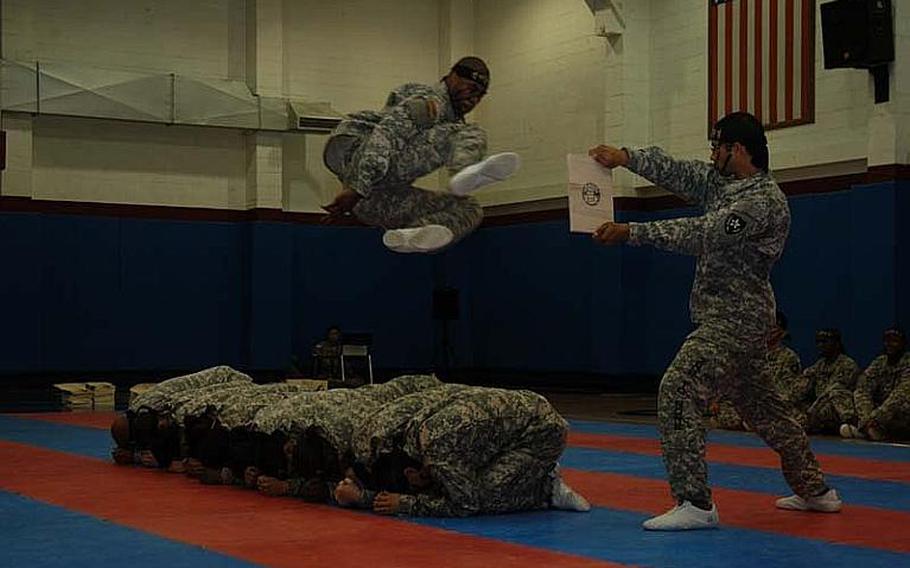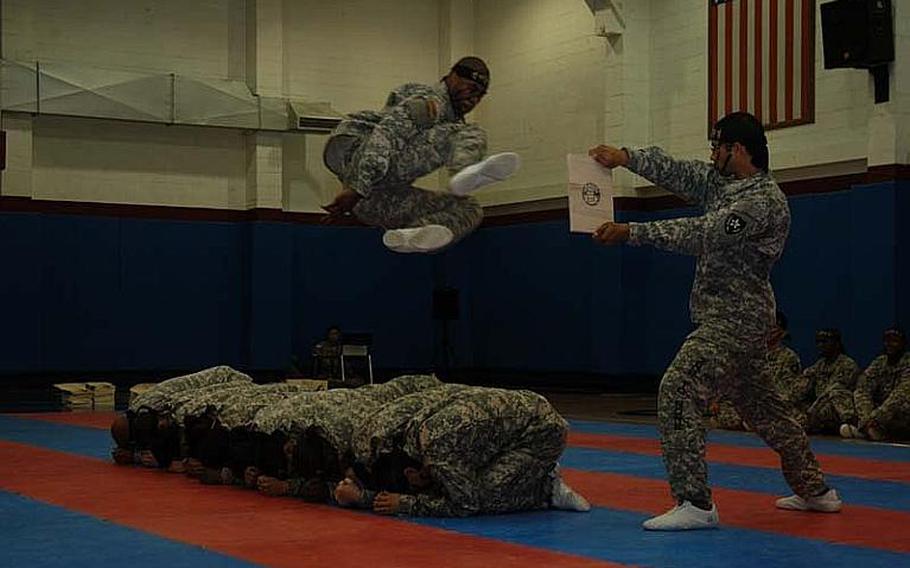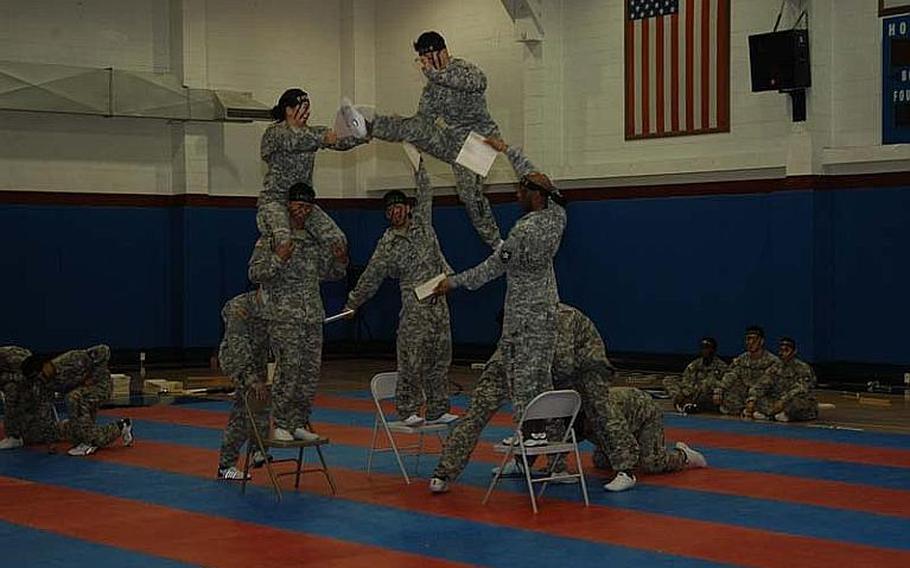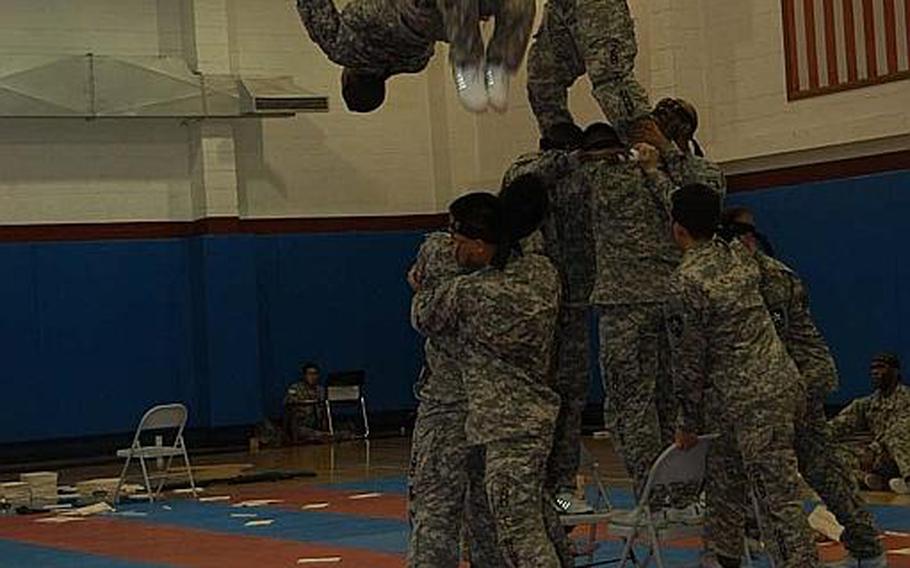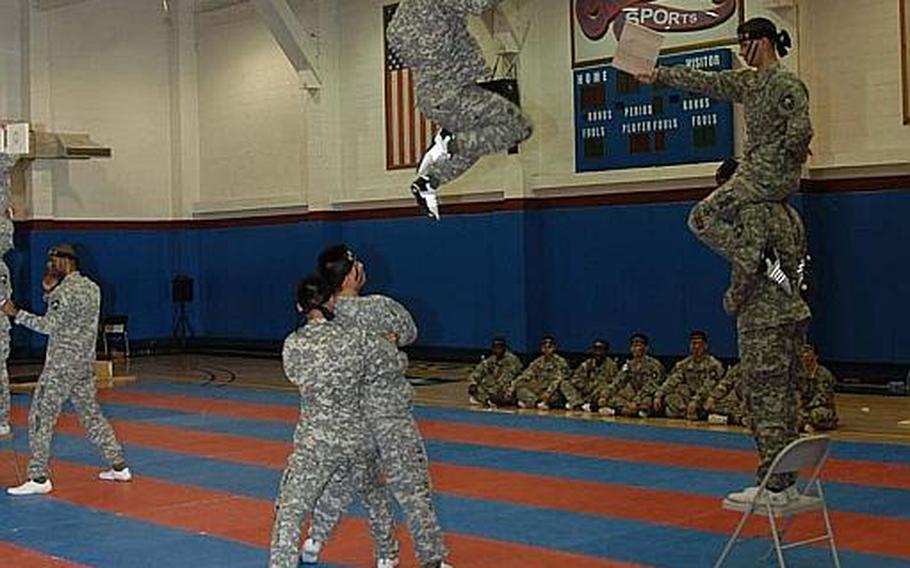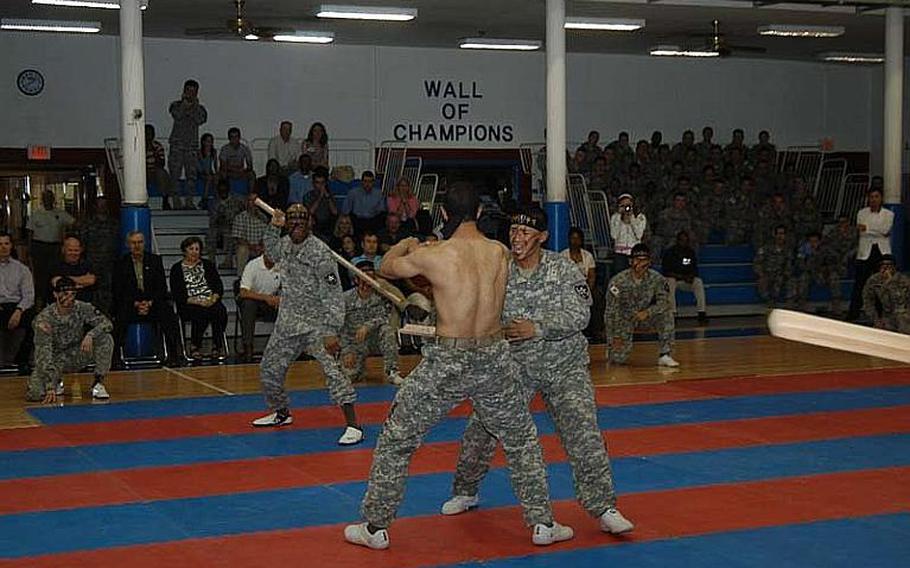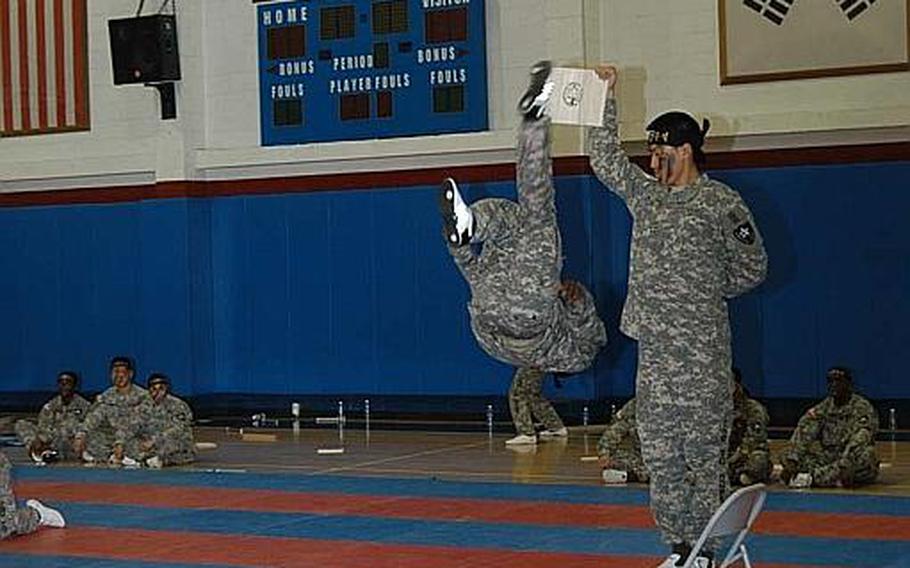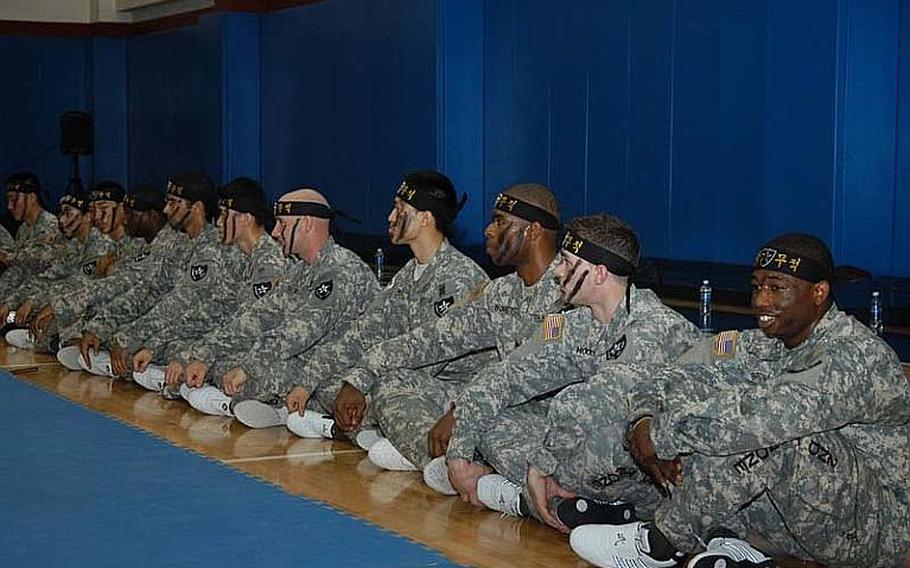 CAMP RED CLOUD, South Korea – When Pfc. Marjany Bolling joined the Army, he expected the bulk of his days would be spent "scrubbing toilets and mopping floors … like you see in the movies."
Sgt. Charles Purifoy was just hoping the Army could help him overcome a frustration of his childhood because, he said, "I was weak as a kid."
Both said they were surprised, and satisfied, that they eventually worked their way onto the 2nd Infantry Division's Tae Kwon Do Demonstration Team, whose members' job it is to kick, punch, chop and flip their way into the hearts of spectators around South Korea and the U.S. military as sweat-covered ambassadors for the Army.
The 28-member team – the only one of its kind in the Army - works full-time practicing elements of the Korean martial art in preparation for about 15 performances a year.
"As long as you have a black belt or great gymnastic skills, we'll work with you to make it happen," said 2nd Lt. Dawn Herron, the team's platoon leader. "As long as you put forth the effort and you show interest and passion for martial arts and being a representative (of) the … U.S. Army, then you're good to go."
Bolling and Purifoy said the team took their raw athletic skills and molded them into the roles they now play in its performances.
"I love weapons," Bolling said. "I do nunchucks and stick fights. I'm really into that. I'm not a big tumbler guy, but hopefully in the off-season I'll up my skill level.
Purifoy said he knew little or nothing about the martial arts when he saw the team in action a couple of years ago,
"But I knew, from that moment, I really wanted to join the team, just for their passion, and the respect and honor," he said. "I had no martial arts experience when I joined the team, It was the team that helped me get where I am."
At a recent demonstration for new and high-ranking 2ID personnel, the team put a wide range of skills on display, including several boards being broken by kicks delivered during high-flying flips. Some of the team's acrobatics drew gasps and screams of admiration from the audience.
Herron said it was a natural for the 2ID – which has about 10,000 soldiers based in South Korea – to employ a team proficient in the national sport of its host country.
Not everyone who joins the team is immediately ready for the performances – some have to work their way into the demonstrations, she said.
"It usually takes a year (to become a black belt)," Herron said. "But (it) kind of expedites the process … spending 40 hours a week (doing) nothing but martial arts and tae kwon do. We train almost six days a week … whatever it takes to get our mission accomplished.
"This is our full-time job – our bread and butter."
Herron said the 2ID's interest in the Korean martial art does not stop with the demonstrations, but extends into some of the training given to soldiers who are not on the team.
"Most people (think) when you fight, it's a brawl," she said. "But, it's not. Every move in tae kwon do is physics.
"There's a mechanism to every punch you make, the way you hold your fist, the way you strike, the power, the speed – everything adds up and we can definitely apply that to combat," she said.