GALLERY
24 Apaches arrive in Hawaii as part of Army aviation restructuring
---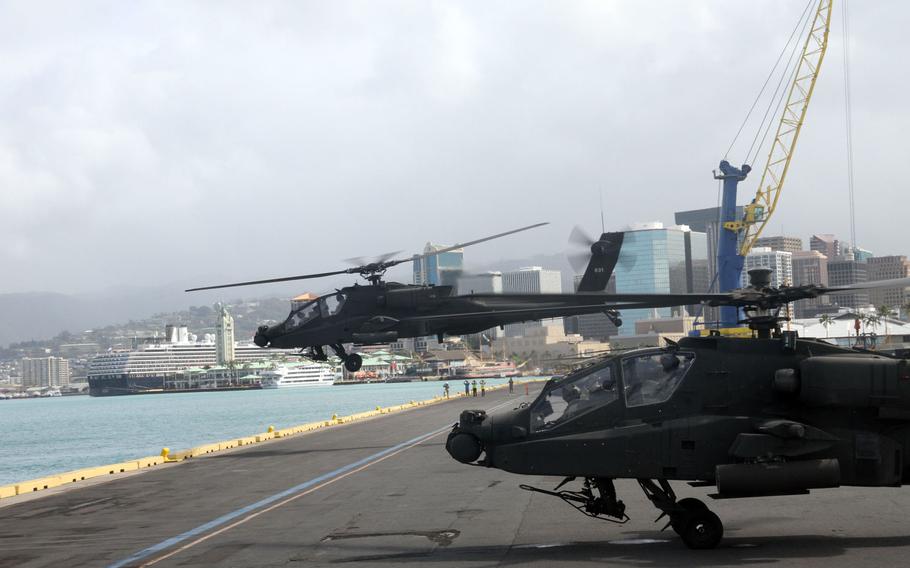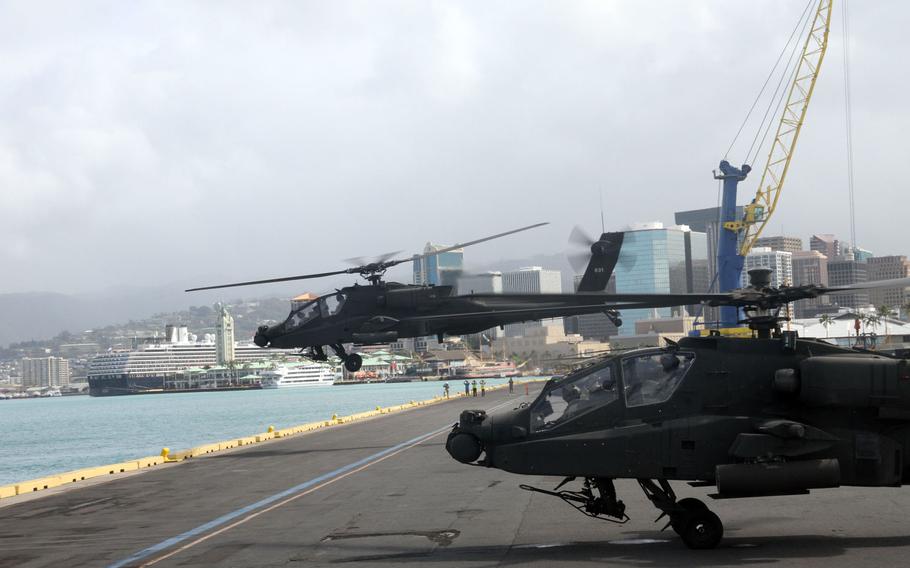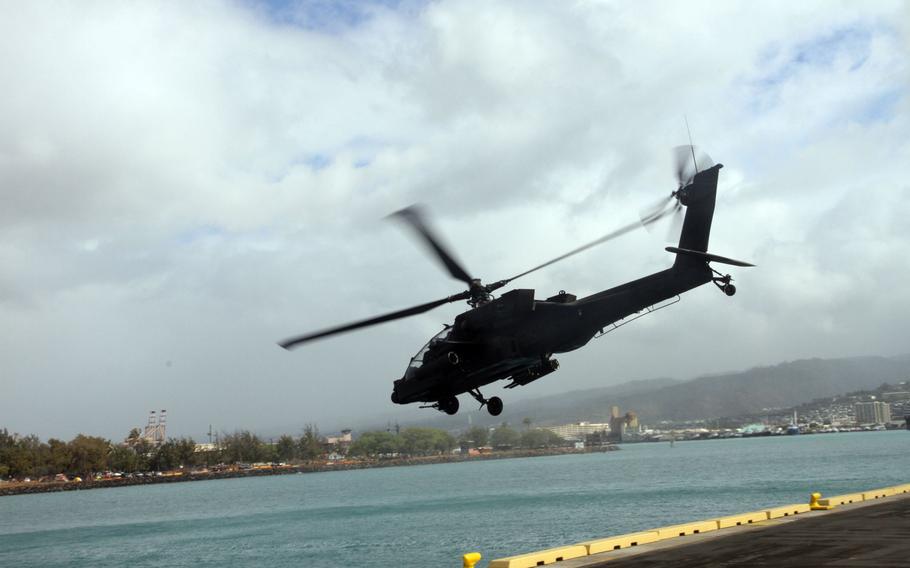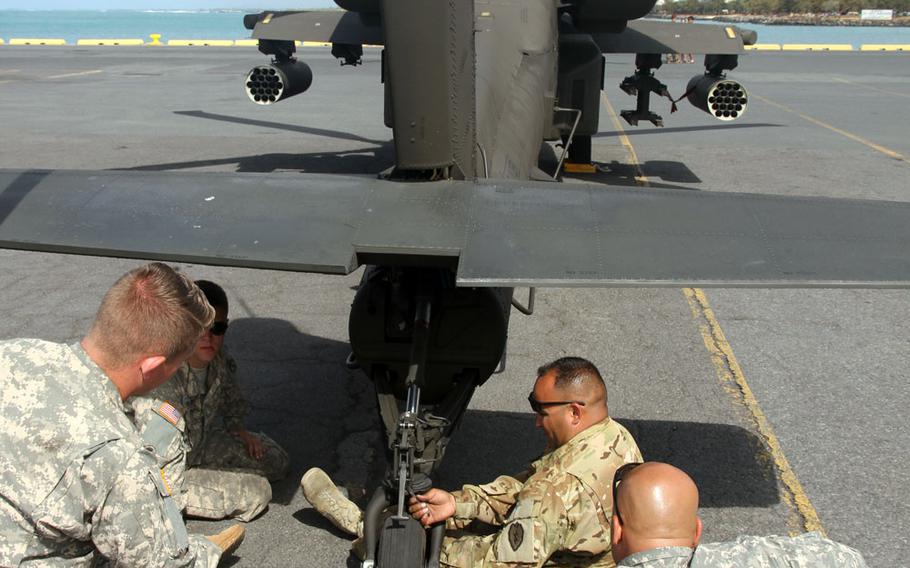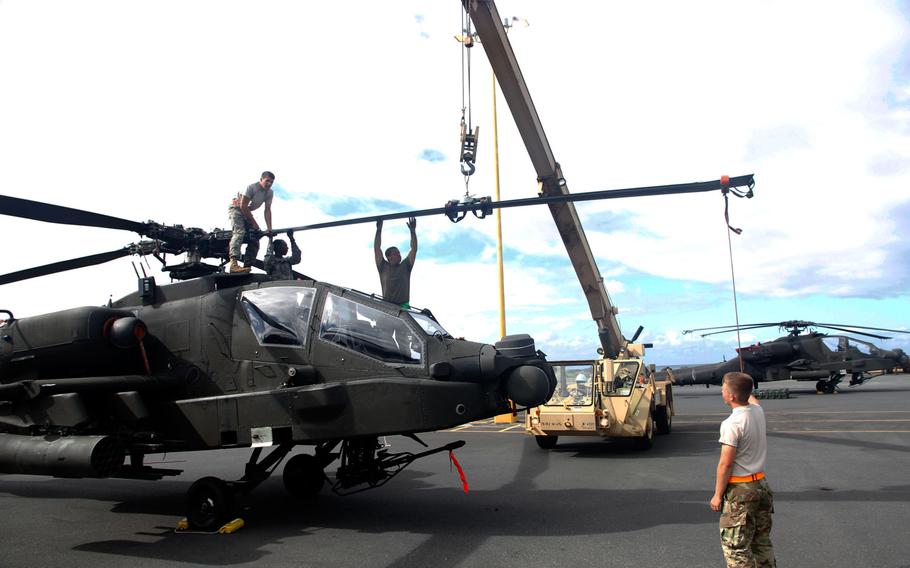 FORT SHAFTER, Hawaii — Two dozen Apache attack helicopters are in Hawaii, part of the Army's two-year aviation restructuring of the 25th Infantry Division.
The Apaches arrived over the weekend via container ship at a commercial port near downtown Honolulu. Maintenance crews spent Saturday preparing them for flight, and by Sunday morning the helicopters were lined up on a pier ready for a roughly 25-mile trip to Wheeler Army Airfield.
The squadron turned in its 30 Kiowa Warrior helicopters in January 2015.
"Now that we have our Apaches here we'll start our individual training and working back up to our readiness level to be fully operational and capable by June 2017," said Lt. Col. Aaron Martin, commander of 2nd Squadron, 6th Cavalry Regiment, 25th Combat Aviation Brigade.
The Apaches were transitioned from units in five states, grouped in California, then shipped from San Diego, said Maj. Jake Johnston, the 25th Infantry Division's executive officer.
However, because there are only eight Apache pilots on hand, moving the 24 helicopters to Wheeler is being done over Sunday and Monday, with pilots shuttling back to the pier in a Blackhawk helicopter.
"Right now we're in a transitional period of getting a whole lot of new Apache pilots and maintainers and whatnot coming in," Johnston said.
"Then we'll integrate them into the squadron, doing progressive training to get up to full use and capability."
Most of that training will take place in Hawaii, with crucial live-fire aerial gunnery training slated for this September at the Pōhakuloa Training Area, he said.
Olson.wyatt@stripes.com Twitter: @WyattWOlson
---
---
---
---