Netflix's 'Purple Hearts,' partially filmed at Camp Pendleton, wins praise from romance fans
By
Stars and Stripes
August 3, 2022
---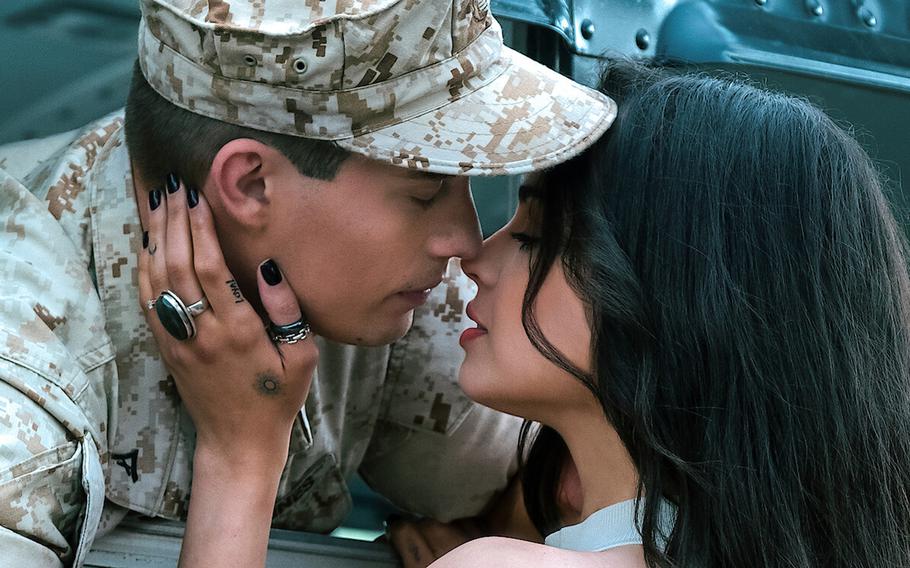 Average viewers are dismissing the critics and elevating "Purple Hearts," a movie about a military marriage for benefits, to high popularity.
A Netflix Original released Friday, "Purple Hearts" was partially filmed at Marine Corps Base Camp Pendleton and at other spots in California. The 122-minute movie tells the story of Cassie Salazar and Luke Morrow, opposites paired in a phony marriage of convenience.
"But, when tragedy strikes," assures the IMDb promotional blurb, "the line between real and pretend begins to blur."
Based on a novel of the same name by Tess Wakefield, "Purple Hearts" revolves around Cassie Salazar, a struggling singer with Type 1 diabetes who can't afford insulin, and Luke Morrow, a Marine who needs to pay off a drug dealer.
Maybe not for the first time, TriCare and basic allowance for housing offer tempting plot devices.
The movie is riddled with stereotypes and cliches. Cassie is an artsy, liberal singer while Luke is a third-generation Marine with a more conservative outlook.
Rotten Tomatoes, the film review website, compiled a rotten score of 27% based on professional critics' reviews.
David Ehrlich of Indiewire didn't hold back. "This super-cheap Netflix Original is so determined to satisfy the algorithm that it would lack any coherent sense of self if not for the fact that it was chiefly designed as a star vehicle for Disney Channel grad Sofia Carson," said his review.
Claire Shaffer at the New York Times was a skosh kinder: "The film wallows in contrived plots and subplots, made worse by the dearth of chemistry between the two leads."
Audiences, however, found some love for "Purple Hearts" and their crowdsourced score came to a fresh 83% on Rotten Tomatoes.
"Loved this movie, great spin on an old classic movie style; well developed story and interesting plotlines and characters. A future theatre musical, I think. Critics have gotten this one wrong," wrote Thew H., who awarded the movie five out of five stars on Rotten Tomatoes.
Bec J. gushed: "I absolutely loved this film, I cried, laughed, was on the edge of my seat and was completely engrossed in this film. The chemistry was so real, I believed the actors and I got so lost in the story, to the point I thought it was really real."
More interesting than the plot itself is the process that the crew goes through to film on a military base. The Department of Defense has been working with filmmakers for nearly 100 years to accurately depict military stories and make sure sensitive information isn't disclosed, according to a DOD website.
The military has worked with filmmakers since at least 1927, when the Army helped with the production of "Wings," a movie about World War I fighter pilots. The film ended up winning an Academy Award for best picture, the first in cinema history, according to the Defense Department.
In modern times, the DOD loaned personnel, equipment, aircraft and aircraft carriers for "Top Gun: Maverick," the 2022 sequel to "Top Gun," released in 1986 and also produced with help from the DOD.
For "Purple Hearts," director Elizabeth Allen Rosenbaum worked with Marine veteran and military adviser James Dever, who convinced the Marine Corps to allow the crew to film on base, according to a July 27 article from military.com.
Dever has a notable film career and has worked on "American Sniper," "Captain America: Civil War," "Letters from Iwo Jima," "Flags of Our Fathers" and "Jarhead."
However, the majority of Dever's career was spent in Marine Corps Force Reconnaissance. He graduated from USMC Amphibious Reconnaissance School, U.S. Navy Field Medical School and U.S. Army Ranger School, according to IMDb.com.
---
---
---
---