One year after coup, US will slap new sanctions on Myanmar
By
Philip J. Heijmans, Jennifer Jacobs and Daniel Flatley
Bloomberg
January 31, 2022
---
The U.S. issued fresh sanctions Monday against people and entities linked to Myanmar's military regime, in a move coinciding with the one-year anniversary of the military seizing control of the government in a coup.
Seven individuals and two entities connected to the country's military regime were targeted, according to the Treasury Department. The sanctions were levied in coordination with the U.K. and Canada, which also sanctioned two government officials.
"One year after the coup, the United States, along with allies in the United Kingdom and Canada, stands with the people of Burma as they seek freedom and democracy," said Brian Nelson, the Treasury under secretary for Terrorism and Financial Intelligence. "We will continue to target those responsible for the coup and ongoing violence, enablers of the regime's brutal repression, and their financial supporters."
The sanctioned government officials include Union Attorney General Thida Oo, Supreme Court Chief Justice Tun Tun Oo, and Chairman of the Anti-Corruption Commission Tin Oo.
The U.S. is also sanctioning two entities — KT Services & Logistics Company Limited and the Directorate of Procurement of the Commander-In-Chief of Defense Services — that it says gave support to the military regime. Individuals connected with those entities also subject to sanctions include Jonathan Myo Kyaw Thaung, the CEO of KT group; Tay Za, an owner of companies that provide arms to the Myanmar military; and Tay Za's adult sons: Htoo Htet Tay Za and Pye Phyo Tay Za.
The U.S. has led international sanctions against the regime while supporting diplomatic efforts by the Association of Southeast Asian Nations.
Asean has struggled to get the military government to stick to a five-point consensus agreed to last year that includes stopping conflict with civilians.
Myanmar's generals — led by coup leader-turned-premier Min Aung Hlaing — have struggled to suppress armed resistance from ethnic militias and pro-democracy forces since overthrowing the country's civilian government. A widespread disobedience movement has partly paralyzed the economy while foreign investors, mostly Western, exited the country.
Secretary of State Antony Blinken said in December the U.S. was weighing new sanctions against the junta. The U.S. was also "actively looking" at whether the Myanmar government's actions toward the country's Muslim Rohingya minority should be labeled "genocide." A 2018 United Nations report said Myanmar's top generals should be investigated and prosecuted for committing genocide and war crimes against the minority population.
Some 1,500 protesters have been killed since the military takeover, and civilian leader Aung San Suu Kyi is facing six years in prison with more court verdicts to come. Rising food prices and joblessness may also leave nearly half the country's 55 million population living below the national poverty line by early 2022.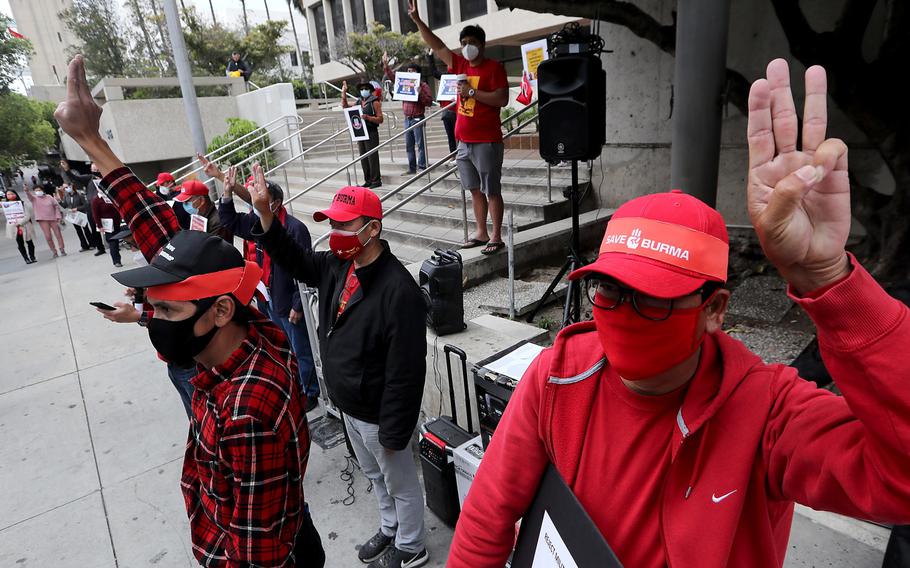 ---
---
---
---