US military drills with Pacific allies send a message to China, expert says
By
Stars and Stripes
January 31, 2022
---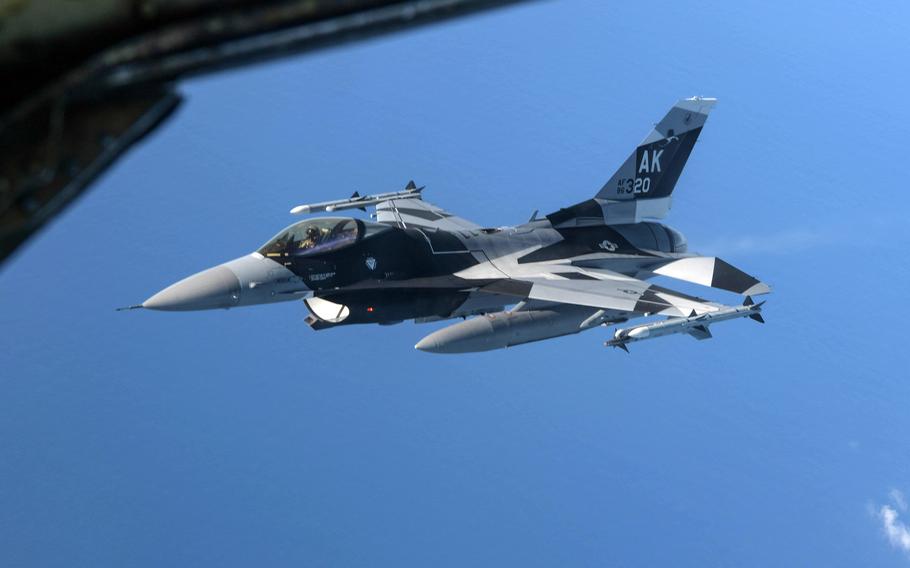 TOKYO – Military exercises between the United States and its allies in the Western Pacific, both ongoing and upcoming, send a message to China not to pull a "stunt" to distract people at home, according to a New Zealand-based American security expert.
The U.S. Air Force is about to launch Cope North, a large-scale aerial combat, force employment and disaster relief exercise with Japan and Australia, that will involve more than 2,000 sorties on and around Guam, Pacific Air Forces announced in a statement Saturday.
Fighter aircraft from all three nations will take part in counter-air and close-air support missions, according to the statement. They'll also practice aerial refueling. Counter air means attacking enemy air bases while close air support involves aircraft attacking enemy targets near friendly ground forces.
"These training missions will conclude with a large force employment exercise designed to enhance readiness and interoperability among the three countries," the statement said.
Interoperability describes the ability of one country's armed forces to use another country's training methods and military equipment.
The drills follow last week's Keen Edge command post exercise involving U.S. and Japanese forces in Japan and the ongoing Marine Exercise 2022 amphibious-assault training involving U.S. sailors and Marines and local forces in the Philippines.
The exercises send a message to China, New Zealand-based security expert Paul Buchanan said Monday.
Internal troubles such as economic and supply disruptions and coronavirus outbreaks could turn powerful Chinese factions against President Xi Jinping, Buchanan predicted.
The Chinese leader hasn't left Beijing for 700 days, Foreign Policy reported Friday.
"What do authoritarian leaders do when they are concerned about internal challenges?" Buchanan asked. "They do something outside to distract attention."
The U.S. and its allies are eager to deter China from "pulling a stunt" in the South China Sea or beyond, he said.
"The possibility of Xi intentionally … using conflict to divert attention from his internal woes have increased dramatically," he said. "These exercises increase deterrence."
The Cope North exercise, which runs from Wednesday to Feb. 18, begins with humanitarian-assistance and disaster-relief training, according to a Pacific Air Forces statement.
Training will take place at Andersen Air Force Base and Northwest Field on Guam; the Commonwealth of the Northern Mariana Islands, including Rota, Saipan and Tinian; Palau and the Federated States of Micronesia, the statement said.
Over 2,000 sorties are planned across seven islands and 10 airfields. More than 2,500 U.S. airmen, Marines, and sailors will train alongside about 1,000 from Japan and Australia. Approximately 130 aircraft from over 30 units will fly in the exercise, the statement said.
The training begins as drills in Japan and the Philippines end.
U.S. sailors and Marines and Philippine troops will wrap up Marine Exercise 2022 in the Philippines on Wednesday.
The forces, which began training Thursday, have involved warships training at sea, the U.S. Embassy in the Philippines said on its website Friday.
The training includes beach landings, search and seizure of enemy craft and moving troops and equipment, the statement said.
U.S. warships participating include the USS Essex, USS Portland and USS Pearl Harbor carrying troops from the 11th Marine Expeditionary Unit.
Keen Edge, which began Jan. 23 and wraps up Thursday, involves 500 U.S. personnel and 1,380 Japanese troops at Yokota Air Base and other locations in Japan, along with Hickam Air Force Base, Hawaii. It aims to increase combat readiness and the ability of U.S. and Japanese Forces to work together, USFJ said in a Jan. 23 statement.
---
---
---
---