US airmen, Japanese troops join forces for annual January jump east of Tokyo
by
Juan King
Stars and Stripes
January 14, 2022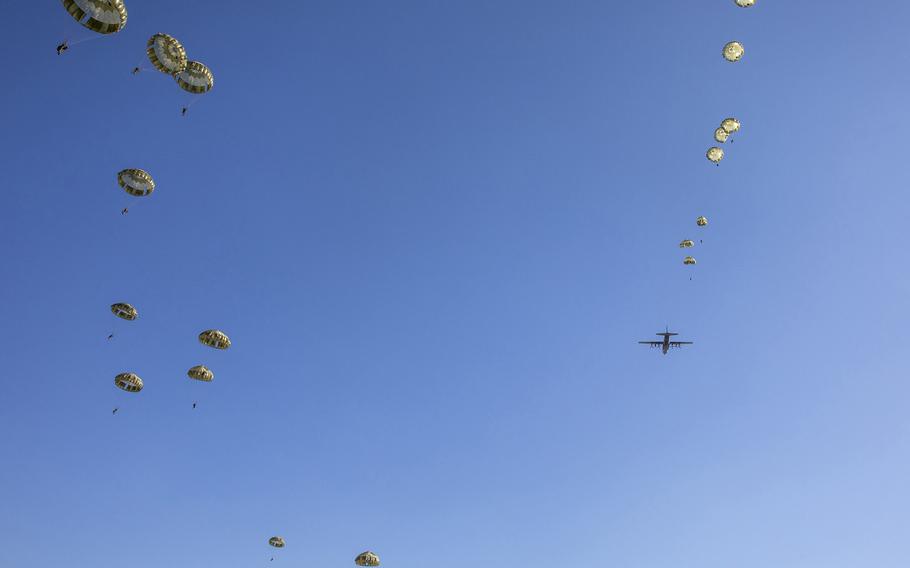 YOKOTA AIR BASE, Japan – Hundreds of Japanese troops and aircraft from Japan and the United States took part in an annual jump into a drop zone east of Tokyo on Thursday.
More than 100 Japan Ground Self-Defense Force soldiers assembled Thursday at Yokota, the U.S. airlift hub in western Tokyo, to gear up and board an Air Force C-130J Super Hercules. They were bound for the Camp Narashino training grounds in Chiba prefecture.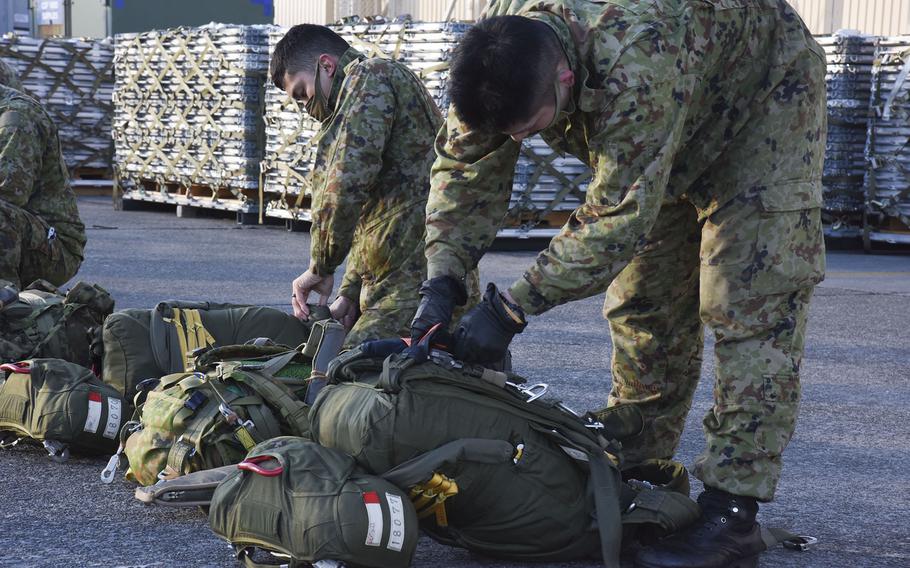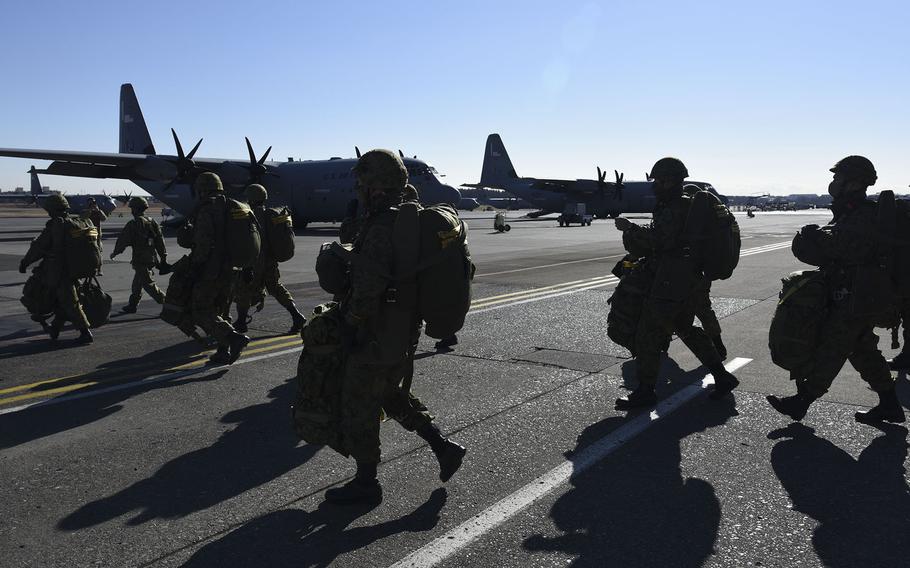 They were joined en route by another 150 Japanese jumpers aboard an Air Self-Defense Force aircraft from Iruma Air Base in Saitama prefecture.
Stars and Stripes was not permitted to ask questions at the event; however, it was hosted by the Ground Self-Defense Force, according to a statement provided by Yokota and attributed to Air Force Capt. Chelsea Jones, a Super Hercules instructor pilot. Seven aircraft were involved in the jump, including three Air Force Super Hercules, two Japanese C-130H Hercules and two Japanese Force Kawasaki C-2s.
Jones said the jump, which had been in the works since October, highlights the joint relationship between U.S. and Japanese forces that can provide combat power anywhere in the region.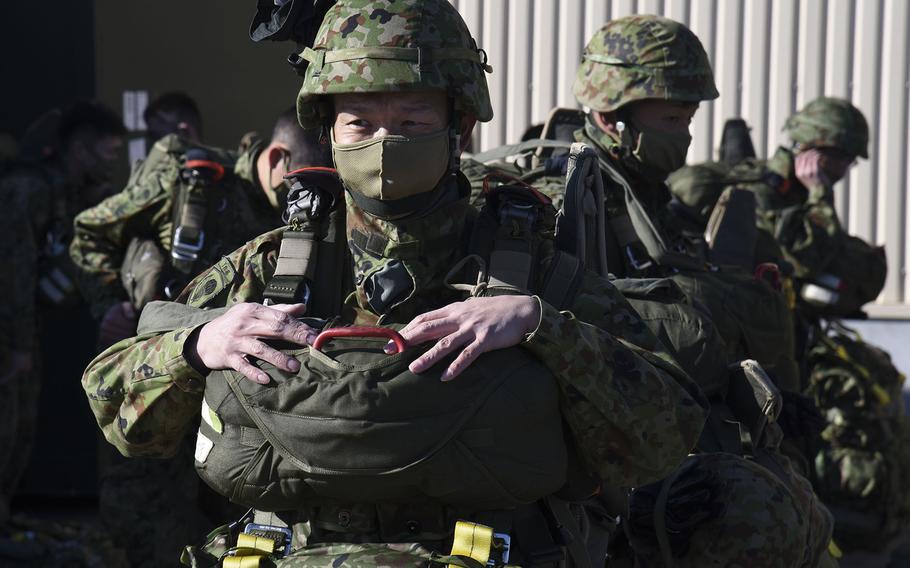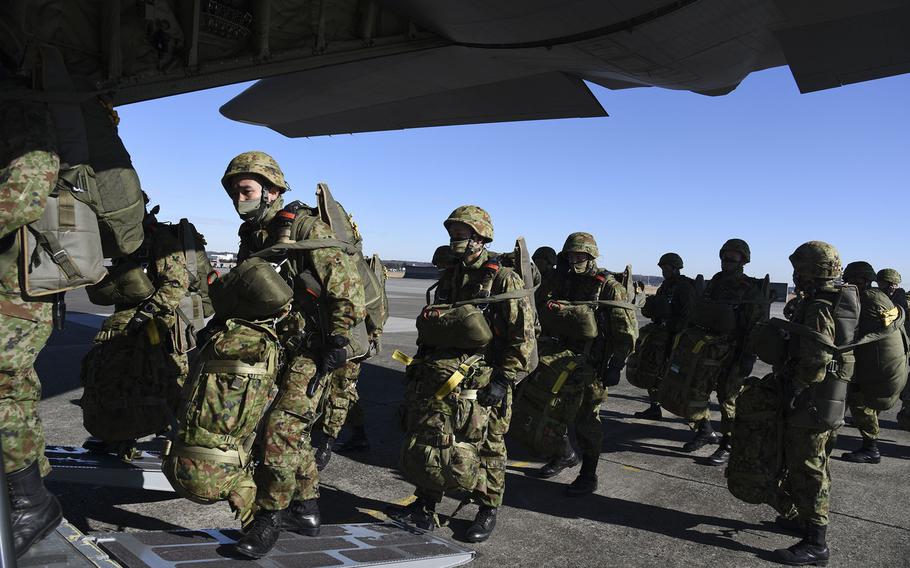 The Air Force started participating in the event alongside the Japanese in 2020. At the time, Ground Self-Defense troops of the Narashino 1st Airborne Brigade jumped with soldiers of U.S. Army Reserve Alaska and the 82nd Airborne Division. No U.S. troops took part in Thursday's jump.
The event traces its roots to the 1960s, and in the 1970s was open for public viewing, according to a Yokota news release. It opened for public viewing in the 1970s.
Inclement weather, including high winds, stifled three days of jump training and grounded the jumpers, Jones said in her statement.
But the troops got off the ground Thursday with no glitches, she said.
---
---
---
---