March of chilly soldiers ends with piles of Christmas presents for South Korean orphans
By
Stars and Stripes
December 2, 2021
---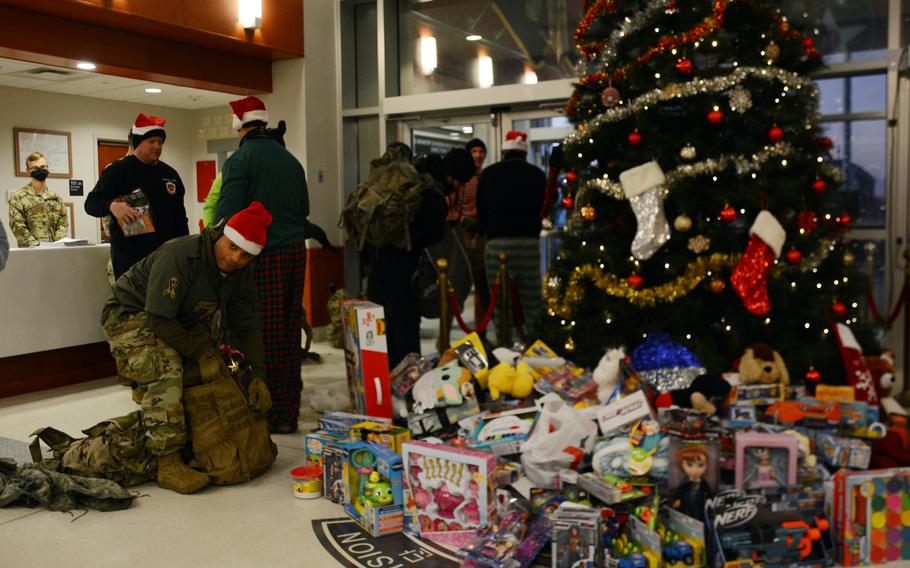 CAMP HUMPHREYS, South Korea — U.S. soldiers of the 2nd Infantry Division marched on Thursday with rucksacks filled with toys and other gifts to donate to South Korean orphanages for Christmas.
The temperature at 6:30 a.m. stood at 23 degrees Fahrenheit when about 60 soldiers and their family members began their 3-mile trek at Camp Humphreys, the largest U.S. military base overseas.
The marchers filled their rucksacks with the gifts they planned to donate, then shouldered their loads and hiked to 2nd ID headquarters. They left their gifts under a Christmas tree in the lobby.
Some participants wore the Army's duty uniform during the march, while others wore festive hats and Christmas-themed outfits that included flashing lights. One person wore a sweatshirt that said, "Merry Christmas You Filthy Leg," an apparent reference to a quote from the holiday movie "Home Alone 2" and the endearing moniker for troops who are not Airborne qualified.
Amanda Nguyen, an adviser for the 2nd ID Soldier and Family Readiness Group, reached out to local orphanages and organized the event. Nguyen, who grew up in a military family, said she was gifted toys through a similar event as a child because her family could not afford them.
"I love giving back this way," she told Stars and Stripes on Thursday. "I think it was great, especially for our first year of doing it here. I love how many people turned out; I love how hard that they worked. And I love how generous they were."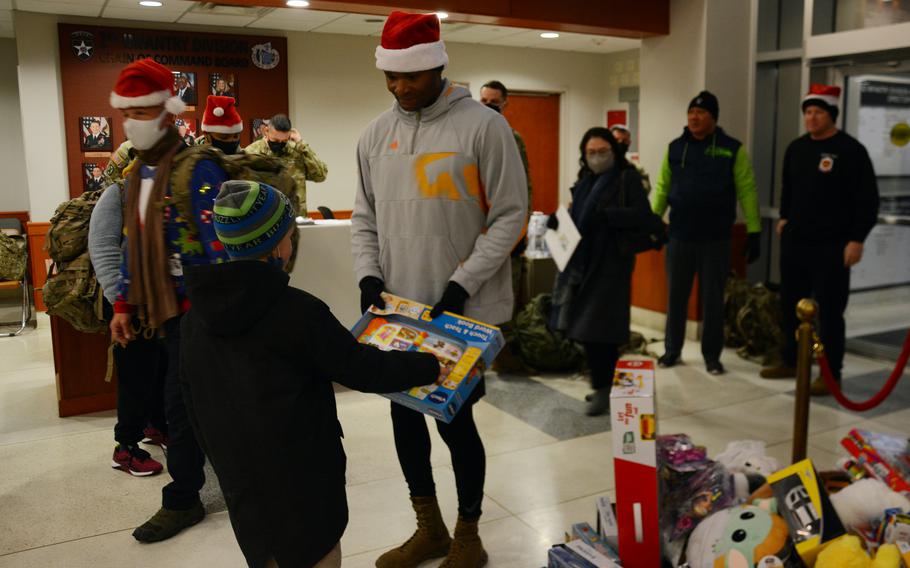 Inside the rucksacks were toys, books, crayons and other items for children. The gifts are expected to be donated to local orphanages based on age groups by this week, Nguyen said.
Army Capt. Shawn Droge, the battalion chaplain, brought two of his kids to the ruck march and said it "was a great way that we can all come together and celebrate the season."
"With this being a [ruck march] for toys, this gives us an opportunity to bring some toys and give to the community just to show our appreciation and our love," Droge said. "This was a great opportunity for high morale and do something different; kind of loosen up for a bit."
Army Pfc. Sigourney Guyermelli of the 2nd ID Headquarters Support Company, said she was glad she made the march, despite the morning's freezing temperatures.
"It's really good for the community; it shows that we're not just here," she said. "We actually care about the people around here and we really enjoy that."
U.S. military units throughout South Korea have sponsored similar events to give back to communities outside their gates.
U.S. Forces Korea, the command responsible for roughly 28,500 troops in the country, partnered with the Korean National Red Cross to donate blood during a time of need amid the COVID-19 pandemic. About 65 people stationed at Humphreys donated their blood during a drive in July.
---
---
---
---