'Moral responsibility': South Korea is airlifting hundreds of Afghans out of Kabul
by
David Choi and Yoo Kyong Chang
Stars and Stripes
August 25, 2021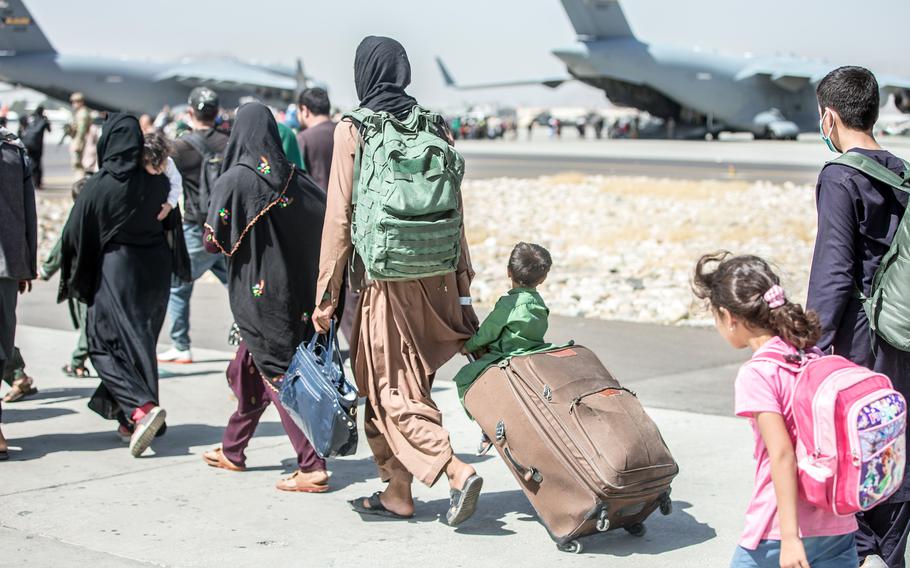 CAMP HUMPHREYS, South Korea — Over 380 Afghans who supported South Korea in Afghanistan before the Taliban seized power are expected to arrive at an airport outside Seoul on Thursday, according to the Ministry of Foreign Affairs.
The evacuees include locals who worked at the South Korean embassy in Kabul, hospitals, vocational training centers and provincial reconstruction teams.
They are being flown out of Hamid Karzai International Airport in Kabul aboard three South Korean military airplanes, Second Vice Minister of Foreign Affairs Choi Jongmoon said during a Wednesday press conference.
Choi cited the country's "moral responsibility" to house the Afghans given the "serious situations" many of them are under. He added that the evacuees will be entering the country not as refugees, "but people who have done distinguished service to South Korea."
Some South Korean lawmakers recently said the country ought to act amid the ongoing refugee crisis in Afghanistan.
"Afghanistan needs the help of neighboring countries for getting immediate humanitarian aid; however, unfortunately, Europe and many surrounding nations are against accepting refugees from Afghanistan," Rep. Jang Hye-young of the progressive Justice Party said in a Facebook post Friday.
Jang added: "We need to actively seek a role we can play in a direction, which is solidarity and cooperation on a global level, instead of shifting all burdens of the acceptance of refugees onto countries surrounding Afghanistan."
Over 3,900 South Korean troops served in Afghanistan, according to a Defense Ministry official who spoke to Stars and Stripes on the customary condition of anonymity Wednesday. One South Korean soldier died after a bomb attack in 2007.
Plans to temporarily relocate evacuees to U.S. bases in South Korea and Japan were scrapped due to logistical and geographical factors, according to a Reuters report on Tuesday.
Over 58,700 people have been flown out of the airport in Kabul since Aug. 14, Army Maj. Gen. Hank Taylor, the Joint Staff's deputy director for regional operations, said during a Pentagon press briefing on Tuesday. Between Monday and Tuesday, 37 U.S. military aircraft transported a daily record of 12,700 people since the operation began, Taylor added.
Roughly 6,000 U.S. troops are deployed to the country to assist in the evacuation.
A bipartisan group of U.S. lawmakers have expressed concern with the Aug. 31 evacuation deadline and dismissed the Taliban's mandate for a complete withdrawal by that date. The deadline was moved earlier in April, after President Joe Biden extended the withdrawal date from Sept. 11.
Taliban spokesman Suhail Shaheen, during an interview with Sky News on Tuesday, described the date as a "red line" and warned of "consequences" if it was not met.
House Minority Leader Kevin McCarthy reiterated on Tuesday that there was "no way possible" for the U.S. to evacuate all necessary personnel by the deadline.
"Even from our own reporting, from those who are in charge, will tell you they can't get the job done in that short amount of time," McCarthy said during a press conference. "Until every American's out, we should not be working on anything else."
The Biden administration is "currently on pace" to meet the Aug. 31 deadline, White House press secretary Jen Psaki told reporters on Tuesday. But, she added, that "depends on continued coordination with the Taliban, including continued access for evacuees to the airport."
"I am determined to complete our mission," Biden said in a speech Tuesday.