DMZ ceremony marks 45th anniversary of American soldiers' axe slaying
By
Stars and Stripes
August 18, 2021
---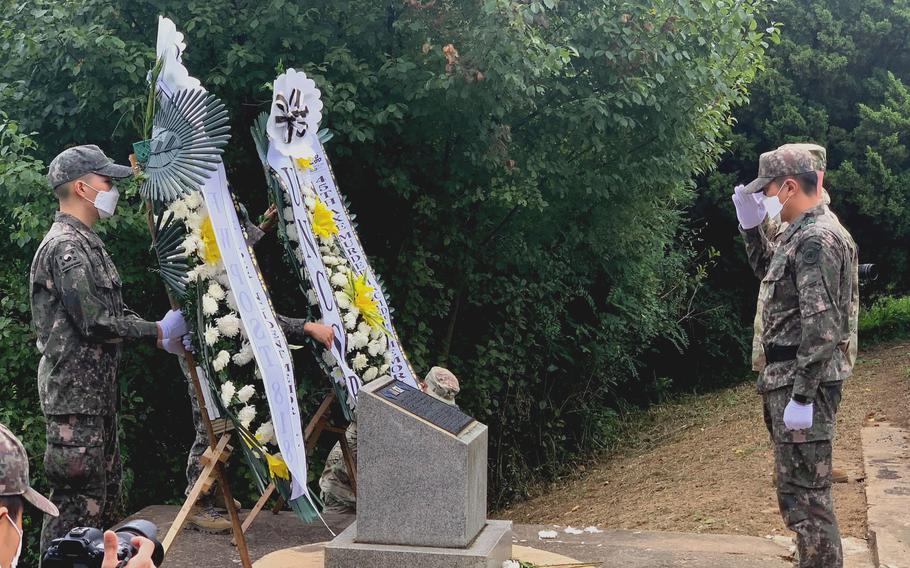 CAMP BONIFAS, South Korea — Service members from the U.S. and South Korea on Wednesday afternoon paid tribute to two American soldiers who were axed to death by North Korean troops 45 years ago. 
On Aug. 18, 1976, Capt. Arthur Bonifas, a Joint Security Force company commander, and 1st Lt. Mark Barrett, a platoon leader, were slain while trimming a tree at the Joint Security Area of the demilitarized zone between North and South Korea.
The U.S. soldiers, part of the United Nations Command, were dispatched to trim a poplar tree that obstructed a watch tower's view of a checkpoint near a bridge. Dubbed the Bridge of No Return, it was frequented by troops of U.N. Command and soldiers of North Korea's Korean People's Army, who, at the time, taunted and provoked each other, according to the command's security battalion.
Bonifas and Barrett, part of a 10-man U.N. Command security team, were sent with workers to trim the tree after the North Korean side was informed of their intent. Nonetheless, a North Korean officer on site told the U.N. troops to cease their operation. The officer summoned roughly 30 additional troops, who attacked Bonifas' team without warning.
The killings shocked President Gerald Ford, who ordered the tree felled three days later in Operation Paul Bunyan. Combat troops and engineers cut down the tree in roughly 45 minutes without incident as American forces throughout the peninsula stood by on alert.
In a ceremony Wednesday, troops of U.N. Command placed flowers and wreaths at the site where the tree once stood. U.S. Army Lt. Col. Rick Luce, the Security Battalion-Joint Security Area commander, described the memorial as an "important part of our history."
"Being here at this battalion and at that location is historically relevant," Luce said to Stars and Stripes. "It's an honor to be up here. It's an honor to walk on the same ground as those UNC soldiers."
Luce, whose younger brother was killed in combat in Afghanistan, also reflected on losing a family member in a war zone. 
"I acknowledge what it's like to lose a family member," Luce said. "We're very proud of the Bonifas and Barrett family. It's a time of remembrance. We don't want to forget."
Capt. Lee Chang Rok of the South Korean army took part in Wednesday's event and said the memorial was one of many sacred traditions in the Joint Security Area.
"I have to work hard so that the efforts of my seniors and comrades are not in vain," Rok said, referring to Bonifas and Barrett.
Bonifas' legacy continues through his family. His daughter, who was 6 years old when he died, reached the rank of captain in the Army's nursing program. 
Bonifas' grandson, Spc. Andrew Arthur Bonifas, joined the Army in 2019 and serves as petroleum supply specialist with the 1st Squadron, 6th Cavalry Regiment, out of Fort Riley, Kansas.
"I wanted to join the military to follow my grandfather's and my mom's footsteps," Andrew Bonifas said to Stars and Stripes in a phone interview Wednesday.
Andrew, who is currently stationed in Camp Humphreys, South Korea, visited Camp Bonifas during the July 4th weekend.
"It's just really surreal," he said.
---
---
---
---