2 US soldiers charged in BB gun incident in Seoul
By
Yoo Kyong Chang Ashley Rowland Chang.yookyong@stripes.com Rowland.ashley@stripes.com
April 19, 2013
---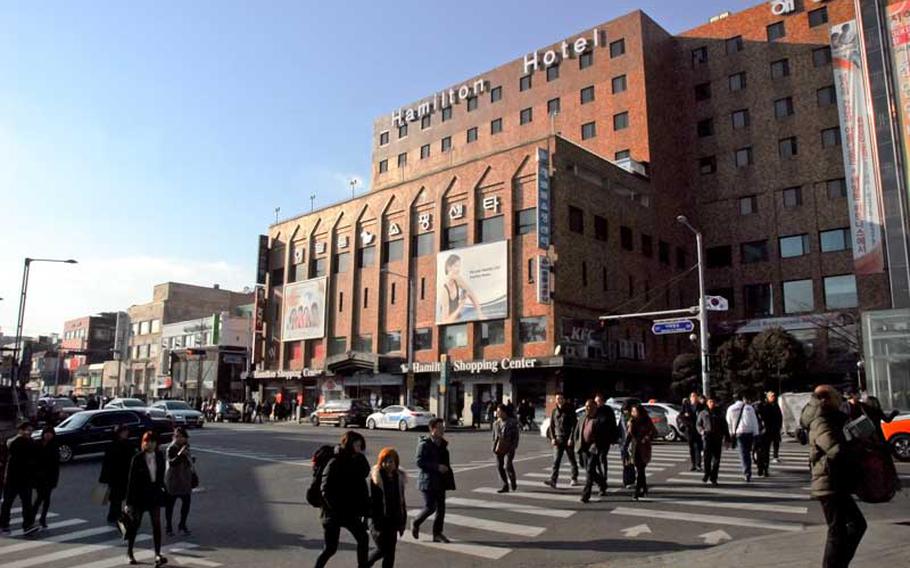 SEOUL — Two U.S. Forces Korea soldiers have been charged for their alleged role in a BB gun shooting last month that resulted in a third soldier being shot by a South Korean police officer.
Staff Sgt. Christian Lopez-Morales was charged with assault and at least two related violations for allegedly driving away from the scene of the Itaewon shooting and striking the police officer with his car.
A military official close to the investigation said Lopez-Morales also was charged with special obstruction of justice resulting in injury and another count that relates to inflicting bodily injury and destruction of property with a dangerous instrument.
He remains in the Seoul Detention Center, where he was transferred last week upon his request. His request for transfer came after South Korean authorities issued an arrest warrant for him, claiming he posed a flight risk and might destroy evidence. Lopez-Morales had been in U.S. military custody since March 23.
A female E-4 who police said confessed to shooting BBs at passers-by "for fun," was charged with assault but will not be arrested, the prosecutor said.
According to police, the two soldiers fired one or more BB guns shortly before midnight on March 2 at the crowded intersection in front of the Hamilton Hotel and then fled with a private first class in a car driven by Lopez-Morales.
A South Korean police officer riding in a taxi followed in a 7.5-mile chase that reached speeds of 105 miles per hour. It ended when the officer approached the car on foot and the driver reversed, striking him in the leg. The officer fired several shots, one of which struck the private in the chest.
Police said the soldiers then drove away. The two male soldiers returned to U.S. Army Garrison Yongsan around 1 a.m. after dropping the E-4 off at a nearby hotel.
The soldiers initially told U.S. military police that the private had been shot by Arabs.
An investigator with the Seoul Central District Prosecutor's Office said Friday that the private will not be charged and is no longer under investigation.
The case spawned a media frenzy in South Korea and led to calls for the military to curb troop misbehavior.
A South Korean detective said the officer who fired the shots was hospitalized for four weeks with injuries to his feet and left knee, and three civilians who tried to stop Lopez-Morales from driving away at the start of the chase were injured but not hospitalized.
---
---
---
---