2 soldiers appear in South Korean court for alleged roles in BB gun incident
by
Ashley Rowland
June 4, 2013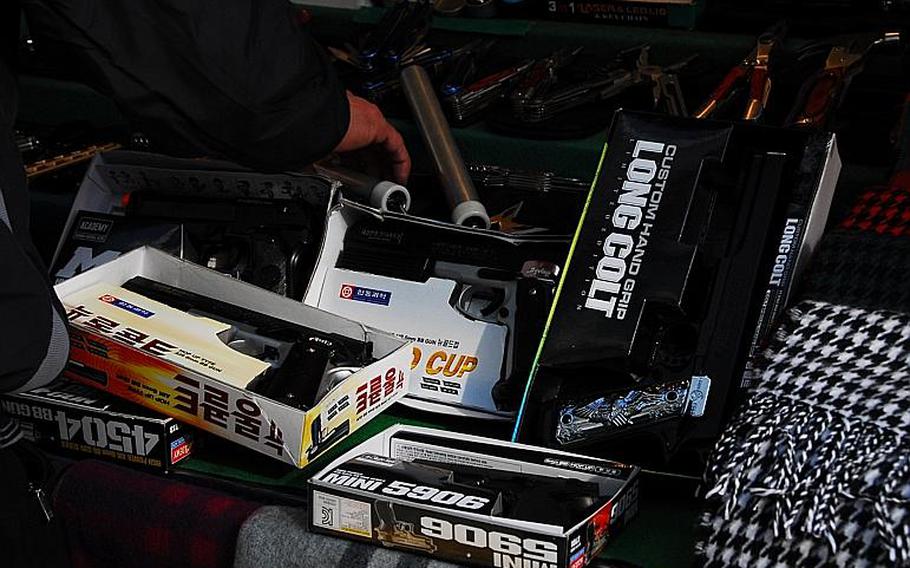 SEOUL — Two U.S. soldiers appeared in Seoul Central District Court on Tuesday, facing assault charges for allegedly firing a BB gun at pedestrians at a crowded Seoul intersection in March.
Staff Sgt. Christian Lopez-Morales testified Tuesday that he did not know a police officer was in the taxi that pursued them during a high-speed chase through the city following the incident. Nor did he realize that bullets fired at his car at the end of the chase — one of which hit a second soldier in the chest — were shot by a police officer.
Lopez-Morales, 25, along with Spc. Wendy Fuentes, 22, were charged in the incident, which began shortly before midnight on March 2 when they allegedly fired BBs out the driver's window of Lopez-Morales' car in front of Hamilton Hotel in Itaewon.
Authorities say he shot 10 BBs into the crowd, then ignored police and civilian efforts to stop his car at the busy intersection. Police officer Im Seong-mook jumped into a taxi and followed the soldiers to a small alley about 7.5 miles away.
There, Im fired three shots at the staff sergeant's car, hitting a private first class in the backseat, and Lopez-Morales reversed the vehicle, striking the officer in the leg.
Investigators have said Lopez-Morales dropped Fuentes off at a hotel and went with the private to U.S. Army Garrison-Yongsan, where they told military police they had been shot at by Arabs. Fuentes, who is being tried with Lopez-Morales, has also been charged with assault, telling authorities she fired five BBs "for fun."
The injured private has not been charged.
Lopez-Morales was placed in military custody on March 23 and transferred to the Seoul Detention Center in April, where he remains in custody. Fuentes, who did not speak during the hearing, has not been arrested.
Head judge Kim Hwan-su asked Lopez-Morales several times if he knew the police officer had fired a gun at his tire.
"He shot and he hit the passenger in the backseat of my car," the staff sergeant said.
After Kim repeated the question, the soldier added: "That's what the investigator had said, but I'm not sure."
During the commotion in Itaewon, Lopez-Morales said he got glass in his eye when someone broke the window of his car and that he couldn't see if the police officer was in uniform, only that two people were in the taxi that followed him.
Lopez-Morales' attorney, Howard Jin, told the court that the staff sergeant did not aim at pedestrians but was trying to empty the cartridge of his BB gun of pellets. He also did not intend to hurt the police officer, and fled the alley because he saw someone aiming his gun at the car and was scared.
Jin requested that medical records showing his client had been treated for post-traumatic stress following a deployment to Afghanistan be included as evidence.
Lopez-Morales also has been charged with special obstruction of justice resulting in injury and another count that relates to inflicting bodily injury and destruction of property with a dangerous instrument.
A request by Fuentes' attorney, Sucheol Noh, for a separate trial was denied.
According to their attorneys, both soldiers want to provide monetary compensation to the alleged victims, a standard practice in criminal cases in South Korea. Several people sought treatment for apparently minor injuries after being hit by BBs.
The case has attracted enormous attention in South Korea and led to calls for U.S. Forces Korea to curb troop misbehavior.
The next hearing is scheduled for July 8.
Stars and Stripes' Yoo Kyong Chang contributed to this report.
---
---
---
---