2 Koreas agree to resume reunions of families split by war
by
Kim Gamel
June 22, 2018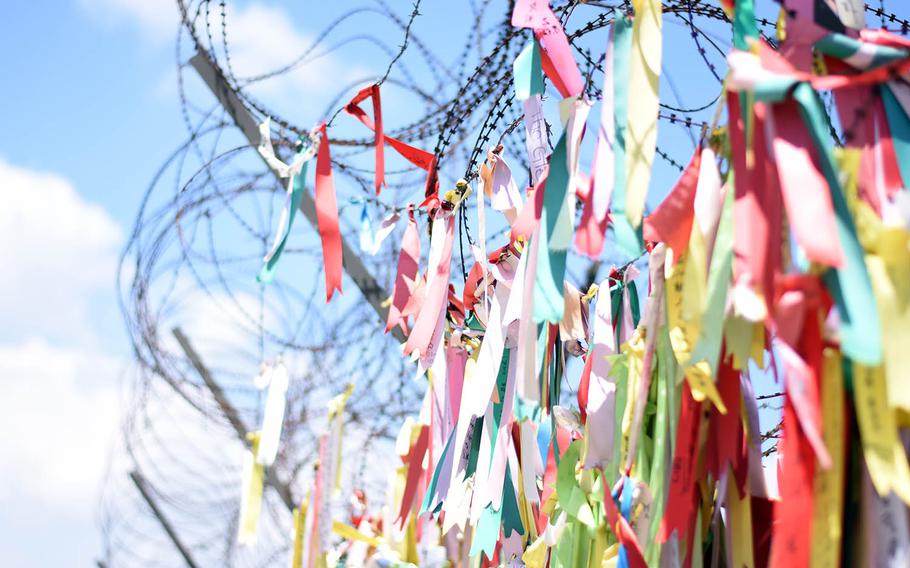 SEOUL, South Korea — North and South Korea agreed Friday to hold a new round of reunions for families left divided by the 1950-53 war, an emotional issue for aging survivors wishing to see their loved ones again.
The talks, which were held in North Korea, were the latest step toward improving relations in tandem with broader nuclear negotiations.
The reunions of 100 families from each side will take place at North Korea's Diamond Mountain resort from Aug. 20 to 26, the two sides said after a daylong meeting between Red Cross officials.
The announcement follows through on a promise made by President Moon Jae-in and North Korean leader Kim Jong Un during their first summit.
They agreed to hold the reunions to mark the Aug. 15 anniversary of the Korean Peninsula's independence from Japanese colonial rule following World War II.
The joint statement said "participants with mobility difficulties may be accompanied by one family member."
North Korea's chief delegate Pak Yong Il noted the significance of the location, where the officials met Friday and past family reunions have been held. He used the Korean name, Mount Kumgang.
"We have returned to a precious place … and we have a second chance at reconciliation and unity," he said at the start of the nine-hour meeting.
"We think work on humanitarian cooperation projects between both sides will go smoothly and dramatic changes will take place … if we firmly break from our unsavory past," he added.
Pak led a delegation to the preparatory talks on the mountain on the scenic east coast, which can be seen on a clear day from an observation point in the South.
The South Korean side was led by the country's Red Cross chief Park Kyung-seo.
Some 20,000 Koreans have come face-to-face with relatives in 20 rounds of reunions held since 2000. But the effort stalled as tensions rose over the North's nuclear weapons program.
The number of South Koreans who have registered with hopes of finding their loved ones in the North was 132,124 as of May, with only about 57,000 still alive, according to Yonhap News Agency.
It said 86 percent are at least 70 years old.
Hopes for improved relations have been boosted by Kim's agreement to commit to the "complete denuclearization" at his April 27 talks with Moon, which led to the first-ever U.S.-North Korean summit.
The two Koreas have banned ordinary citizens from visiting the opposite side without permission since the war, which ended in an armistice instead of a peace treaty.
The last reunions were held in October 2015.
The sides also agreed to hold more working-level talks to discuss humanitarian issues, the statement said, without elaborating on issues.
It also said the two Koreas agreed to repair the reunion center on the mountain, with the South to send a facility inspection team from June 27.
The recent diplomacy has kickstarted a flurry of inter-Korean initiatives U.S.-North Korean talks that have tamped down fears of nuclear war. But Moon and Kim also agreed on a number of bilateral initiatives, including restarting military talks and increased cooperation in sports.
The two Koreas remain technically at war after the three-year conflict ended in an armistice instead of a peace treaty.
chang.kyong@stripes.comgamel.kim@stripes.com Twitter: @kimgamel