For servicemembers at Soto Cano Air Base in Honduras, deployments offer a rare chance to 'get away from it all'
by
Wyatt Olson
April 19, 2019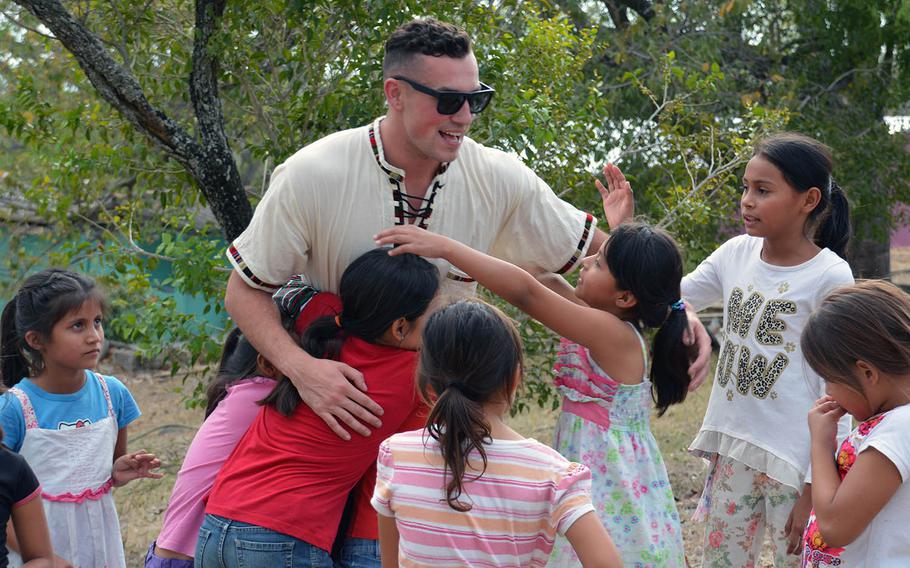 SOTO CANO AIR BASE, Honduras — The Coffee Club at Soto Cano Air Base has two rules when its "members" gather every Sunday morning under a gazebo beside the flight line.
First, no cream or sugar in the coffee prepared from beans they've brought back from travels around java-rich Central America.
"That's a taboo for me," said Army Reserve Maj. Jeffrey Daley, leader of the club. "I equate it with putting ketchup on a fine piece of steak."
Second, no talking about work.
"Because, you know, you need to have a place to come to get away from it all, a place to socialize with people that is not home and not work," Daley said.
That's especially important in this workplace, where about 600 servicemembers, mostly soldiers and airmen, live and labor on a relatively remote air base that's so small you can walk across the U.S.-controlled section in 10 minutes — although under the beating Honduran sun that walk feels a lot longer.
Spouses and families don't accompany servicemembers here on their rotations, which last from six to 12 months. Eating options on base are pretty much limited to the dining facility and a handful of restaurants run by Honduran locals. None of the usual Popeyes chicken or Charleys grilled subs. The exchange is tiny.
Col. Kevin Russell, commander of Joint Task Force-Bravo, the umbrella command under which those uniformed troops serve, described a sparse base lifestyle fit for Henry David Thoreau.
"You can strip away a lot of the things that would take away your time," he said. "We don't have traffic, for goodness' sake. There's no rush hour. You take away a lot of those things that are time thieves, if you will, and you get a lot more time back in your hands to work the job, understand the language, understand the culture, and develop yourself personally and professionally. That's what makes this place special, in my opinion."
'Best-kept secret' During a recent basketball tournament, former soldier Dan Carter watched a game between the Hot Boys — composed of firefighters with the 612th Air Base Squadron — and the Armedellos, whose players and team name came from the MEDEL, or medical element.
"This place is the best-kept secret" in the Defense Department, said Carter, director of the base Morale, Welfare and Recreation services.
"Well," he added — "at least the best-kept secret in the Army."
Similar deployments usually call for long days of work, 12 to 14 hours, he said.
"Here, it's an eight-hour job," he said. "You get to stay on base in pretty good housing. You've got a pretty good [dining facility], probably the best in the DOD, at least of the ones I've seen. You have a chance to save, pay off bills — and travel too."
MWR organizes annual basketball, football and volleyball tournaments, and base units compete furiously knowing their short rotations won't give them another shot at the title.
So, what do players do to prepare for tournaments?
"Umm, nothing," Sgt. Lewis Delorean said from the sidelines after playing in a game. "We all work so you just gotta have talent. When you get off work, that's when the games start."
Marathons, however, are the beating heart of competition at Soto Cano, with races of varying lengths happening almost every week. Diehard runners are up at 4:30 a.m. to jog the inside perimeter of the base to prepare for the next race.
During "chapel hikes" held quarterly since 2007, base personnel take buses to small villages an hour or two away, then hike the last several miles up mountainsides while carrying backpacks holding 25 pounds of food. The food is distributed to the residents, who often celebrate the visit with local dances and music.
"It's a great thing — and unique to this installation," said Capt. Wade Shepard, a chaplain at Soto Cano and an organizer of the hikes.
'Kids will pick you' Senior Airman Peter Guy runs for a different reason.
On a recent late afternoon, he was sprinting across the grounds of Our Lady Guadalupe Children's Home, pursued by a couple dozen squealing girls ages 8 to early teens.
When they caught him, they formed a scrum of hugs and laughing faces. The 38 girls who live in the home, about a 5-minute drive from Soto Cano, are orphans or the children of parents who had no means to feed and clothe them.
Each unit of Joint Task Force-Bravo supports an orphanage in the region, providing friendship, supplies and elbow grease for needed projects.
For the past year, Guy has been the volunteer coordinator for all the units, but much of his time is spent at Our Lady Guadalupe, the home supported by the 612th Air Base Squadron, where he works in vehicle maintenance.
Guy had become involved in orphanage volunteerism while stationed at Misawa Air Base, Japan.
"It was something I fell in love with there," he said. "I came here and heard about the orphanage, and I was, like, I need it."
The 612th usually gets about 40 volunteers for the monthly visits, he said. "So, it's one on one."
"It's awesome," he said. "You go, and the kids will pick you. 'You're mine. You're mine today.' Every time you get off the bus, that kid is going to find you and make you braid their hair or paint your nails or whatever."
Under Guy's tenure, they began celebrating children's birthdays each month with cakes and singing. He arranged to get them onto Soto Cano to use the swimming pool for the first time ever.
"It was an incredible amount of paperwork," he said.
He confesses some mistakes. He bought them a Spanish-language soundtrack to the film "Frozen," which he said the children played so many times during a visit that he was "ready to bash my head on the table."
His deployment to Honduras ends this month.
"I don't know enough Spanish to tell them I won't be coming back," he said.
Coffee and bugs Many of the servicemembers take part in the numerous weekend excursions organized by MWR: a cigar factory, a waterfall, river tubing, bike tours, caves, local handicrafts and, of course, an organic coffee co-op.
"The coffee from Central America is some of the finest in the world," said the Coffee Club's Daley. "When people come back from an exercise or a meeting or a conference or something, they'll come back with a bag of coffee and they'll share it with the group."
Six to 30 people show up on any given Sunday morning to sip and chat, he said.
"We get all kinds to participate in Coffee Club," he said. "We get people who like coffee. We get people that never really liked coffee but were curious. We get people who are predominantly tea drinkers but are a little bit curious about coffee."
Daley is originally from Seattle, living there when Starbucks was just a local chain. He was one of the first baristas for Starbucks when the chain reached Florida in the 1990s, he said.
"There are a lot of fun things to talk about over a cup of coffee," he said.
For example, during a recent Sunday morning, the conversation turned to bugs.
"Now, why did we talk about bugs, you might ask," he said. Some of the base's old wooden buildings are rife with termites, and one of the coffee club attendees, an exterminator in civilian life, offered up little-known tricks of the trade.
"Sometimes our discussions go on for three hours," he said. "There are a lot of amped-up people."
The Coffee Club gathering caps off weekends, but it's an assembly each Friday afternoon that kicks them off.
Standing beneath the sprawling canopy of the "Tree of Life" next to the flight line, unit commanders gather soldiers and airmen to hand out awards, review what's gone well and not so well and send their people off on weekends filled with marathons, scuba diving, barbecues and outings beyond the base.
"Get out there and see stuff, do stuff," task force commander Russell said during a recent gathering.
"If you're not, this place looks like any other place. You can watch Netflix anyplace and it will look the same. It's all the stuff external to your room that you get to find out just how special this place is."
olson.wyatt@stripes.com Twitter: @WyattWOlson