US weighs response as extremist group expands reach across Nigeria
---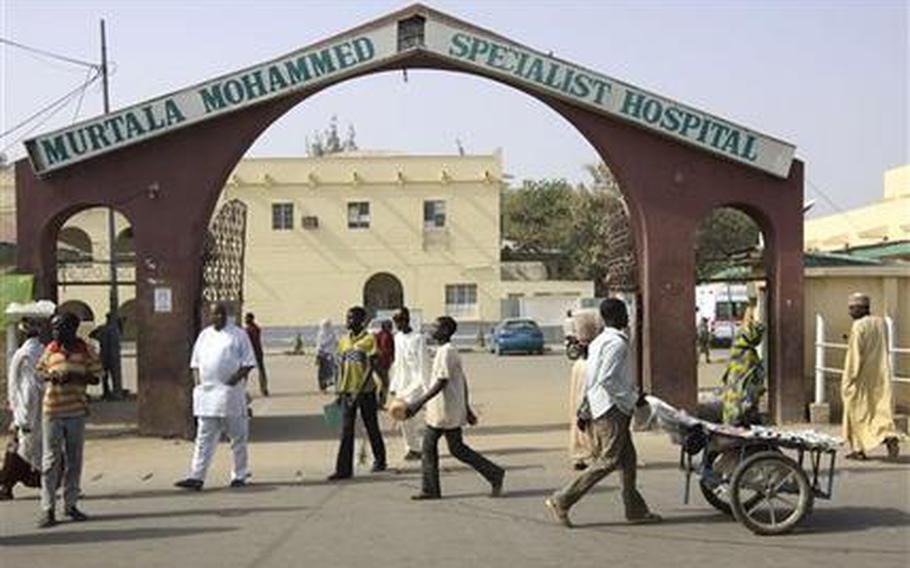 STUTTGART, Germany — A series of high-profile attacks in Nigeria in recent weeks that claimed scores of lives appear to be focused on fueling instability and mistrust between the country's Christian and Muslim communities, and there is growing concern that the Islamic extremist group Boko Haram could be extending its reach and establishing links with other terrorist groups.
According to Human Rights Watch, more than 253 people were killed in the first three weeks of 2012, including 185 killed in a series of attacks in the northern city of Kano, the nation's second largest.
"Many of the attacks in the past month have specifically targeted Christians and southern Nigerians living in the north," Human Rights Watch said.
But there is growing concern that Boko Haram could be seeking ties with other terrorist groups, making it a potential threat beyond the borders of Nigeria.
A recent United Nations report on development in West Africa warned of "growing concern in the region about possible linkages between Boko Haram and al-Qaida in the Islamic Maghreb," an al-Qaida affiliated group in north Africa.
The U.S. House of Representatives subcommittee on homeland security also recommended in its own report that the U.S. increase its support for Nigerian counterterrorism efforts.
"It is critical that the U.S. work more closely with Nigerian security forces to develop greater domestic intelligence collection and sharing with the U.S. Intelligence Community," stated the House report, titled "Boko Haram: Emerging Threat to the U.S. Homeland." "Military cooperation is vital to a successful counterterrorism strategy."
However, experts on the region caution that closer alignment of the U.S. with Nigerian security forces — which experts say are in need of major reform and are known for brutality against civilians in the Muslim-dominated north — could shift the focus of a locally oriented extremist group into a jihadist movement that sees the U.S. as its enemy. It also could generate more popular support for Boko Haram among much of Nigeria's Muslim population, experts caution.
"In so far as the U.S. becomes identified with those security services, you are turning popular sentiment in an anti-American direction," said John Campbell, a Nigeria expert at the Council on Foreign Relations. "[Boko Haram] rhetoric is very far away from al-Qaida rhetoric. While it's quite a big threat to security in Nigeria, it's not to the United States."
Campbell, who has met with U.S. Africa Command leadership in Stuttgart to discuss the security challenges in Nigeria, said Boko Haram's focus could shift if the U.S. decides to raise its military profile in Nigeria as it has in other parts of Africa. Sending in special operations forces to serve as trainers and advisers, like the Obama administration has done in the hunt for leaders of the rebel Lord's Resistance Army in central Africa, or engaging in commando raids as it has in Somalia, would be a strategic blunder, Campbell said.
"Even if it's just 20 troops you send, if it becomes known, you better watch out for bombs targeting the American Embassy," Campbell said.
Still, while experts caution against putting a military face on the U.S. engagement in Nigeria, some lawmakers say the potential threat to the U.S. needs to be taken seriously.
Rep. Patrick Meehan, R-Pa., who chairs a homeland security subcommittee on counterterrorism and intelligence, hosted a special hearing on Boko Haram in November aimed at raising awareness about the group.
Chief among Meehan's concerns, which also have been echoed by AFRICOM commander Gen. Carter Ham, is the fear that Boko Haram is collaborating with other terror groups such as al-Qaida in the Maghreb.
"You see enhanced capacity and more sophisticated targeting [by Boko Haram]," which could be an indication that it is receiving training from other organizations, Meehan told Stars and Stripes.
Such developments pose both security and economic risks for the U.S., which relies heavily on Nigerian oil.
If Nigerian infrastructure were targeted, there would be global ramifications, he said.
"I think there is an appreciation for the importance of Nigeria to the global energy supply," said Meehan, who added that the U.S. needs to think carefully about how it engages in Nigeria. "We are cautious and prudent about the role we should be playing."
U.S. Africa Command has engaged in limited training missions that include counterterrorism training, and AFRICOM officials confirmed that would continue in 2012.
Military officials, however, have expressed frustration with the Nigerian military, which has a history of being unreceptive to U.S. military concepts of protecting the civilian population, some experts say.
"It's all based on the capacity of the Nigerians to absorb [the training]," said Paul Lubek, a leading expert on Boko Haram at the University of California Santa Cruz. "I've been informed by people at the Pentagon that they've trained special forces companies and they aren't even being used."
J. Peter Pham, director of the Africa program at the Atlantic Council, who also testified at the House hearing on Boko Haram in November, said the U.S. needs to lend support to Nigeria, though that shouldn't be in the form of more military engagement.
"Rather, what the Nigerians need most is assistance with policing and intelligence, which is probably best rendered" by other U.S. government agencies, Pham said in an email.
"What AFRICOM in general and SOCAF (Special Operations Command Africa) in particular can do is continue with the efforts to assist Nigeria's neighbors better secure their borders and assert internal control over their territories, thus denying Boko Haram the sanctuaries to which it has retreated when faced with Nigerian pressure," Pham said.
Within Nigeria, Lubek said, security forces are viewed with suspicion. Nigerian forces tend to employ primitive tactics such as cordoning off areas to round up "bearded men," according to Lubek.
"You cannot humiliate a population and not expect young men to be sympathetic to the insurgency," Lubek said. "It is absolutely certain, the army in particular, they're violating all the principles of counterinsurgency. They aren't protecting the population, they're torturing them. All that just creates support for Boko Haram."
U.S. officials, while expressing a commitment to Nigerian counterterror efforts, also have voiced concerns about how Nigerian security forces treat civilians.
"We reiterate the importance of protecting innocent civilians in any law enforcement response to such attacks," said State Department spokeswoman Victoria Nuland, in a statement following the attacks in Kano.
How the Nigerian leadership will respond to U.S. concerns is unclear.
In an interview Thursday with Reuters, Nigerian President Goodluck Jonathan said he was open to talks with Boko Haram leadership, an offer rejected in an Internet post purportedly from the group's leader, according to media reports. He also acknowledged that his country's response to the security challenge would need to include more development in part of the country where there is high youth unemployment.
"Military confrontation alone will not eliminate terror attacks," Jonathan told Reuters, adding that an "enabling environment for young people to find jobs" is also needed.
Analysts agree that, in addition to diplomatic pressure, more focus is needed on development programs such as agricultural initiatives that could assist the impoverished population and counter any popular support Boko Haram enjoys in the north.
"To militarize this would be a fatal mistake," Lubek said.
Much of the tension in Nigeria's north is rooted in political conflict with the wealthier oil-rich Christian south. Those tensions were intensified when Jonathan, a Christian southerner, replaced Umaru Musa Yar'Adua, a northerner who died just three years into his presidential term in 2010. Jonathan's election in 2011 also violated the conventional practice in which the presidency alternated between north and south every eight years.
"[Jonathan] broke that when he ran in 2011, which marginalized the northern part of the country," Campbell said. "You add to that the progressive impoverishment of the north and you have a situation that is fueled by complex political and economic factors."
For the U.S, working with civil society organizations in Nigeria, such as groups working for ethnic reconciliation, would be better than getting too close to Nigerian security forces that much of the Nigerian population fears, Campbell added.
"We've got to be careful," Campbell said. "Sometimes there are situations where the U.S. [military] should do absolutely nothing."
if(typeof(dstb)!= "undefined"){ dstb();}
if(typeof(dstb)!= "undefined"){ dstb();}
if(typeof(dstb)!= "undefined"){ dstb();}
if(typeof(dstb)!= "undefined"){ dstb();}
if(typeof(dstb)!= "undefined"){ dstb();}
---
---
---
---