US-trained Congolese battalion among units accused of rape
by
John Vandiver
May 10, 2013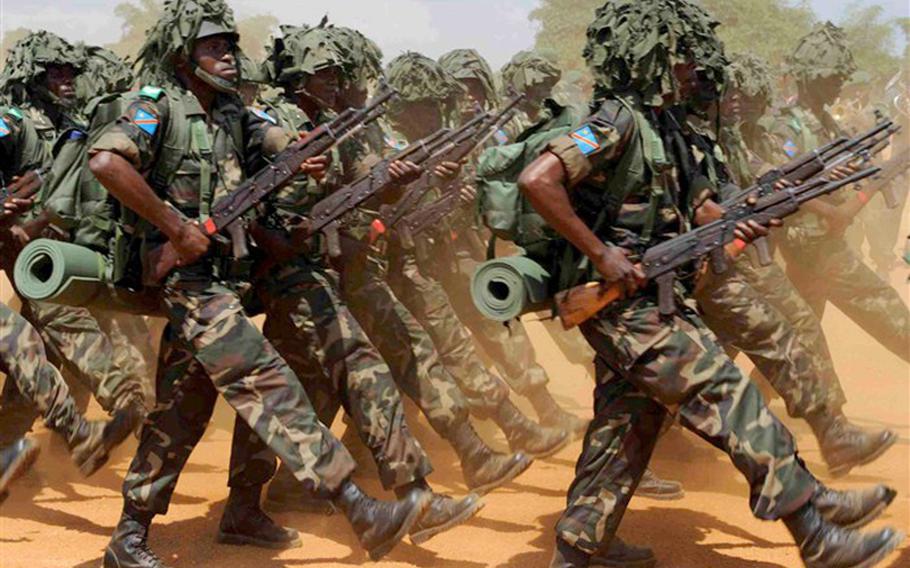 STUTTGART, Germany — For U.S. diplomats and military officials who were involved in training a Congolese army unit, a troubling question loomed: Would the 391st Commando Battalion serve as protectors of the population or would they revert to acts of sexual violence once on the battlefield?
A United Nations report released this week indicates that their worst fears have been realized and that efforts at building up a Congolese unit of benevolent soldiers has failed.
The report, issued Wednesday by the United Nations Joint Human Rights Office, accused members of the 391st Commando Battalion — which was trained by special forces troops assigned to U.S. Africa Command — and other Democratic Republic of Congo troops of engaging in a range of atrocities, including the mass rape of women and young girls in eastern Congo.
The abuses by the soldiers were committed "in a systematic manner and with extreme violence," according to the report. At least 102 women and 33 girls, reportedly as young as six, were victims of rape or other acts of sexual violence perpetrated by government soldiers, the report stated. The soldiers also were responsible for the arbitrary execution of at least two people and the widespread looting of villages, it said.
AFRICOM declined to comment on the report, referring questions to the U.S. State Department.
"We are aware of and take very seriously reports that Congolese armed forces (FARDC) engaged in mass rapes in and around Minova in eastern DRC following the fall of Goma in November 2012," State Department spokeswoman Hilary Renner said in a statement. "We condemn these crimes unequivocally, and call for a full and credible investigation. We understand that the U.N. Joint Human Rights Office forthcoming report may implicate soldiers belonging to the U.S.-trained 391st battalion in these rapes. We have not seen the report yet, so we cannot comment on its details."
The atrocities underscore the dilemma policymakers face as they determine whether to engage with unreliable militaries in volatile parts of Africa. For example, in the wake of last year's coup in Mali, led by a U.S-trained Malian soldier, AFRICOM officials have acknowledged that future training must be more focused on values and rule of law, not just tactics.
The assaults, which occurred between Nov. 15 and Dec. 2, happened as the Congolese army, known as the FARDC, fled in defeat from M23 rebels operating around the eastern city of Goma, a region long plagued by rebel and militia violence.
"FARDC soldiers entered houses, looted them, and raped the women and girls they found inside, and in many cases committed additional acts of physical violence," a U.N. news release stated. "Poor discipline among soldiers and officers alike may be partly explained by the repeated integration of former rebels into the national army without adequate training, and by the lack of appropriate vetting mechanisms."
The report was the result of more than 350 interviews with victims and witnesses, according to the U.N. Joint Human Rights Office.
"One or two of the soldiers would leave with the looted goods and at least one would stand guard as the remaining (Congolese) soldiers raped women and girls in the house. Victims were threatened with death if they shouted; some were raped at gunpoint. Most victims were raped by more than one soldier," it said.
So far, 11 Congolese soldiers are in custody and are awaiting trial, although only two have been arrested on charges of rape and two on charges of murder, according to the U.N. report. To date, 12 senior Congolese army officers also have been suspended in connection with the crimes.
The Congolese military has long been plagued by poor discipline ever since the country gained independence from Belgium in 1961. Troops have regularly mutinied and attacked civilians over unpaid wages and other gievances.
In 2010, AFRICOM deployed special operations forces to Congo to train a battalion of troops that was to function as a rapid reaction force, capable of responding quickly to a crisis in the volatile nation that's been referred to as the rape capital of the world. AFRICOM and U.S. contractors continued that training mission into 2011.
Initially, the Congolese battalion was deployed to take part in efforts to counter the rebel Lord's Resistance Army efforts, but in 2012 the troops were diverted as part of an effort to confront the rebel group M23, which had seized territory in the country's east.
For their part, AFRICOM and other U.S. officials went into their 2010-2011 training mission knowing about the checkered past of the Congolese soldiers they were training. About 70 percent of the 750-strong battalion was affected by sexual violence, either as victims, witnesses or perpetrators, according to a U.S. trainer involved in efforts to re-educate the battalion.
At the time, James Entwistle, the U.S. ambassador to the DRC, told Stars and Stripes that the U.S. was aware of the DRC army's troubled history, but that engaging with them was the best way to bring about reform.
"You could find lots of excuses to do nothing here. But I think it is in our interests to do what we can to help this country move forward," he said in a 2011 interview. "In my view, one of the ways we do that is to help the Congolese develop their own military. A responsible military that protects the people, that can defend borders."
As part of the training effort, a sexual violence prevention program was created by a team of U.S. trainers that included AFRICOM experts.
The program encouraged solders to discuss their experiences with rape, whether as victims or perpetrators, and the painful ramifications those actions have on communities. The reasons for taking part in such terrible violence ranged from following orders to being numbed by years of unrelenting war, according to a U.S. trainer.
"Some of them said, in war you cease to be human," said Emmanuel Muhozi, a trainer at the time. And in Congo, "there's nothing in the society to discourage this kind of behavior. It's hard to change the core of a society, but I think more can be done here."
The U.S. spent $15 million to build the battalion, just one piece of a multi-million dollar security sector reform effort in the country.
vandiver.john@stripes.com
---
---
---
---