Up to $10 million in rewards offered for information on 2017 ambush of US, Nigerien troops
---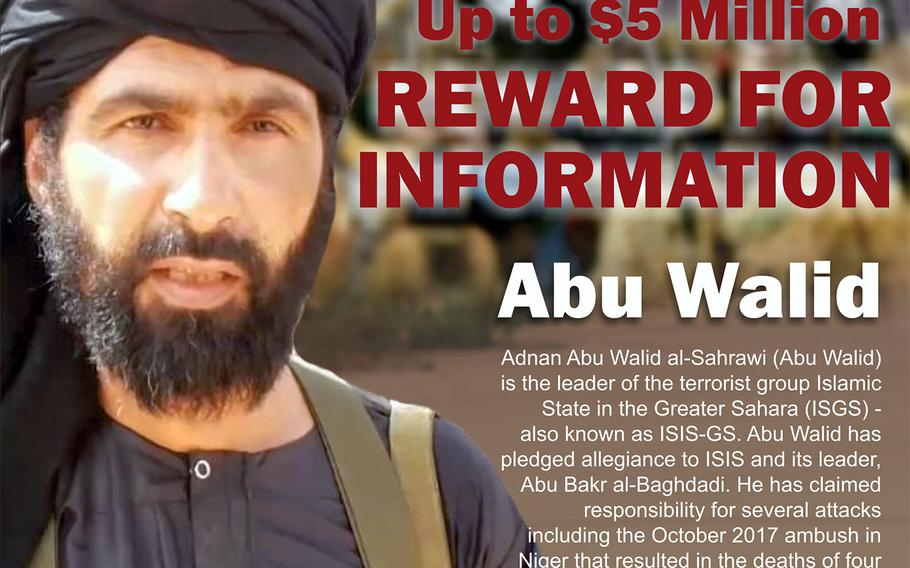 The U.S. is offering up to $10 million for information on those who carried out a 2017 ambush in Niger, killing four American soldiers and four of their Nigerien counterparts.
The State Department announced the incentive, offered through its Rewards for Justice program, Friday, on the two-year anniversary of the attack.
Officials are seeking information leading to the identification or location of Adnan Abu Walid al-Sahrawi, the leader of the Islamic State in the Greater Sahara, which claimed responsibility for the October 2017 ambush near the village of Tongo Tongo, Niger.
In addition to a $5 million reward for information on al-Sahrawi, another $5 million is offered for anyone who "committed, conspired to commit, aided or abetted" the ambush.
The U.S. has designated ISIS-GS as a foreign terrorist organization, and its leader has been named a Specially Designated Global Terrorist under an anti-terrorism executive order. The group emerged when al-Sahrawi and his followers split from an al-Qaida-linked splinter group called al-Mourabitoun, the State Department's rewards site says.
The attack on Oct. 4, 2017, occurred as a joint patrol of some 40 Green Berets, support soldiers and Nigerien troops were headed back to base following a mission to find a local Islamic State leader. They were ambushed by more than 100 fighters.
During a six-hour firefight that ensued, Green Berets Staff Sgt. Dustin Wright and Staff Sgt. Bryan C. Black were killed outside the rural village of Tongo Tongo, near the border with Mali, along with Staff Sgt. Jeremiah W. Johnson and Sgt. La David Johnson. All four were with 3rd Special Forces Group.
The deadliest combat incident for U.S. forces in Africa since the October 1993 downing of two Black Hawk helicopters in Somalia, the ambush prompted scrutiny on special operations missions in Africa. It led officials to order changes to reduce risk to American troops and better prepare them for operations.
Earlier this year, the Pentagon announced that it would award nine valor medals for heroic actions undertaken during the battle. The families of the four slain soldiers were presented their loved ones' valorous medals in August — Silver Stars for Wright and La David Johnson, and Bronze Stars with valor for Black and Jeremiah Johnson.
The U.S. reward money is being offered for information that leads to the arrest or conviction of any individual who responsible for the ambush, which the rewards program's website calls an act of terror.
Based primarily in Mali, ISIS-GS leader al-Sahrawi has claimed responsibility for the ambush and several other attacks, the State Department said. He first proclaimed his group's allegiance to ISIS in May 2015, and ISIS acknowledged his pledge in October of the following year, according to the Rewards for Justice website.
In return for useful information, which can be reported to a U.S. Embassy or to info@rewardsforjustice.net, the U.S. is also offering absolute confidentiality and possible relocation, the site states.
Since 1984, the rewards program has paid over $150 million to more than 100 people who've provided information that led the arrest or conviction of terrorists, or helped prevent acts of international terrorism, the State Department said in a statement.
---
---
---
---