Pentagon: More than 150 al-Qaida-linked terrorists killed in US airstrike in Somalia
---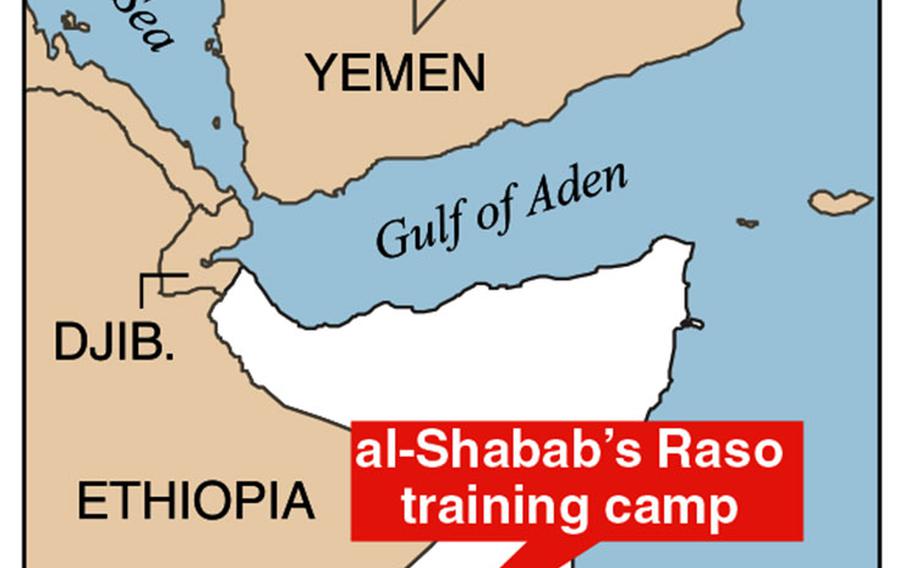 WASHINGTON — An American air strike in Somalia over the weekend killed more than 150 al-Qaida-linked terrorists who were preparing to attack United States troops and African peacekeepers, a Pentagon spokesman said Monday.
United States drones and warplanes on Saturday struck al-Shabab's Raso training camp in central Somalia, about 120 miles north of the nation's capital Mogadishu, in an effort to thwart preparations of a large-scale attack by the militant trainees, said Navy Capt. Jeff Davis, a Defense Department spokesman.
Davis said the camp was destroyed, but he did not provide specifics about the planned terrorist attack.
"We know (the trainees) were going to be departing the camp, and they posed an imminent threat to U.S. and AMISOM, African Union Mission in Somalia, forces there in Somalia," Davis said. "We're still assessing (the strike) … it was apparently successful."
Al-Shabab, which translates to "the youth," was formed in the early 2000s with the intent to overthrow Somalia's western-backed government and implement strict Sharia, or Islamic law. It has since morphed into a jihadist organization, carrying out frequent attacks in Somalia, Kenya and Uganda. In 2012, the militant organization officially aligned with al-Qaida.
The U.S. military has conducted sporadic drone strikes against al-Shabab in recent years. In December, the Pentagon announced it had killed one of the group's senior militants in a strike. The American strikes are designed to protect AMISOM forces, and American military advisers, who have been working to expel al-Shabab from Somalia. AMISOM includes more than 20,000 troops from about a dozen countries, though mostly from Kenya and Ethiopia.
While al-Shabab has been largely driven out of most of Somalia's major cities, including Mogadishu, it is still able to regularly carry out deadly terrorist attacks there and in neighboring countries. Last month, the group was responsible for the bombing of an in-flight jet over Somalia and a suicide bombing in the capital that killed at least 14 people.
Davis said Monday that it was not clear whether any senior al-Shabab leaders were present during the airstrike. It was focused primarily on stopping the planned attack, he said.
The United States had watched the terrorist camp for several weeks, Davis added. There were no indications any civilians were at the camp site when it was struck.
dickstein.corey@stripes.com Twitter: @CDicksteinDC
---
---
---
---