New commander takes over Horn of Africa mission
by
John Vandiver
April 16, 2015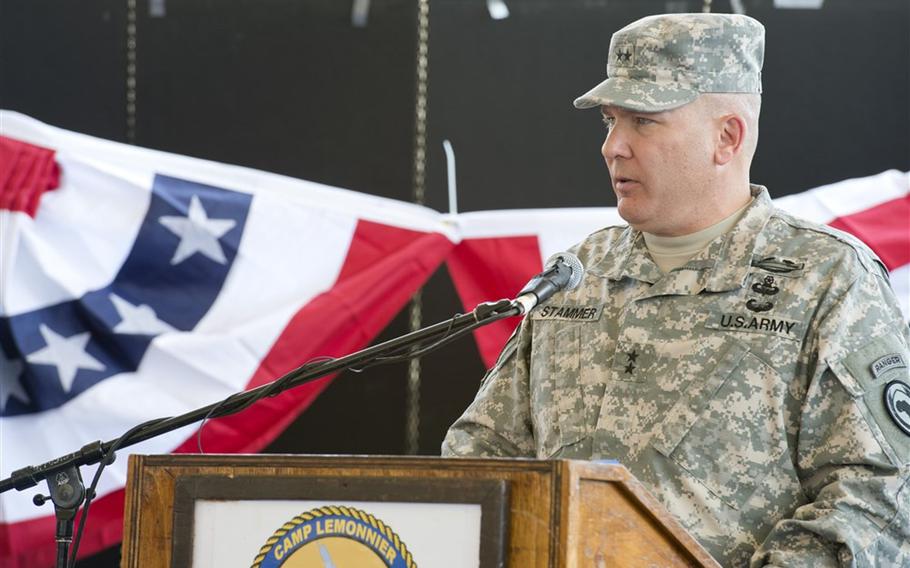 U.S. Army Maj. Gen. Mark R. Stammer assumed command of the U.S. military's efforts around the volatile Horn of Africa, where he will lead efforts to train partners in combating terrorism and ensure the readiness of U.S. response forces.
Stammer replaced Maj. Gen. Wayne W. Grigsby Jr. on Tuesday at the helm of Combined Joint Task Force-Horn of Africa, based at Camp Lemonnier in Djibouti.
"Maj. Gen. Stammer brings strategic and operational expe1.336498
rtise and a tremendous sense of teamwork to this command," U.S. Africa Command's Gen. David Rodriguez said during the change of command ceremony Tuesday. "I know he will hit the ground running, and I look forward to working with him and seeing him lead this task force to future success."
Stammer previously served as a deputy commander of the 101st Airborne Division at Fort Campbell, Ky. In his new role, Stammer is responsible for an 11-country, 2.4 million-square-mile operation area in East Africa, and the U.S. military's only enduring base and main operational hub on the continent.
One area of focus for Stammer will be Somalia, where U.S.-trained African Union forces have been fighting the Islamic militant group Al-Shabab for several years. While the terror group has lost territory in Somalia, it continues to carry out deadly attacks, such as the April 2 raid on a Kenyan University that left nearly 150 people dead.
From Camp Lemonnier Stammer also will oversee the Army's recently formed East Africa Response Force, which has increased AFRICOM's crisis-response capabilities.
In 2014, the U.S. secured a 10-year lease at Lemonnier with an option to extend for another 20 years after that, essentially ensuring a permanent U.S. presence in the region for years to come.
During the change of command, Stammer said he would carry on the mission of building the capacity of partners in the region.
"CJTF-HOA, I am very honored, very proud and very humbled to join your ranks and stand as one among you today," Stammer said during the ceremony.
Grigsby, meanwhile, is moving onto a new job as the next commander of the 1st Infantry Division at Fort Riley, Kan.