AFRICOM seeks probe into civilian deaths in Somalia raid
by
John Vandiver
December 13, 2017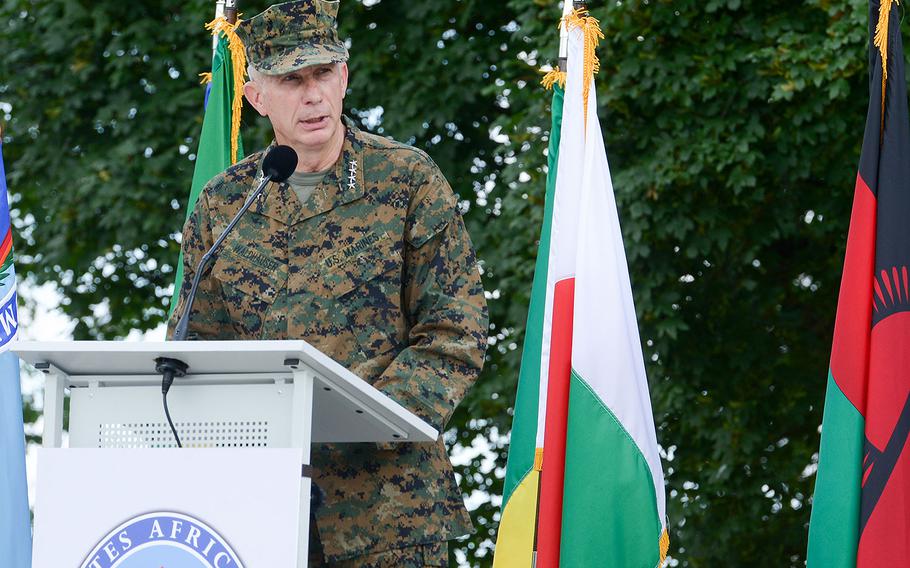 STUTTGART, Germany — U.S. Africa Command has requested an outside investigation into an August raid in Somalia by U.S. special operations forces, which have been accused of civilian casualties in connection with the incident.
AFRICOM chief Gen. Thomas Waldhauser asked the Navy Criminal Investigative Service to look into the Aug. 25 incident after new reports emerged from locals who said civilians were targeted during an operation U.S. troops conducted alongside Somali forces, AFRICOM said Thursday.
"Gen. Waldhauser referred the matter to the Naval Criminal Investigative Service to ensure a full exploration of the facts given the gravity of the allegations," spokeswoman Robyn Mack said.
"AFRICOM takes all allegations of misconduct seriously and will leverage the expertise of appropriate organizations to ensure such allegations are fully and impartially investigated."
NCIS specializes in law enforcement investigations.
The past several months have been challenging for the U.S. special operations forces in Africa. In October, four soldiers were killed in an ambush in Niger, an incident that is also under investigation. In addition, NCIS is investigating the death of an Army Green Beret who was strangled while on assignment in Mali earlier this year. Two Navy SEALs have been placed on administrative leave in connection with the case.
The initial internal military review into the Aug. 25 raid, which was put together by Special Operations Command Africa, said that only armed combatants were killed.
"Because recent reporting specifically alleged misconduct by U.S. forces, AFRICOM is obligated to ensure such allegations were fully reviewed," Mack said.
The decision came two weeks after AFRICOM issued a statement that rejected claims that its troops were directly involved in the killing of civilians in the Somalia town of Bairre. However, accusations by Somali civilians that civilians were among the victims have persisted, which prompted Waldhauser to seek further investigation.
AFRICOM initially said U.S. forces joined Somali troops on the operation to clear an area of suspected al-Shabab militants. Ahead of the mission, those forces met with local leaders in the area and "concluded the compound had been occupied by al-Shabab," the command said.
Early in the operation, it said, Somalia National Army soldiers were fired upon, which prompted U.S. and Somalian forces to act in "self-defense, resulting in the death of seven opposing forces."
However, local government officials in Somalia have disputed that account, saying that children and one woman were among the dead.
The U.S. now has roughly 500 troops in Somalia, the largest force concentration in that country since the early 1990s. AFRICOM, operating with expanded authorization granted by President Donald Trump in April, now routinely carries out air strikes in the country.
vandiver.john@stripes.com Twitter: @john_vandiver