Far East finals preview
Zama spikers set to compete in lower division
by
Dave Ornauer
November 4, 2010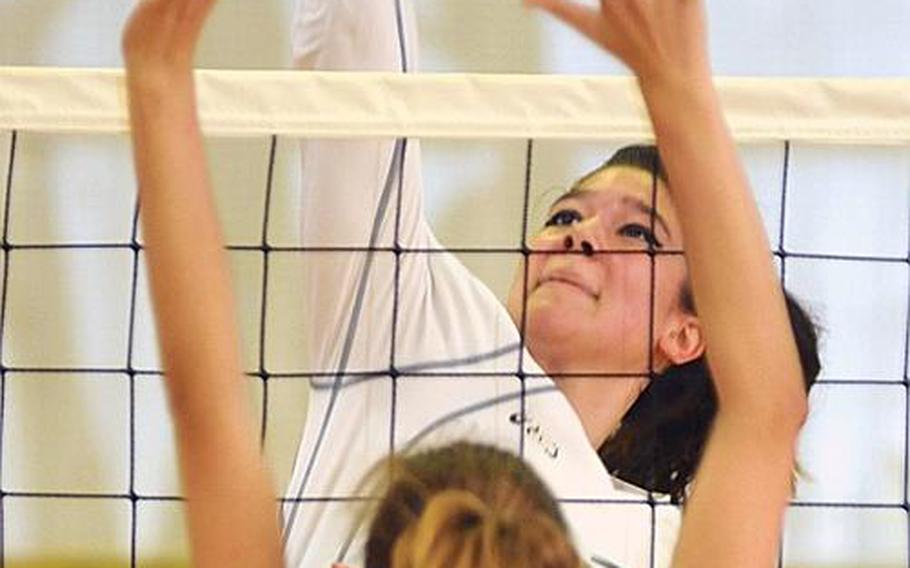 As one of only two DODDS programs to ever win a Far East Division I Girls Volleyball Tournament title, Yeni Toribio and Zama American find the notion of playing at Division II somewhat … different.
"Of course, we could," Toribio, the Trojans' assistant coach, said when asked if the team could still compete at the large-schools level. "The girls worked hard all season to bring up their level of play from last year. They feel they can handle the heat."
That will no longer be possible, now that Zama American's enrollment has dropped below the Division I eligibility cutoff of 300 and the Trojans are now an across-the-board Division II school.
Zama is one of 10 teams entered in the Division II Tournament this week at Robert D. Edgren High School, which two years ago also fell under the cutoff after spending nearly 25 years at Division I.
The Trojans went 7-7 against their local Kanto Plain league, which is comprised mainly of Division I opponents. And Zama has the Division I tournament pedigree, having won titles in 1979, '81, '88 and '97; only one other DODDS school ever won the tournament once.
At least one Division II coach, Edgren's Sarah Richardson, agreed with Toribio that Zama still has what it takes to play with the big dogs.
"Zama looks strong. They have pretty good servers, good hitters, they're solid, they move well and they gel," Richardson said. "They'll be one of the top teams here."
But in the same breath, Richardson feels the Trojans may be a step or two behind defending champion Daegu American, which retains its core of seniors: Angie Robinet, Gulee Kwon and reigning Most Valuable Player Kristina Bergman.
"If they're anything like last year, they're in a class of their own," Richardson said, adding that Robinet, Kwon and Bergman are like "peas and carrots; they just go together and you can't beat that."
"I haven't seen anybody who can hit like Bergman. If you have a strong blocker who can give her a go at the net … but she's tough. She's an all-around player."
Can Zama be the one chasing Daegu? "It's difficult to say," Toribio said, adding that Daegu is one of five teams in the tournament the Trojans haven't seen. "But I definitely feel we're a strong contender."
While Daegu and Zama appear primed for runs at the Division II title, Seoul American and Nile C. Kinnick hope for redemption after falling short of the Division I title last November.
Seniors Destinee Harrison and Liz Gleaves powered the host Falcons to a 17-1 overall record.
"Everybody's been working toward this shot," said 31-year Seoul American coach Denny Hilgar, who is in his final season. "For the seniors, it's their last shot. The new kids on the block are all excited because of what they've heard" about Far East.
And though the Red Devils lost all their hitters from last season, they still managed a 27-1 mark and have gone 54-1 in the last two regular seasons. But coach Al Garrido said none of that matters now.
"We're starting from zero," the fourth-year Kinnick coach said. "All the records, they're wiped out. But I believe the girls will give it everything they have. They're a unified team. They're as ready as they ever will be."
---
---
---
---