Girls basketball AOY
Zama's Sterling brought energy, scoring punch for new champs
by
Dave Ornauer
March 3, 2019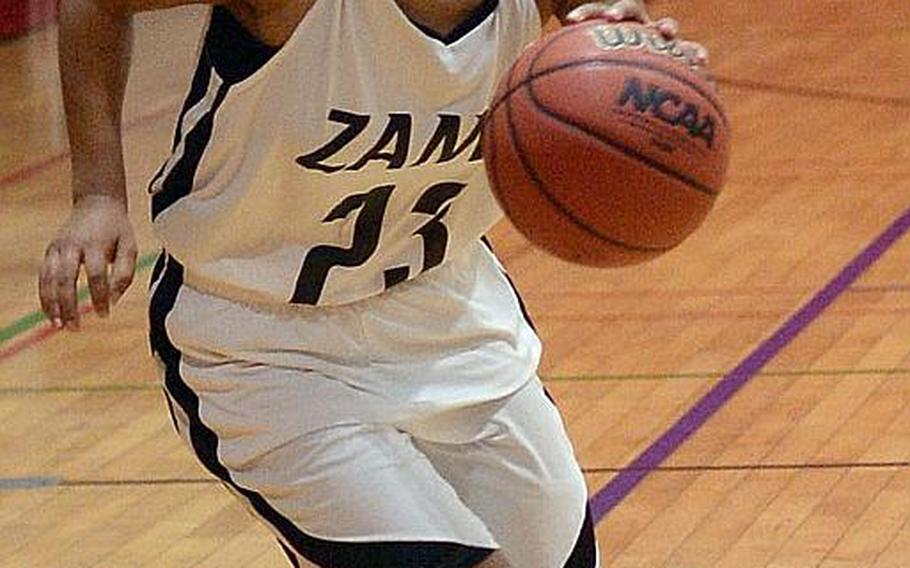 Throughout her middle-school years, Chloe Sterling watched as her older sister Zhandra Graham and Zama reached DODEA-Japan and Far East Division II title games. And Sterling dreamed of doing the same.
Only sometimes, dreams don't turn out the way one expects.
They're even better.
Sterling averaged 22.46 points a game as the Trojans went 27-5, won the DODEA-Japan tournament for the first time in school history, then captured a school-first D-II title with a 58-43 win over Daegu, earning tournament Most Valuable Player honors.
For all that, Sterling has been named Stars and Stripes Pacific's girls basketball Athlete of the Year.
It was the culmination of a long-time wish, Sterling said – she wanted to play for the same team her sister did, and wear the same number, 23, but take it one step further.
"It was my dream to get there like her and win," Sterling said.
Graham and Zama reached the DODEA-Japan and D-II finals in 2016, losing to Yokota both times. Sterling said she refused to settle this season.
"I was expecting to win" the DODEA-Japan and D-II titles, Sterling said. "My goal is to win every game, and my belief was that we were going to take the championship home."
Zama already had a strong lineup featuring three returning juniors, center Jessica Atkinson (11 points, 7 rebounds), Kirari Smith (12.4 points) and Brianna Ratliff.
But Sterling, who also averaged 4.2 assists and 4 steals, brought needed "offensive presence" for Zama, coach Daisy Hayes said. Sterling played against boys during her youth basketball days, which helped her operate at a faster pace and brought a "great vibe" to the Trojans.
"She brought an offensive presence that has taken us a very long way, set the tone and made other people step up as well," Hayes said.
Zama's big season was hardly a one-person show, coach and player said.
"It wasn't one person; it was a team win," Sterling said. "We took it very seriously. We would talk about games before we played them, what we need to do before we go into the games and execute better."
Zama broke out of the gate 9-0, then took some lumps at the American School In Japan's Kanto Classic – which only helped better prepare the Trojans for the DODEA-Japan and D-II tournaments, Sterling said.
Their 53-35 loss to three-time Guam champion St. Paul Christian on Jan. 24 "really turned the lights on" for Zama, Sterling said. They played better when they next faced the Warriors, losing 43-41 two days later.
"A couple of mistakes, we didn't win, but we played our hearts out and as a team," Sterling said. "That taught us that we have to keep working, we can't slack off."
Fast forward to Far East, where the Trojans won all seven of their games. Sterling scored 24 of her 29 points in the first half of the final, and Zama outscored Daegu 15-9 in the third quarter to pull away.
"We came out swinging," Sterling said. "We were not going to let up on anything, we were going to play hard right from the beginning."
All-Far East girls teamsDivision I — American School Bangkok: Shanique Lucas (three-time Far East D-I Tournament Most Valuable Player); Keisharna Lucas (three-time All-D-I selection); Atiria Simms, Kadena (two-time All-D-I selection); Humphreys: Ebony Dykes; American School In Japan: Jessica Sliter.
Division II – Zama: Chloe Sterling (Far East D-II MVP), Jessica Atkinson; Daegu: Dai'Ja Turner, Bethani Newbold; E.J. King: Gabriella Shultz.