Zama's Spencer has golden smile
by
Dave Ornauer
December 18, 2008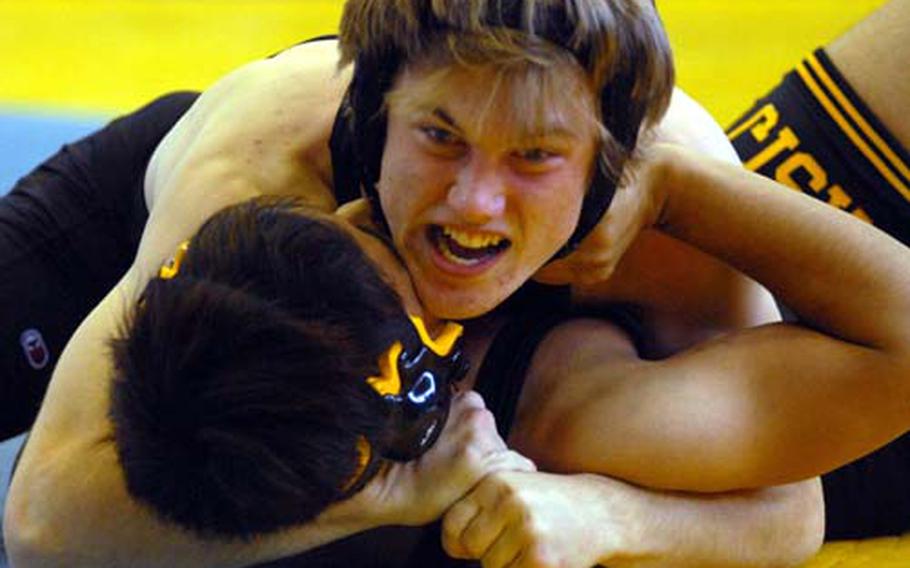 YOKOTA AIR BASE, Japan — As Michael Spencer prepared for his next match, yukking it up with teammates, hopping foot to foot and keeping his arms loose, an observer asked, "Does he smile when he wrestles, too?"
A fair question, since the Zama American sophomore 158-pound wrestler seems to smile everywhere else he is. And his skill on the mat is already making a name for him this early in the season.
At Saturday's All-Japan Invitational Wrestling Tournament at Yokota High's Capps Gym, Spencer won three bouts to improve to 7-1 this season. He took third place a week after seizing the 158-pound title in the DODDS-Japan season-opening tournament at Misawa Air Base.
All of that, plus being named the football team's MVP, has happened in just three months since he arrived from Wiesbaden Army Airfield, Germany. There, he led the Warriors to their first DODDS-Europe title in 20 years and finished second at 145 pounds in the wrestling championships.
Now, he's converting to international freestyle used in the Pacific from collegiate folkstyle used in Europe, and taking aim at a 158-pound Far East Tournament championship.
"It's a little tough," said Spencer, who's been wrestling since seventh grade at Wiesbaden.
In folkstyle, it's OK to use back moves and expose shoulders to the mat with moves such as the split scissor, guillotine and Granby roll. Such moves will cost wrestlers points in freestyle; many Pacific freestyle wrestlers favor the head-in-arm hold.
"I had to unlearn a couple of things here," Spencer said. "The basics are pretty much the same. It's just a couple of transitions that make it tough."
But so far, he's impressing his and opposing coaches with his progress.
"He won't quit. He'll fight all the way through. He's fast, very strong for his size and he has a lot of experience from Europe," first-year Zama coach Christopher Iredale said.
"He's a good kid. He always has a smile on his face. He's always ready to go and will give you pretty much everything he's got. And he has a good attitude. He's one of those kids you just want to be around."
Is it too early to suggest he's a potential Far East champion?
"He's got a good chance, especially from what I've heard from a lot of coaches," Iredale said.
"He's a tough kid," Edgren coach Justin Edmonds said. "And he's a good kid."
"He's transitioning very well to freestyle," Yokota coach Brian Kitts said. "He will be a Far East champion. It's not a matter of 'if,' but 'when.' "
That he's enjoying success at Zama comes as little surprise to his coach at Wiesbaden, Steven Jewell.
"I fully expected it," Jewell said via e-mail. "Truthfully, what is really amazing about this young man is to watch how much fun he is having while competing. He always has a smile that lights up the room."
Spencer bulldozed his weight class last season until the DODDS-Europe finals, where he was pinned by Matt Lyon of St. John's International of Brussels. "He fought with such tenacity and heart that he earned the respect and admiration of all those in attendance," Jewell said.
"He is the epitome of what is good about high school athletics. He is the type of athlete that every coach dreams of having. … Losing Mike was probably the biggest loss in my time coaching here at Wiesbaden. I would have loved to have him back."
Zama football coach Steven Merrell rejoiced at getting him. Spencer was the bright spot for a winless Trojans team, gaining 574 yards on 95 carries with three touchdowns.
"He is the total package," Merrell said of Spencer, who carries a 4.0 grade-point average. "It is great to be able to coach kids like Michael."
The Trojans face a marked shortage of grapplers; only five are out for the team this season.
But "we have a good individual game," Iredale said of a group that includes 148-pounder Elias Labrador and his son, 180-pounder Jacob Iredale, who have stateside experience. "Most of these kids, I don't have to coach much. They already have a good 'A' game."
Despite not having enough wrestlers for a full team, "we have a solid, small team that can win some medals and points and help our school," Spencer said. "I do believe we'll all do well."
Though he's enjoyed success thus far, Spencer refuses to take anything for granted.
He points to his quarterfinal bout Saturday against Ryo King of American School In Japan, who nearly had Spencer pinned two times in the first period before Spencer turned the tables on King in the second with a head-in-arm.
"There's always somebody better and there's always somebody out there training harder," Spencer said.
But he does fancy the idea of chasing a Far East title in freestyle after just missing a Europe folkstyle championship in back-to-back years.
"So close to becoming a European champion and coming over here to be a Far East champion, that would be great," Spencer said.