Zama's dream season comes to sudden halt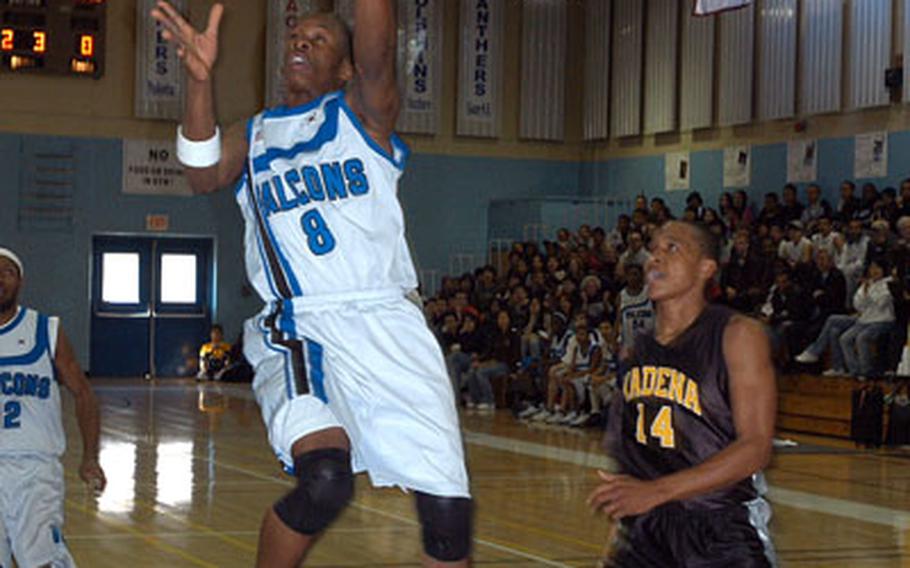 Zama American's dream of an unbeaten season and its first Far East Boys Class AA basketball title since 1963 was shattered Friday by a team that has won the tournament more times than any other in the event's 58-year history.
Quinton Mason made two steals in overtime and Jacorian Callier put Kubasaki of Okinawa ahead to stay with a three-pointer as the Dragons stunned the Trojans 76-75 in Friday's semifinal. The victory put nine-time Class AA champion Kubasaki (16-13) in Saturday's final against host Seoul American.
"We've been waiting for Quinton to show up," Kubasaki coach Jon Fick said of Mason, who scored 26 of his 36 points in the second half and overtime. "It was a matter of time before our shots started falling."
Prior to that, it looked as if Zama (34-1), the DODDS-Japan and Kanto Plain Association of Secondary Schools champion, was well on its way to booking a ticket to the title game. The Trojans set the pace the first two quarters and led 29-23 at halftime.
"They're a great team," Fick said. "We knew they were a great team. We only hit two jump shots in the first half and somehow we were only down by six."
Along the way, chinks began to appear in the Trojans' armor in the form of foul trouble. Guard Wilberto Badillo was forced to the bench with three early fouls and fouled out early in the fourth quarter, and center Carlos Walter picked up two early fouls.
"That helped us. We wanted to take the two bigs away," Fick said of Badillo and Walter.
Of Badillo, Zama coach Tom Allensworth said, "It's a different team without him on the floor."
Despite being outscored 16-4 in the third quarter, the Trojans kept it close thanks to the hot hand of Ben Bishop, who paced Zama with 27 points. He had a chance to win it in regulation, but missed a running shot in the lane as the buzzer sounded.
Then Mason "took over," Fick said, in the extra session, and along with Callier keyed a six-point turnaround that put the Dragons ahead by four with six seconds left. Zama's Sean Wise sank a three-point goal with two seconds left and called timeout, but Kubasaki ran out the clock following the ensuing inbound play.
"We just didn't step up. It's pretty disappointing," Allensworth said. "But tomorrow's another day. We'll live through this and be playing hard tomorrow" in Saturday's third-place game against Kadena of Okinawa.
Home teams reach Class AA championship games once more
Home cooking has been mighty flavorful for Class AA tournament host teams, and Friday's semifinals proved to be no exception.
Seoul American's boys became the 18th host team to reach the final since 1982, routing Kadena 84-65 behind Andrew Luna's 20 points.
Coach Steve Boyd called the victory a "tremendous team effort" in which "the bench came through," pointing to substitutes David Smalls and Joe McLean, who combined for 20 points and 13 rebounds.
"We came out hard," he said. "We just outhustled and outran them."
The Falcons (37-14) have won 17 of their past 18 games.
On Okinawa, Kadena's girls (26-4) punched their ticket to Center Court by unseating two-time defending champion Seoul American 57-43, breaking open the semifinal in the second half behind Zori Drew's 19 points and a variety of trapping defenses.
By handing the Falcons (23-1) their only loss of the season, the Panthers became the 16th host team to make it to the final since 1986.
"We know we can't have an emotional letdown. We know we have one more to go," Panthers coach Ken Hudson said.
That "one more to go" came against the first non-DODDS team to reach a Class AA title game in seven years. American School In Japan (12-6) beat Yokota (24-5) for the first time in three tries this season by 52-47.
"It's going to be a tough game," second-year Mustangs coach Steve LoBianco said of facing Kadena. "They're incredible to watch. They're all over the court, they're aggressive, there are no holes in their game. We'll give it our best shot."
Perry boys finish third in Class A tournament
It looked like a lost season for the Matthew C. Perry boys basketball team, which started the season strongly, then dropped eight of 10 games before entering the Far East Class A tournament with a record of 8-15.
Then, the Samurai found themselves.
Behind captain Julio Rodriguez, center John Blanchard and rising freshman Carlton Hays, Perry enjoyed its strongest Class A showing in seven years, going 6-3 in the tournament and taking third place, losing to three-time champion Faith Academy and twice to Morrison Christian Academy.
"I'm really proud (of) from where we started to where we finished," first-year Samurai coach Scott Sanders said after Friday's 64-49 elimination loss to Morrison. "We made some good individual strides, a lot of hard work and teamwork."
On one down note, only three of Sanders' players return next season, which could spell another bout with rebuilding.
"This was now or never, a real sense of urgency here," Sanders said.
The Samurai responded by capturing the bronze medal at Ironworks Fitness and Sports Center on their home base, Japan's Iwakuni Marine Corps Air Station.
Faith celebrates golden anniversary with Class A titles
Faith Academy celebrated its 50th anniversary in style, sweeping both Class A tournament titles to give the missionary school in Manila's eastern suburbs 17 championship trophies.
Behind three-time tournament MVP Kirk Long's 20 points, the Faith boys made it a Class A three-peat, beating Morrison 73-47 in Friday's championship.
The Vanguards have won a combined 10 Far East titles: three Class AA, four Class A, two in the 1995 and '96 Far East Invitationals at Seoul Foreign and the Top Teams Tournament in 1981, when budget cuts forced DODDS-Pacific to cancel the Class AA tournament.
At Daegu, South Korea, the Faith girls won their seventh DODDS-Pacific hoops title in 11 seasons — four in Class AA and three in Class A. Their latest championship came in a thrilling finish, as Hannah Innes drove for a layup with six seconds left and Faith edged Sacred Heart of Tokyo 51-49.
---
---
---
---