Zama not rebuilding just yet
---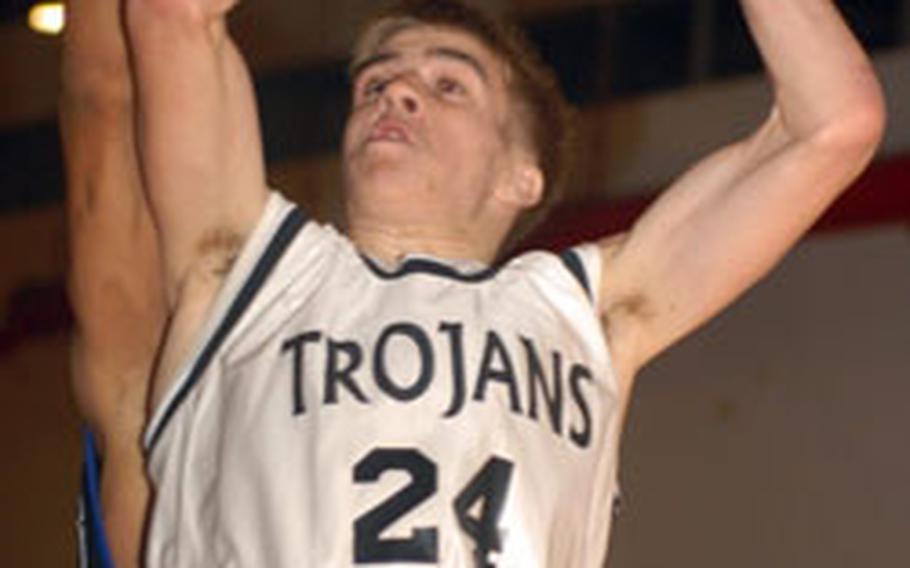 CAMP ZAMA, Japan — Nelson Bishop, Sean Wise, Anthony Caple and the Zama American Trojans sure know how to ring in the New Year.
Bishop, a junior forward, scored 16 points and pulled down 15 rebounds as Zama edged visiting Seoul American 72-67 in overtime in the first regular-season inter-area meeting between the programs.
Wise hit five three-pointers and scored 21 points, while Caple added 13 as Zama improved to 11-1. The Trojans are 45-3 with Bishop in the lineup the past two seasons.
"Nice record," said Bishop, in his second year of his second "tour" at Zama after living four years in the States and attending American School In Japan as a freshman. "I love this place. We're back, and it feels good."
The Trojans' early season success has been surprising, considering Zama lost seven of the 10 players from last year's DODDS-Japan and Kanto Plain Association of Secondary Schools championship team. Zama went 34-2 and finished fourth in the Far East Class AA Tournament.
"We're improving, every game," assistant coach John Leipheimer said.
Zama could be considered a rebuilding team, but Bishop says otherwise.
"We're a force to be reckoned with," he said.
They didn't get much of an argument Tuesday from a Seoul American team that entered the game with a record of 17-1 and had just finished winning the Christmas tournament for Army company-level men's teams at Yongsan Garrison.
"They just outplayed us," junior captain Raidion Fails said.
"We didn't play fundamental ball," added senior guard Daniel Burns. "They just beat us."
The game served as a warmup for the Falcons, who are entered in this week's 2nd New Year Classic tournament at Yokota Air Base.
Zama is not entered in the tournament, but offered to host Seoul on Tuesday and was scheduled to face Kadena, the defending New Year Classic champion, on Wednesday.
Neither side led Tuesday's clash by more than eight points.
Burns' three-point goal 50 seconds into the third quarter sparked a 12-4 Seoul American run that made it 40-32. But Wise hit a three with 1:46 left in the period and Zama answered with a 16-1 run to go ahead 46-41.
It stayed tight until Burns tied it 63-63 with 2.4 seconds left in regulation, but from there, it was all Trojans.
Caple's three-pointer opened the extra session and gave the Trojans a lead they would never lose. The Falcons had three shots to tie in the closing seconds, but missed each. Darius Graves salted it away with two foul shots with six seconds left.
The New Year Classic began Wednesday afternoon and continues through Saturday's championship at 6 p.m. at Yokota High School's Capps Gym.
---
---
---
---