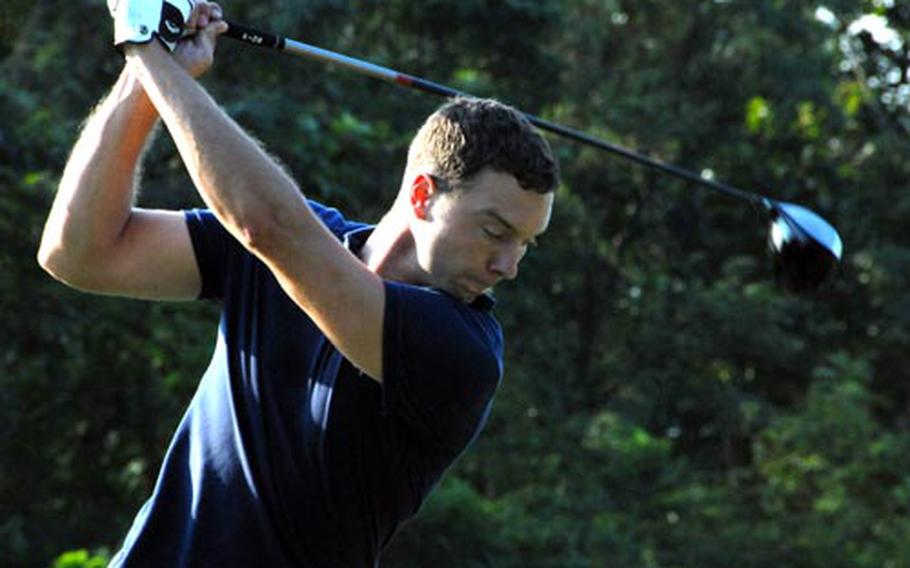 SEOUL — Capt. Tae Kim swung his golf club high in an arc, then stopped and shook it in frustration.
"This thing's like a noodle," he said, shaking his head at a club whose shaft was more flexible than he was used to.
Trying to blast a golf ball down the driving range with a piece of spaghetti doesn't work for most people. But Kim, one of 10 players in the Asia Zone Long Drive Competition, drove an admirable 342 yards with the club during the semifinals of competition.
That put him close to the longest shot of the day so far: 360 yards.
"It's actually more nerve-wracking than I thought it would be," said Kim, who golfs every weekend.
Eight golfers from South Korea and two from Japan competed Saturday in the double-elimination tournament, held at Sungnam Golf Course.
The prize: A free trip to Mesquite, Nev., in October to compete in the ESPN-sponsored Military Long Drive Championship, and a chance to win $10,000.
Six current or retired servicemembers from around the world will advance to the finals.
"I've always hit the ball far, so I figured I'd come out and try it against other people," said Pfc. Lloyd Young of Camp Casey. Young struggled in the first round, which he blamed on nerves, but he listened to his iPod to help him refocus.
What had he done to prepare for the competition?
"Nothing," he said. "This is my third time to play golf all year."
The tournament came down to two men from Camp Zama, Japan: Roy Heape, a slender E-4 from Tennessee, and Brandon Boehmer, a retired servicemember whose wife is stationed at Zama.
Both said they had spent lots of time at the driving range. Boehmer said he had hit 2,000 golf balls in the last three weeks alone.
But there's only so much practicing you can do.
"It's really hard to prepare for something like this, because your nerves kind of get the better of you when you're out there," Heape said.
Boehmer, who runs Zama's youth sports program, won the competition with the longest shot of the day: 364 yards.
"The best shot in a long drive competition is the one you can't feel," he said. "I could tell that it would do that."
If he wins the Nevada tournament, Boehmer said he plans to use the money to help his parents pay off the mortgage on their house.
---
---
---
---