Zama boys take down Yokota; Kadena's teams top Kubasaki
---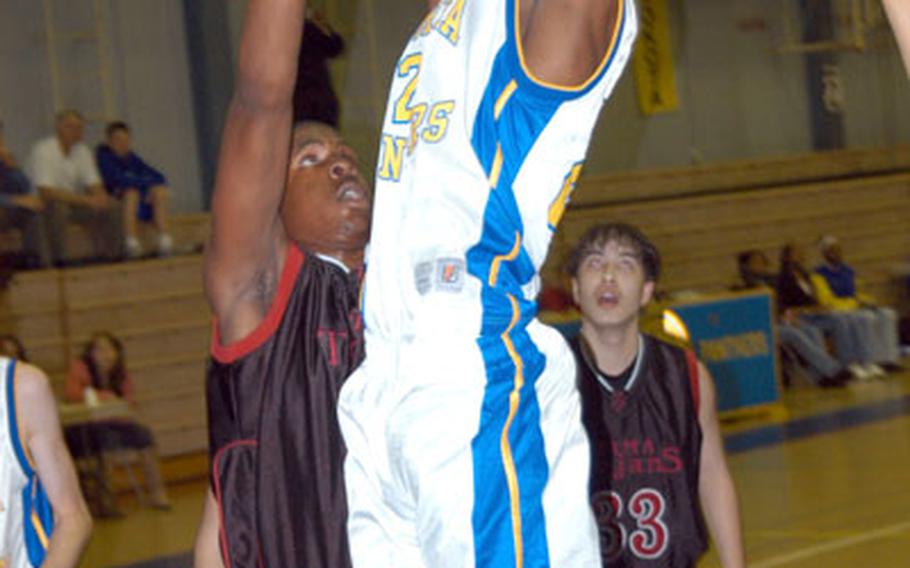 YOKOTA AIR BASE, Japan — There's a new sheriff in Japan high school boys basketball.
Senior guard Wilberto Badillo hit seven foul shots in the fourth quarter and finished with 27 points Friday, sparking Zama American past Yokota 53-47 in a DODDS-Japan and Kanto Plain Association of Secondary Schools contest at Yokota's Capps Gym.
"Tom's got a good group," Yokota coach Paul Ettl said of Zama coach Tom Allensworth's Trojans, who improved to 19-0, 8-0 in DODDS-Japan and KPASS. The Panthers fell to 13-4 and 6-2.
The victory came in what was viewed going in as a crucial test for the Trojans against a Yokota squad that won last year's Far East Class AA title as well as the DODDS-Japan and KPASS championships.
Ettl feels the Trojans are in the same league as the four teams that played in the New Year's Classic two weeks ago at Yokota: Kadena, Seoul American, St. Mary's International and Yokota.
That tournament featured the past four Far East Class AA tournament champions; Zama is trying for its first Class AA title since 1963.
"They're disciplined. They have balance," Ettl said. "They're in the same category as the teams that played here New Year's."
Carlos Walter added 14 points and the Trojans led from start to finish against a Yokota squad that "played with passion and heart," Ettl said. But every time the Panthers would get within a basket, the Trojans would "hit big baskets at opportune times."
Badillo "handled the team well," Ettl said, noting that in past years, Zama would field squads of good individual talent that would at times "play wildly, which would force them into making turnovers. That didn't happen tonight."
Caiveon Thomas paced Yokota with 14 points and Cameron Shelton added 11; the two had been sidelined by injuries, but were back "100 percent" in the Yokota lineup, according to Ettl.
While for the moment the Trojans appear to be in the driver's seat, Zama must play Yokota once more, at home on Feb. 13, and the teams could see each other again in the Class AA tournament scheduled for Feb. 19-24 at Seoul American.
"We'll probably see them at least once more," Ettl said.
Kadena boys, girls go up 2-0 on Kubasaki in OAC seriesKADENA AIR BASE, Okinawa — Give the second round of the Okinawa Activities Council's annual Rumble on the Rock basketball series to Kadena. But the Panthers' boys and girls teams didn't have it easy in Friday's battles with the Kubasaki Dragons.
Kadena's girls (11-3, 2-0) spotted Kubasaki (5-9, 0-2) an 18-0 lead before rallying for a 45-38 triumph. In the boys game, Kadena (11-9, 2-0) and Kubasaki (4-9, 0-2) traded the lead 15 times before the Panthers pulled away late and won 82-70.
"I can't imagine us doing more thing wrong" to start the game, Panthers girls coach Ken Hudson said, adding that Kadena came alive when he switched to a man-to-man.
"We had to go man and be more aggressive," he said.
Guard Monica Hayes led the rally, scoring 14 points while guard Zori Drew and forward Brittney Gilliam added 12 each. Hayes added eight rebounds and four steals.
"My team is never going to give up," Hudson said. "We've been behind several times and come back. That wasn't the greatest game we've played. As long as you never quit, you can always come back."
Kubasaki freshman Mechi Fletcher scored 10 of her game-high 22 points in the first quarter, but went 4-for-14 from the foul line. The Dragons shot 7-for-30 at the line.
"Our kids played well. A little inexperience hurt us down the stretch," Kubasaki coach Bob Driggs said. "You can't start any better than we did. Kadena's a good ballclub. We learned a lot from them."
In a physical boys contest that featured three foul-outs, the teams entered the fourth quarter tied 51-51, then traded the lead six times in a span of 83 seconds before Terrone Sheffey's three-point goal with 6:40 left put Kadena in front to stay 62-61. That basket sparked a 10-0 run that made it 69-61 and the Panthers coasted from there.
Jamil Barney scored 15 points, Sheffey added 15, Josh Greggs hit three three-point goals and finished with 14 points and Shmarua Phelps scored 11 of his 13 points in the fourth quarter before fouling out.
Tsutomu McCoy paced the Dragons with 15 points. But like the girls, Kubasaki's boys had problems at the foul line, going just 15-for-36.
"Bob's (Kadena coach Robert Bliss) teams always take care of business at crunch time," Kubasaki coach Jon Fick said.
The teams meet again Feb. 2 at Kubasaki and close out the regular season Feb. 15 at Kadena.
---
---
---
---