Zama American going for broke
by
Dave Ornauer
May 8, 2003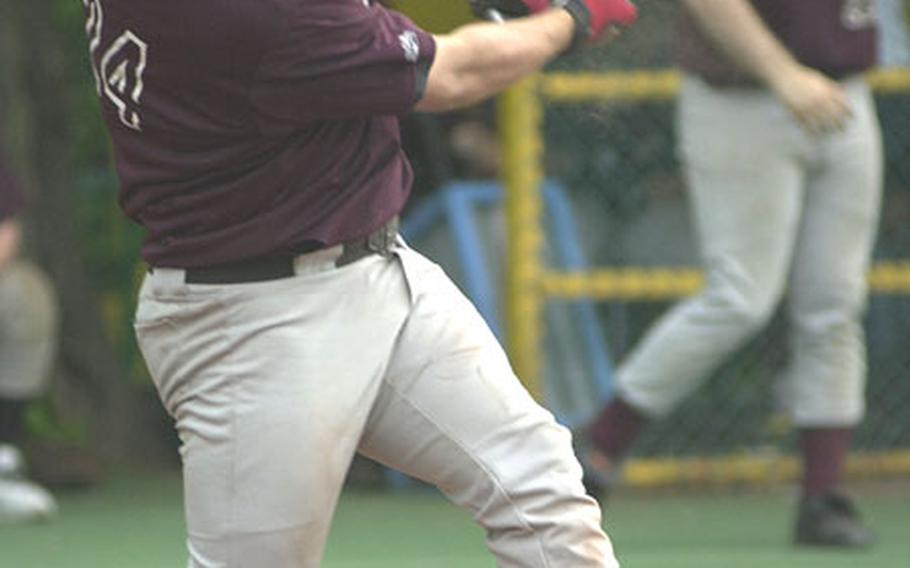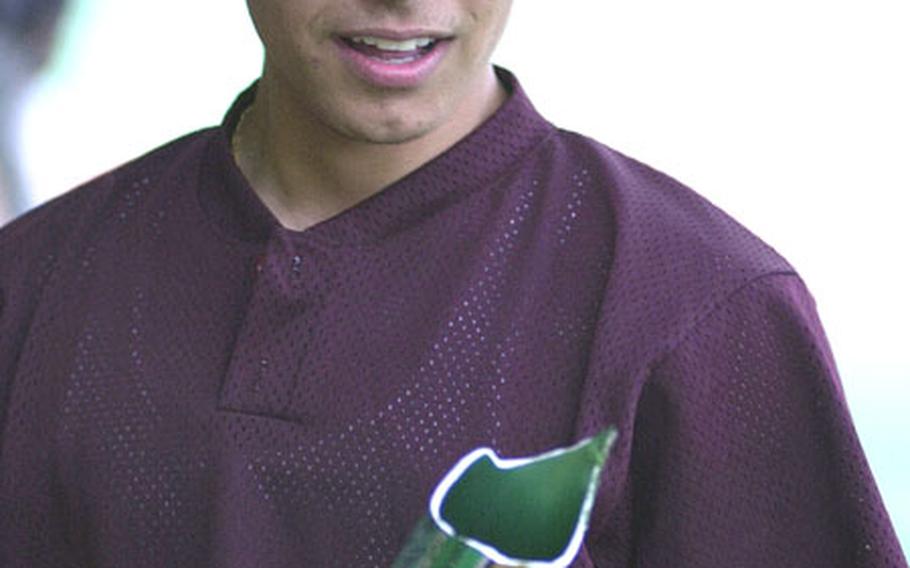 TOKYO — In the scorebook, it went down as a flyout to center field in the fourth inning. But what a way to make an out.
Zama American senior left fielder Anthony Salas took a big cut — perhaps trying to duplicate his second-inning grand slam — and connected with the ball.
Thoong!
With a sound like iron striking an old bell, the bat cracked into three pieces. The fat upper part landed at second base, a middle shard fell by the pitcher's mound . . . and Salas stood, holding and gazing at the handle, but not running.
As the ball was caught in the outfield, the Trojans' dugout went wild. Even Salas smiled.
"I was kind of happy about that," Salas said after Zama swept St. Mary's International 16-10 and 17-13 in a Kanto Plain Association of Secondary Schools doubleheader on Tuesday. "I'd never seen a metal bat shatter before."
Only Zama catcher Brian Miller couldn't laugh at the moment. It was his bat.
"I paid for that bat with my own money," Miller said of the $300 TPX. "It's under warranty, and I'm gonna send it back to them, and I'd better get a new one."
If that's the Trojans' biggest worry, they're doing just fine. Other than Miller's bat, not much else is broken.
Tuesday's sweep gave the Trojans (20-3 overall, 14-2 in league play) their first league regular-season title. They won the Kanto postseason tournament in 1988 and '98 but never a season crown, until now.
"We came into the season knowing we were a contender. We had high expectations for ourselves," said Salas, hitting .473 with two homers and 29 RBIs.
Salas spearheads a lineup that features pitcher/shortstop Ben Walters (.411, 11 RBIs), the club's leadoff batter, Scott Sakraida (.500, 22 RBIs), Russ Casimire (.400, 20 RBIs), Greg Richardson (.342, nine RBIs) and David McMahon (.417, 19 RBIs).
In the pitching rotation, Walters has become the staff's ace with an 8-1 record and a 4.42 ERA. Four other starters have at least two victories.
"This is the deepest team I've ever had," said Zama coach Tom Allensworth, now in his seventh season. "We go deep into the batting order. Defensively, it's the best team I've ever had. And we have capable pitching."
They've got a little resolve, too.
In the first inning of Tuesday's opener, St. Mary's scored five runs on Walters. But rather than retreat — a tendency in seasons past — Zama rebounded in the second inning, moving ahead on Salas' slam, to the deepest part of Titans Field, 400 feet away.
"If we got behind last year, we'd just quit," senior third baseman Mike Bosack said.
"There's a difference between knowing you're the best and playing like you're the best," Walters said. "Right now, we're playing like we're the best."
Another advantage Zama has enjoyed this season is player continuity, which is always a problem for Department of Defense Dependents Schools because of transfers and PCS moves.
Walters, Bosack and his twin brother, Matt, are four-year Trojans. Casimire, Sakraida and Salas have played for three seasons.
"Longevity. It's almost like a high school team in the states," Allensworth said.
With only a regular-season doubleheader against Yokohama International and the May 16-17 Kanto Plain invitational tournament at Camp Zama left, the Trojans have run the table against DODDS teams.
And now they're on the cusp of their most successful season ever.
But will they wind up with the Kanto tournament title?
"They can do it," Allensworth said. "They've overcome some bad breaks and tough losses, and yet they come back strong."
Even if their bats don't always stay in one piece.