Yongsan men, Camp Humphreys women capture hoop titles
by
Dave Ornauer
December 23, 2005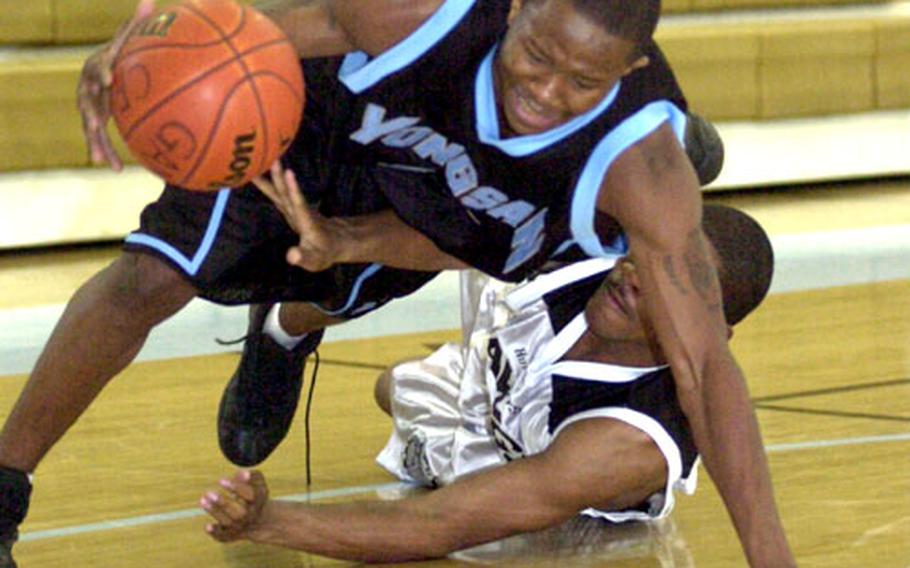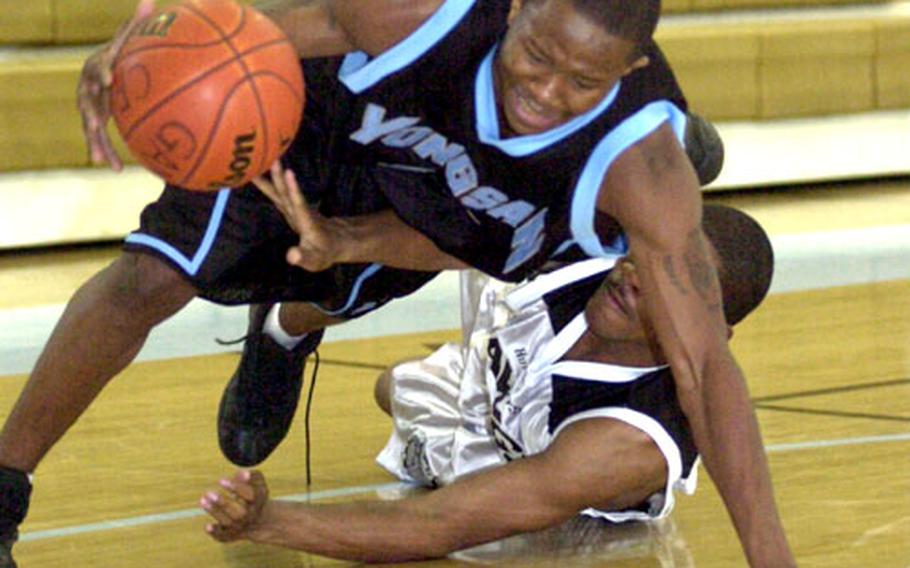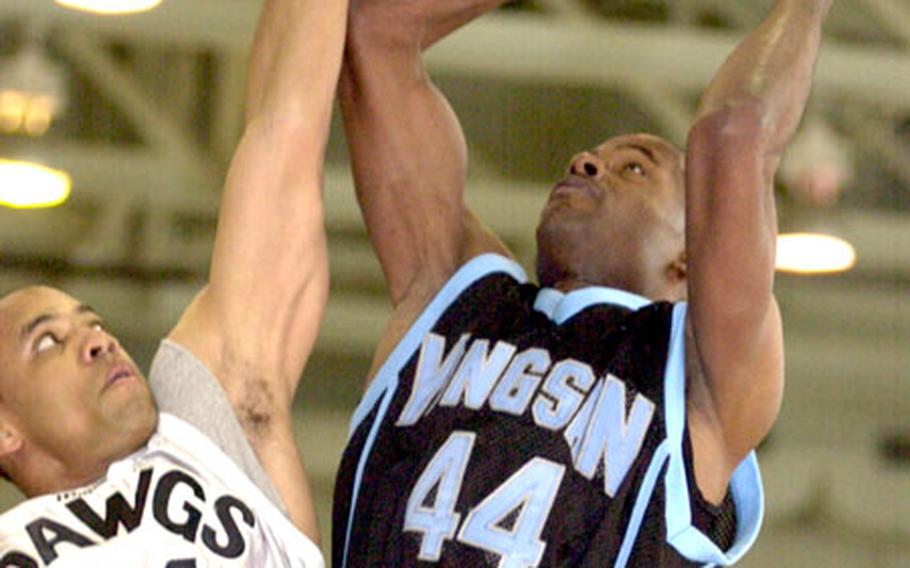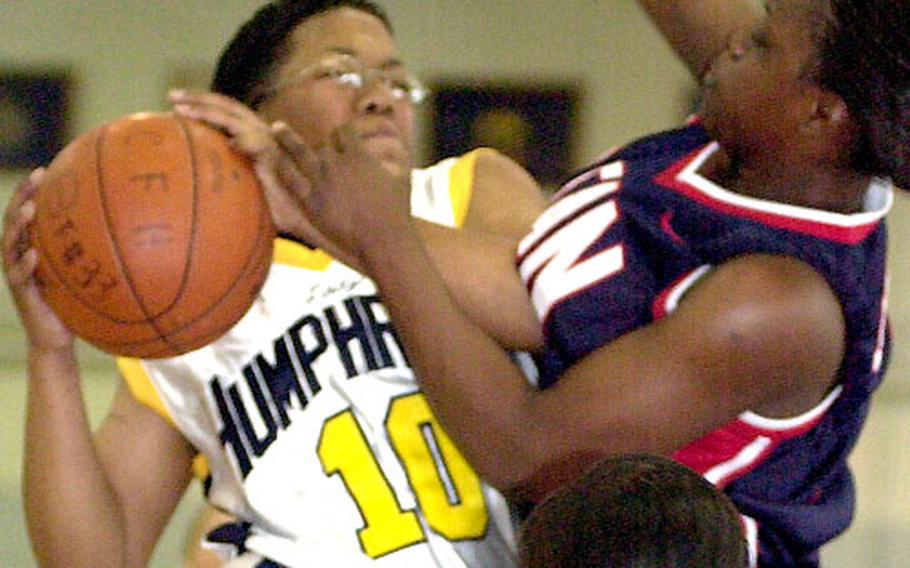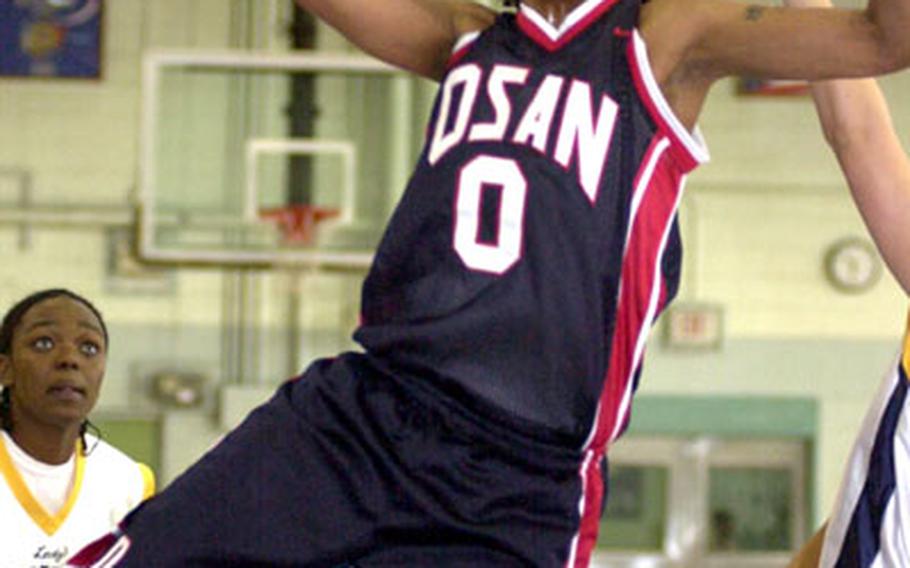 YONGSAN GARRISON, South Korea — Ronald Bartley made his exit a memorable one.
The two-time All-Armed Forces player hit a fall-away baseline jumper with 20 seconds left Wednesday to give his Yongsan Runnin' Rebels a 79-76 triumph over the Camp Humphreys Bulldogs and the men's championship in the 2005 Pacificwide Open Holiday Basketball Tournament.
Coming out of the loser's bracket in the double-elimination tournament, Yongsan first had to eliminate the Kunsan Air Base Wolf Pack 73-69 then beat Humphreys 91-79 to force the second, deciding title game, in which Bartley sparkled.
Camp Humphreys didn't come away empty-handed. The Lady Bulldogs snared a 50-41 women's title-clinching victory over the Osan Air Base Defenders — despite All-Army guard Laurie Aaron fouling out midway through the second half.
Bartley scored a game-high 27 points, hit five three-pointers and blocked a crucial shot with 30 seconds left in his final Runnin' Rebels game; he transfers Dec. 30 to Fort Carson, Colo.
"That's the best way to leave here," he said, "as a winner."
Said Nelson Birdsong, Bartley's coach for the past three seasons: "It's well deserved. It's the only way he could go out."
Bartley's swan-song game see-sawed throughout the first half. Neither team led by more than five points, the score was tied 10 times, and the lead changed hands nine times.
Bartley scored the second half's first five points, but Humphreys roared back, leading 62-55 in less than eight minutes
But with 2:10 left, the Rebels' Cardell Edwards hit two foul shots to cut it to 74-73 — where it stayed until Bartley blocked a shot by Terrence Clark, bringing Bulldogs players and coaches off the bench, yelling for a foul call.
Yongsan drove the ball upcourt and got it to Bartley along the left baseline. He stumbled and fell but somehow got the ball airborne and it hit nothing but net, giving Yongsan the lead for good.
On the ensuing possession, Clark was called for stepping out of bounds, inciting more protests. Said Humphreys coach Maceo Ellison: "It leaves a bad taste."
The women tried to wipe that away, winning the first Pacific open interservice title for Camp Humphreys.
"We had to pull together," said Humphreys swingman Nieasha Wingster, who scored six points down the stretch to keep the Defenders at bay.
Neither team could establish momentum in a lifeless contest that saw six lead changes and four ties before Aaron gave the Bulldogs the lead for good with a three-pointer. The closest Osan got: three points 2:20 before halftime.
Aaron fouled out with 9:21 left, just after the start of a stretch in which Osan went without a point for eight minutes.
Wingster admitted to concern after Aaron was benched, saying, "Defense is what wins games." But "we were able to keep the lead," she said. "We stepped up and played hard."
Aaron had no such concern.
"I knew they could do this," she said. "One player doesn't make or break a team."
What broke the Defenders was poor shooting; Osan went 4-for-18 from the foul line.
2005 Pacificwide Holiday Basketball TournamentAt Yongsan Garrison, South Korea
Men's double-elimination playoffs
Wednesday
Championship
Yongsan Garrison 79, Camp Humphreys 76
Winner's bracket final
Yongsan Garrison 91, Camp Humphreys 79
Leading scorers-Yongsan, Tre Stephens 24 (16 second half), Cardell Edwards 17; Humphreys, Terrence Clark 21 (three three-point goals, 15 second half), Jaime Pryor 12.
Loser's bracket final
Yongsan Garrison 73, Kunsan Air Base 69
Leading scorers-Yongsan, Kevin Dillard 15 (10 first half), Horace White 14 (four three-point goals), Tre Stephens 13 (all second half); Kunsan, Otis Booker 23 (three three-point goals), Kirk Sheppard 12.
Women's double-elimination playoffs
Wednesday
Championship
Camp Humphreys 50, Osan Air Base 41